Last Updated on November 20, 2022
A Canadian bank, Vancity, has launched a new credit card that tracks the "carbon footprint" of the account holder. As part of its commitment to "climate action," the bank has partnered with a company that measures the "carbon footprint" of every transaction, including rent payments. Users can then compare their monthly carbon footprint to the national average.
Vancity announced that they would be partnering with ecolytiq to become "the first financial institution in Canada to provide a Carbon Counter on your Visa credit card," in an October 19 press release.
Starting in 2023, users will be able to track the estimated carbon emissions of their credit card purchases. Members will be able to see which credit card purposes have the highest "carbon costs" and will be able to compare their estimated emissions with the national average.
Users will also be provided with advice on how to reduce or better manage their individual carbon footprint.
"We know many Vancity members are looking for ways to reduce the impact they have on the environment, particularly when it comes to the emissions that cause climate change," said Jonathan Fowlie, Vancity's Chief External Relations Officer who oversees the credit union's impact and climate efforts.
"As a member-owned financial cooperative, we believe it is our job to do everything we can to help, especially when it comes to the decisions people make with their money. This tool will equip Vancity Visa credit cardholders with valuable information on their purchases and enable them to connect their daily spending decisions to the change they want to see in the world."
In order to implement the program, Vancity has partnered with ecolytiq, a company billed as "one of Europe's leading climate engagement technology companies." Together, the two entities will create the first "Visa Carbon Counter" in Canada.
"Discouraged by the lack of global efforts to keep pace with the ever-growing urgency of climate change, ecolytiq cofounders Ulrich Pietsch and David Lais decided to encourage action by giving the power to the people through rethinking the role retail banking has to play in the fight against climate change," reads ecolytiq's company description.
The company allows banks, fintech companies and financial service providers to show their customers the individual "impact" their purchases are having on the environment in real time. The ecolytiq software calculates personal environmental impacts, such as CO2 values, on the basis of payment transactions.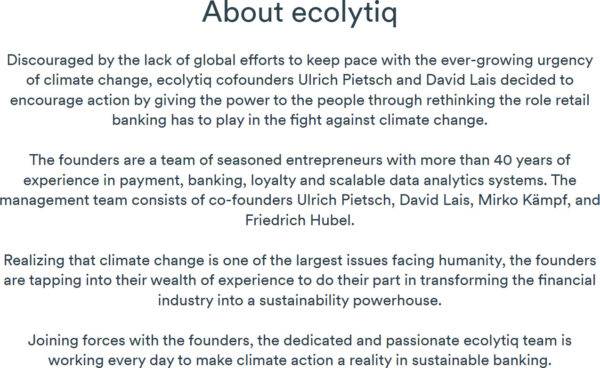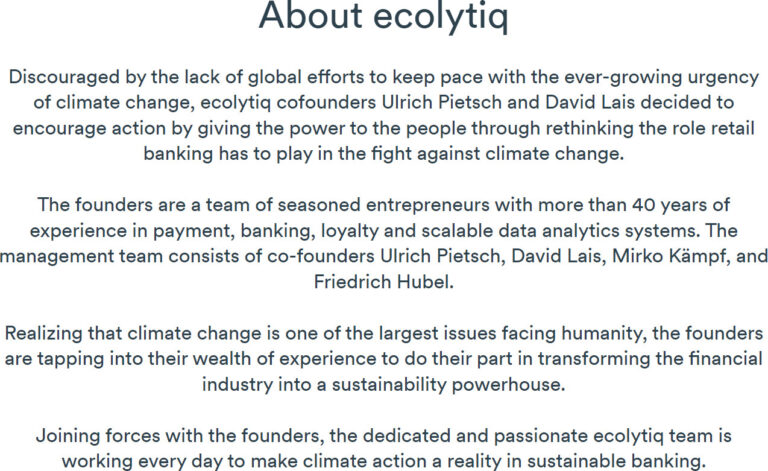 "We are breaking new ground here," said Ulrich Pietsch, ecolytiq Co-Founder and Managing Director. "We developed a White Label solution to offer financial institutions all over the world an agile and effective way to offer their customers tools to forge a better tomorrow. With the launch of Carbon Counter, Vancity is solidifying its role as a leading sustainability innovator both in Canada and in the global banking world."
In addition to helping users get an estimate of their carbon footprint, the program will provide insights into lower emission options. The "Carbon Counter" will offer using spending tips and other advice on how to best lower their emissions and move towards more "sustainable" options.