Last Updated on October 7, 2020
Democrat North Carolina U.S. Senate candidate Cal Cunningham's affair with his mistress Arlene Guzman Todd drove Guzman Todd's veteran husband to become suicidal, according to text messages obtained by NATIONAL FILE. (READ: Cunningham Mistress Has Nude Photos of Cal, Had Sex With Cal In Cunningham's Family Home).
In text messages, Arlene Guzman Todd tells her friend that her husband Jeremy Todd "was all suicidal and shit a couple of nights ago" and "Had a gun out." Guzman Todd added, "I could not be bothered."
Guzman Todd then said that Cunningham mocked the potential suicide situation by telling her, "You're going to be the best therapist ever at this rate. Sorry you're having to deal with it."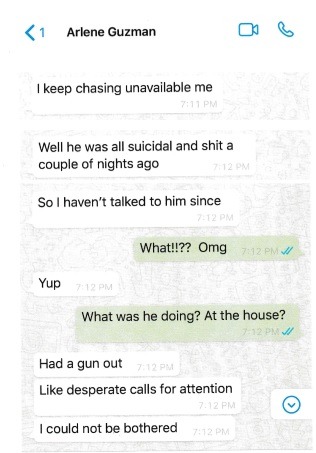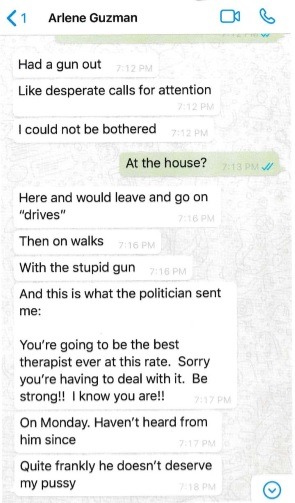 The Army Reserve is currently investigating officer Cunningham's adultery, which could result in severe military punishment and even a year of "confinement" for Cunningham.
Cunningham's paramour Arlene Guzman Todd has been recently listed as media director of a marijuana public relations company and has been a California State University lecturer. Arlene Guzman Todd has also recently worked at the public relations firm RW Jones, which has clients including the University of Southern California and many public California universities.
Arlene Guzman Todd's husband Jeremy Todd has been an active duty servicemember. Jeremy Todd was an Army Sergeant First Class who served in the U.S. Army with five combat deployments including in Iraq and Afghanistan, then studied at the University of Southern California in a determined bid to support his young family.
"My wife carried me through. She is really the superhero in all this. The wives are the unsung heroes of the military, the spouses that deal with everything. Without good wives and family, I don't think soldiers would be successful in their missions and everything they do," Jeremy Todd said of his military wife Arlene Guzman Todd. Guzman Todd has not returned requests for comment.