Last Updated on January 22, 2020
Democrat Senate Minority Leader Chuck Schumer promised to "fight for tougher measures to reduce the number of illegal immigrants entering this country" in a 2000 letter to one of his constituents. Schumer boasted about pushing for more deportations and said that trend would continue during his tenure in the Senate. But Schumer has not kept his promise, instead fighting anti-illegal immigration President Donald Trump tooth and nail and even supporting Trump's impeachment.
A VIP (Very Important Person) source provided this reporter with a copy of Schumer's 2000 letter to the New Yorker, who was concerned about illegal immigration.
"Thank you for contacting me to express your concerns about the issue of illegal immigration in the United States. I believe it is imperative that we enforce and strengthen existing immigration laws to prevent illegal immigrants from entering this country," Schumer vowed in his letter to the citizen.
"Last year in the House of Representatives, I supported the Criminal Alien Deportation Involvement Act, which would have reduced the delay involved in the deportation of criminal aliens. In addition, I cosponsored the Immigration and Naturalization Service Restructuring Act (H.R. 4363). This legislation would have given the Immigration and Naturalization Services the resources to handle the responsibilities of border patrol and enforcement, and the traditional function of support services," Schumer declared.
"You can be certain that in the Senate, I will continue to fight for tougher measures to reduce the number of illegal immigrants entering this country. Again, thank you for taking the time to share your views about this important issue. If I may be of further assistance, please do not hesitate to contact me," Schumer wrote.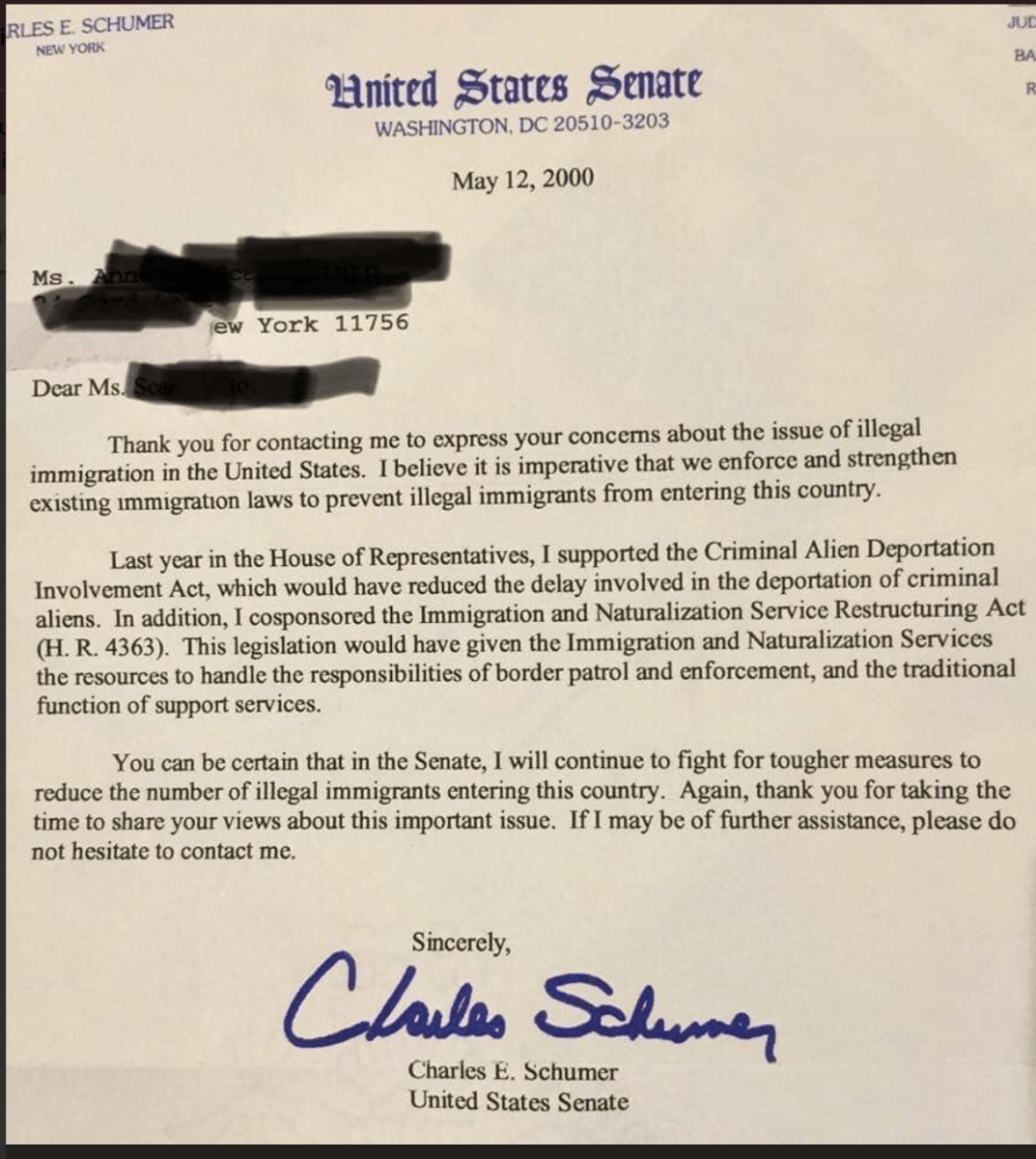 Instead of working with President Trump to secure the border, Schumer has fronted the Democrats' impeachment effort alongside Nancy Pelosi.
But Schumer and Democrats' overreach is working in President Trump's favor.
President Trump is commanding respect and loyalty from Washington Republicans, as the political organizations tasked with defending the president during this re-election year are finally showing a little spirit. Trump has been impeached for allegedly pressuring the president of Ukraine to investigate Joe Biden's corruption in the gas-rich country, but Sen. Rand Paul made clear that no Republicans plan to vote against Trump in his Senate trial. That trial could feature witnesses like Biden's scandal-plagued son Hunter, and could expose new details of Democrats' Ukraine wrongdoing. (READ: Nancy Pelosi's Son Snared In Ukraine Business Scandal).
"We'll hold town halls, we'll hold rallies, we'll hold press conferences, we'll infiltrate Democrat events with supporters of the president to create general disruption," Rick Gorka of the Republican National Committee stated Friday, signaling that the GOP, slow to embrace the age of modern politics, now chooses a new path: Existence.
On Saturday, the GOP staged an activist training session dubbed a "National Day of Action" in targeted areas including the swing states of Florida, Virginia, and Arizona, Reuters reports. The Trump campaign is also buying a $10 million Super Bowl commercial.
Viewed the world over as a hapless, weak-willed, and cowardly engine of the status quo, the Republican Party has found new life under President Donald Trump, whose combative personality and dogged commitment to the interests of the American people give inspiration to a party that not long ago seemed destined for destruction.
The Trump campaign seems to finally be tapping back into the spirit of the 2016 Trump revolution — and this time, Trump has results and the majesty of the office behind him.