Last Updated on January 5, 2022
National Geographic published a book about ancient Egypt that mentioned Kyle Rittenhouse, and wildly mischaracterized the self defense shooting he was involved in nearly two years ago.
In the book "The Good Kings: Absolute Power in Ancient Egypt and the Modern World" by Kara Cooney, published by National Geographic, the author falsely claims that Rittenhouse killed "two Black men" in Kenosha, Wisconsin.
Rittenhouse never stood accused of murdering two black men, or one black man.
All of the men he shot in self defense had white skin.
Regardless, Cooney wrote:
"Or consider 17-year-old Kyle Rittenhouse, who used his semiautomatic weapon to kill two Black men in Kenosha, Wisconsin, while waging a glorious race war on behalf of his inherited White power."

"That's not to mention the White people who rallied behind him to post his bail. Fear has gripped the patriarchy, and the threat of righteous violence—or the lethal use of it—is the patriarchy's response."
National File obtained a digital copy of the book and verified the claim exists in the text.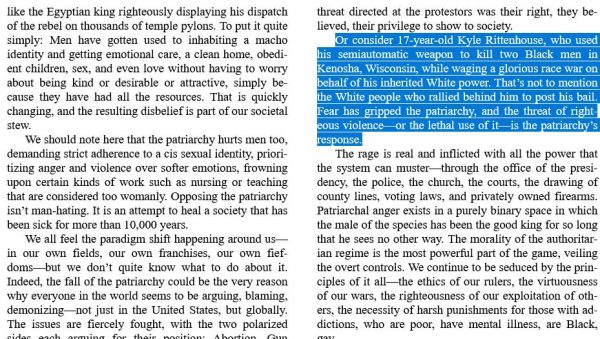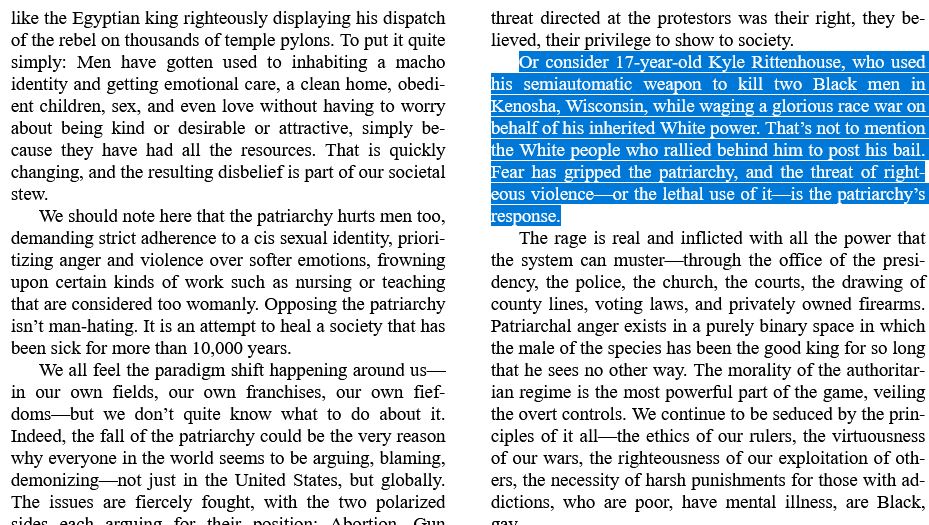 The claim is in the last chapter of the book, which is titled "Smashing The Patriarchy."
This remark was written in the context of how ancient Egyptian authoritarian power structures are still seen in the 21st century.
It seems likely that National Geographic published Cooney because of her status as an academic. She is an Egyptology Professor at UCLA.
According to the book's Amazon description, "Her academic work focuses on death preparations, social competition, and gender studies. She appeared as a lead expert in the popular Discovery Channel special 'The Secrets of Egypt's Lost Queen' and produced and wrote Discovery's Out of Egypt."
The book was published on November 2, 2021, when the facts of the Rittenhouse case – namely, that the men he shot in self defense were not black – were long established, but weeks before the teen was acquitted.
Rittenhouse's legal team took notice after a Twitter user posted an image containing the excerpt to the platform.
The Free Kyle USA Twitter account asked, "Anyone know what publication allowed this to print?"
https://twitter.com/freekyleusa/status/1478585743446396934
In reality, Rittenhouse shot three men, fatally injuring two.
Joseph Rosenbaum, who died, was a convicted pedophile who raped boys between the ages 9 and 11. Court documents reveal he was charged with 11 counts of sex crimes against young boys.
He had been released from a mental institution and turned away by his family earlier that day.
Anthony Huber, who died, was shot by Rittenhouse after he struck the teen in the head with a skateboard. Huber had previously been arrested for "battery, drugs, and other charges" and had a disorderly conduct conviction from 2018 as a domestic abuse repeater, which is a misdemeanor.
He once allegedly held a 6-inch-long butcher knife to his brother's neck and threatened to "gut him like a pig," according to the criminal complaint.
Gaige Grosskreuts, who survived, was shot in the bicep by Rittenhouse after raising a gun toward the teen. He admitted to this in court, devastating the prosecution's narrative.
He was accused of drunk driving in 2021, but the charges were dismissed.
National File has contacted National Geographic and alerted the publication of the demonstrably false claim. National File asked if National Geographic had plans to rectify the false statement.
National Geographic did not immediately reply when asked if it stands behind its author, or if its author has released a statement regarding the false claim.