Last Updated on April 22, 2020
The mainstream media is hyping a "study" with data culled from Department of Veterans Affairs (VA) hospitals to justify their attack on Hydroxychloroquine, an anti-malaria drug that President Donald Trump is fighting to provide to suffering people. (READ: Bon Jovi Keyboard Player Tells Us He Took Hydroxychloroquine And Improved). ABC White House correspondent Jon Karl agitated against Hydroxychloroquine in Trump's Tuesday White House Task Force briefing, citing the VA study. FDA commissioner Stephen Hahn said "This study is a small retrospective study at the VA" and stressed that results of clinical trials, in progress, are needed. (READ the Actual Study Here). The study merely polled the mostly black elderly male Coronavirus patients who have been treated at the VA through April 11. The study was supported by National Institutes of Health (NIH), which infamously funded Wuhan Institute of Virology scientists to perform bat coronavirus research prior to the current outbreak.
The study cannot be used to credibly attack Hydroxychloroquine because the drug was given to sicker veterans more likely to die anyway as opposed to healthier people. The study was posted on the Internet but not reviewed by other scientists. The study claims 22 percent of people given Hydroxychloroquine plus azithromycin died, whereas only 11 percent died with regular care, but the study even notes that this result was expected due to the severe pre-existing conditions of the patients given the Trump-touted drug. The study made no mention of VA doctors prescribing Zinc along with Hydroxychloroquine, even though doctors and medical experts believe that Hydroxychloroquine can only work in partnership with Zinc. One of the authors of the study has a patent application pertaining to Coronavirus and another author took a research grant from Gilead, which is developing a competitor drug to Hydroxychloroquine (the study claimed these competing interests were unrelated to the study itself). Hydroxychloroquine costs less than $1 per tablet, whereas Gilead was accused by a Senate Finance Committee investigation of inflating prices to the detriment of patients. Let's break down why the mainstream media's attack is flopping:
Hydroxychloroquine "was more likely to be prescribed to patients with more severe disease"
The patients given hydroxychloroquine (ages 59 to 75) had diseases including congestive heart failure, chronic pulmonary disease, diabetes, liver disease, cancer and HIV/AIDS.
The study noted, "However, hydroxychloroquine, with or without azithromycin, was more likely to be prescribed to patients with more severe disease…Thus, as expected, increased mortality was observed in patients treated with hydroxychloroquine both with and without azithromycin."
"Our study cohort comprised only men whose median age was over 65 years. Therefore, the results may not necessarily reflect outcomes in women or in younger hospitalized populations, nor can they be extrapolated to pediatric patients. Our findings may also be influenced by the demographic composition of patients in our cohort, the majority of whom were black…"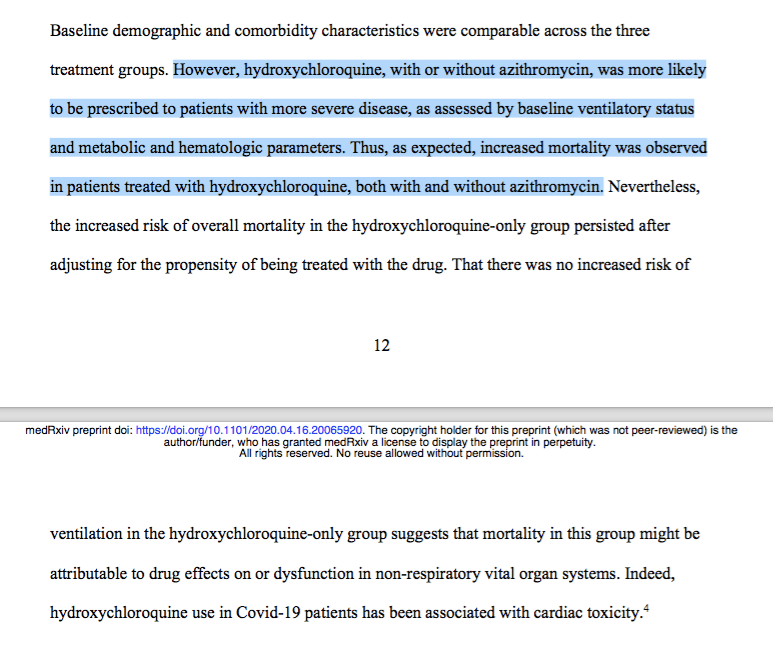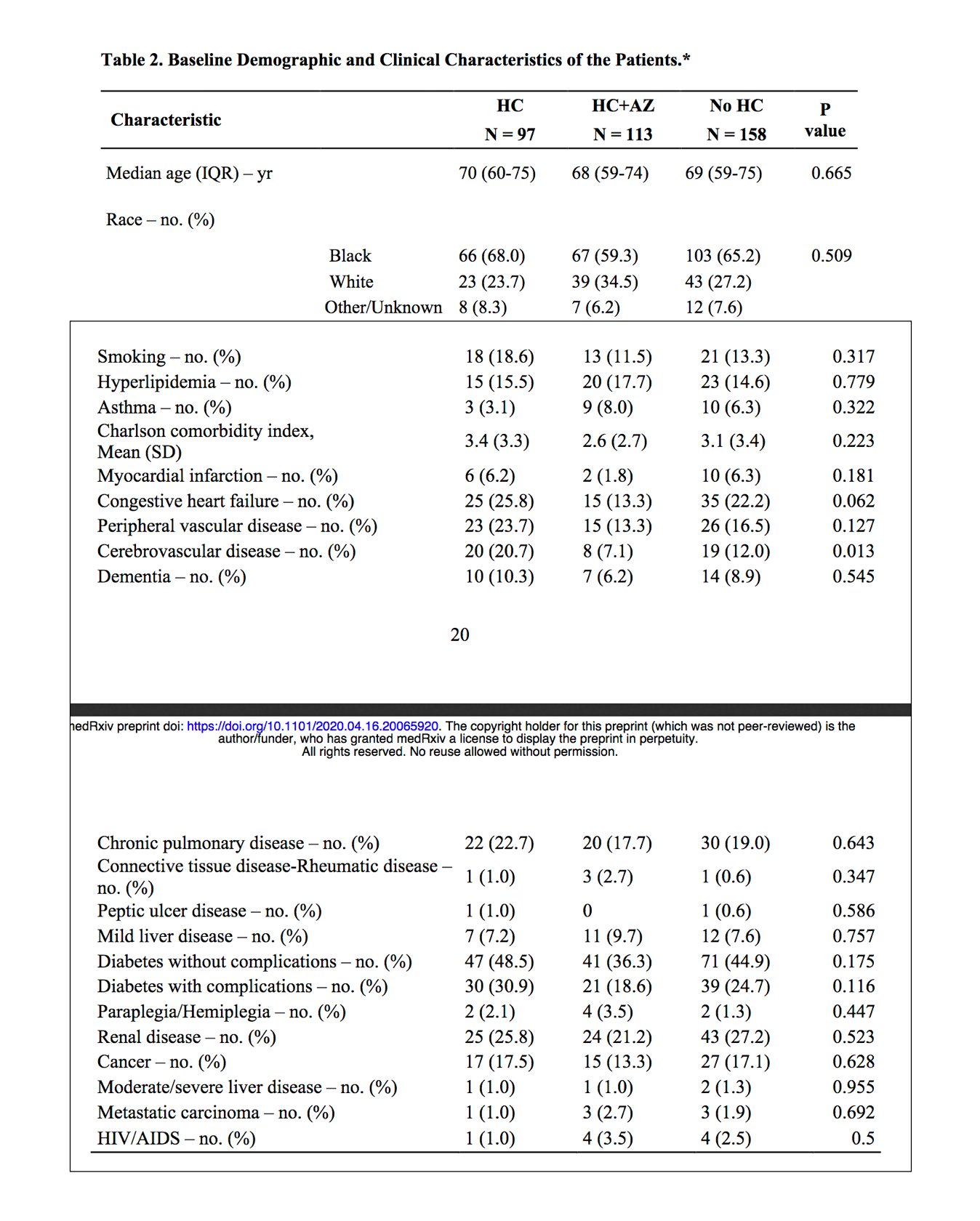 One of the Study's Authors Took A Research Grant From Gilead, Which Is Developing A Hydroxychloroquine Competitor To Treat Coronavirus
The study's co-authors come from the University of Virginia or the University of South Carolina. One of the authors, Jayakrishna Ambati, is listed as the inventor on a University of Virginia patent application "relating to COVID-19." One of the study's co-authors, S. Scott Sutton, has taken research grant money from Gilead Sciences, which is currently developing a Coronavirus drug that is likely to be much more expensive than Hydroxychloroquine, which costs less than one dollar per tablet. Sutton's curriculum vitae shows that on three occasions dating back to 2012 he has studied the impact of therapies on veterans with HIV/AIDS and then submitted that research to Gilead, including two times as principal investigator for Gilead and another company on projects funded for a total of $100,000.
Gilead spent $5.72 million on lobbying in the year 2019. Gilead was investigated by the Senate Finance Committee over the course of 18 months and accused in 2015 by Democrat Sen. Ron Wyden and Republican Sen. Chuck Grassley of inflating the price of its Hepatitis C drug Sovaldi. A press release issued by the senators noted that "the investigation found that the company pursued a marketing strategy and final wholesale price of Sovaldi – $1,000 per pill, or $84,000 for a single course of treatment – that it believed would maximize revenue. Building on that price, Harvoni was later introduced at $94,500. Fostering broad, affordable access was not a key consideration in the process of setting the wholesale prices. In the 18 months following Sovaldi's approval, Medicare spent nearly $8.2 billion before rebates on Sovaldi and Harvoni. Over that same span, Medicare's monthly spending on Hepatitis C treatments increased more than six-fold. In 2014 alone, Medicare and Medicaid combined to spend more than $5 billion on Sovaldi and Harvoni before rebates."
Democrat Senator Wyden stated: "Gilead pursued a calculated scheme for pricing and marketing its Hepatitis C drug based on one primary goal, maximizing revenue, regardless of the human consequences…Gilead knew these prices would put treatment out of the reach of millions and cause extraordinary problems for Medicare and Medicaid, but still the company went ahead. If Gilead's approach to pricing is the future of how blockbuster drugs are launched, it will cost billions and billions of dollars to treat just a fraction of patients."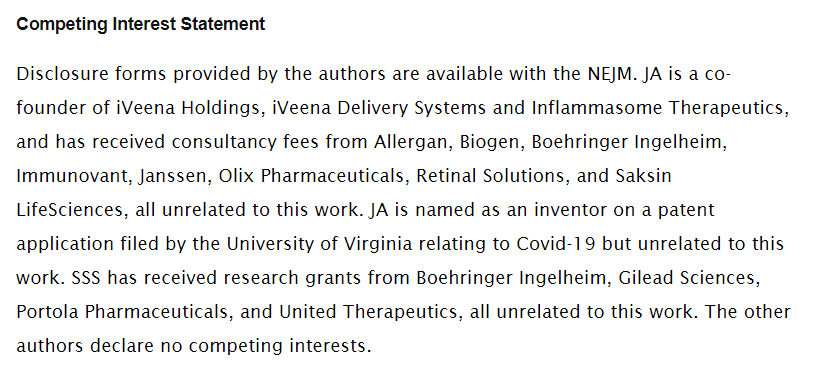 Other Factors Cannot Be Ruled Out
The Associated Press was forced to report:
"About 28% who were given hydroxychloroquine plus usual care died, versus 11% of those getting routine care alone. About 22% of those getting the drug plus azithromycin died too, but the difference between that group and usual care was not considered large enough to rule out other factors that could have affected survival. "
Some Doctors Are Pairing Hydroxychloroquine With Zinc, But The Study Does Not Mention Zinc
"What we're finding clinically with our patients is that it really only works in conjunction with Zinc," stated Los Angeles emergency room specialist Dr. Anthony Cardillo. "So the hydroxychloroquine opens a zinc channel, zinc goes into the cell, it then blocks the replication of the cellular machinery….Every patient I've prescribed it to has been very very ill and within 8 to 12 hours they were basically symptom free."