Last Updated on April 22, 2020
An Italian newspaper has come under fire for "fat-shaming" after raising caustic questions about Belgian Health Minister Maggie De Block's prodigious body mass index.
Milan based newspaper Affari Italiani ran on April 17 titled "Coronavirus, Belgio cambia conteggio morti, decide Maggie: ministro da 140 kg."
Roughly translated to English, the headline reads, "Coronavirus, Belgium changes death count, Maggie decides: minister of 140 kg."
The article goes on to include quips such as "Health Minister Maggie De Block […] certainly doesn't go unnoticed," "one hundred and forty kilograms of health," and, "In Brussels, health is clearly taken in massive doses."
140 kilograms is equivalent to around 300 pounds under the imperial system.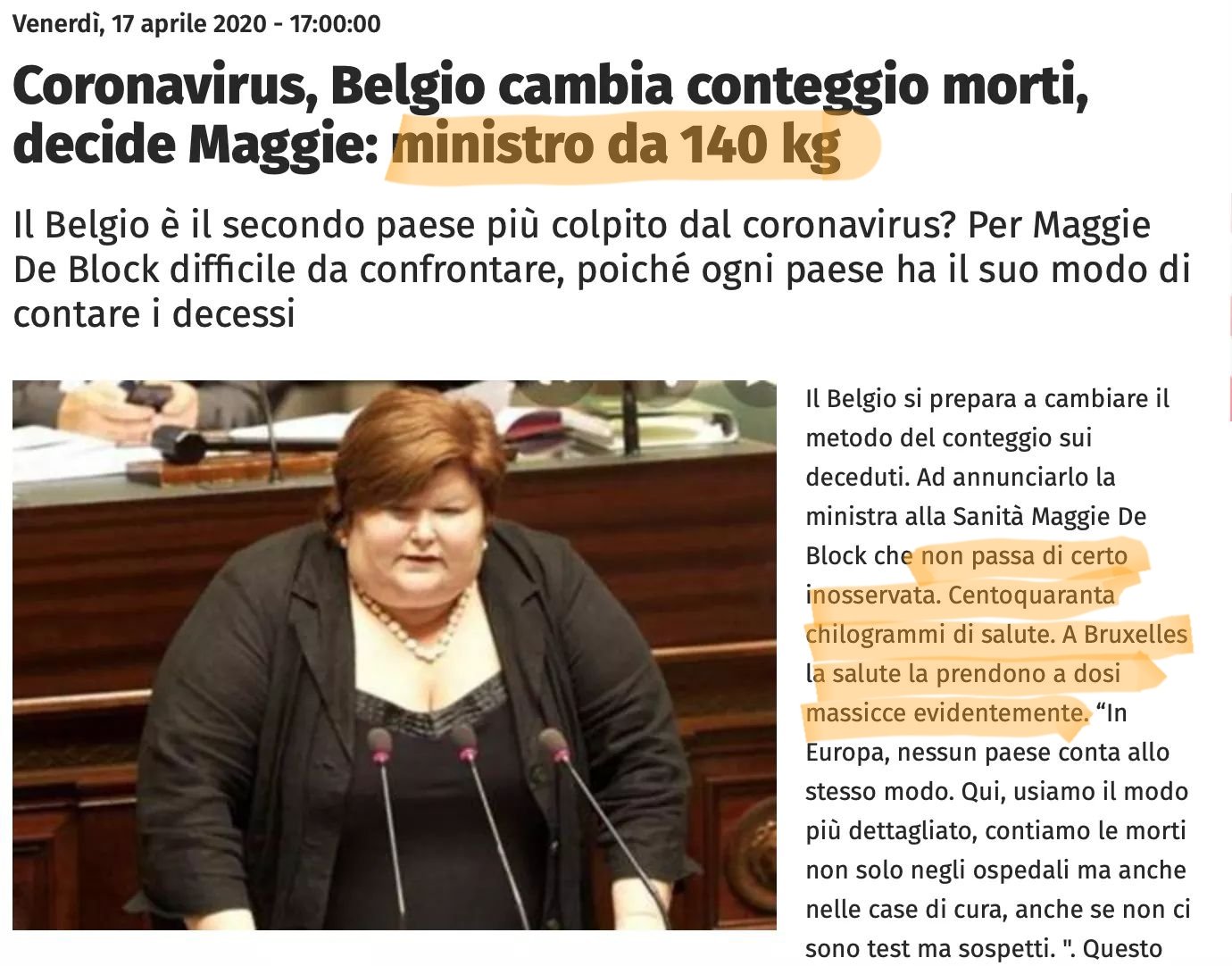 The article was quickly lambasted on social media as an example of "body-shaming" or "fatphobia" and was later deleted.
La fatphobia non esiste pic.twitter.com/0dDSeeFAbe

— sof (@SofiaShoe) April 19, 2020
Belgian media was quick to criticize the article, and Italian publication Dissapore published a scathing rebuke of the piece which lamented the abuse overweight women must deal with online on April 19.
Via Dissapore:
Il body shaming – purtroppo – non si ferma neanche di fronte all'autorevolezza: puoi avere un curriculum di tutto rispetto, essere ministro di uno Stato importante come il Belgio, ma se sei donna e sovrappeso ogni tua dichiarazione o decisione si fermerà al tuo aspetto fisico. È quanto dimostrato dai media italiani – parafrasando il premier Giuseppe Conte, ci tocca fare nomi e cognomi: trattasi del sito Affari Italiani – nei confronti del ministro belga Maggie Celine Louise De Block.

"Maggie", per gli amici, categoria di cui i colleghi del sito di notizie evidentemente si sentono di far parte, se si attribuiscono il diritto di titolare, nei confronti della politica belga: "Coronavirus, Belgio cambia conteggio dei morti, decide Maggie, ministro da 140 kg". Più volte ministro della salute, la politica popolarissima è medico e ha alle spalle una carriera importante. Eppure, per qualcuno, è semplicemente una politica obesa.
De Block also came under criticism after footage of her picking her nose on a video call surfaced last week.