Last Updated on March 31, 2021
Georgia Republican leaders Governor Brian Kemp and Secretary of State Brad Raffensperger are both caught on tape in scandalous situations connected to China, which will likely hamper their re-election chances in 2022 now that President Donald Trump is determined to defeat them as revenge for their refusal to help Trump in the 2020 election overtime period.
President Trump endorsed Rep. Jody Hice, who is running against Raffensperger for Secretary of State in the Republican primary in 2022. Trump is also planning to campaign hard against Brian Kemp, who is expected to seek re-election in 2022. Raffensperger did not even manage to become a Republican Party delegate in his own precinct, underscoring his unpopularity with Georgia conservatives following "Raff's" Quisling rollover on the issue of election integrity.
BRAD RAFFENSPERGER BEGGED FOR VOTES IN CHINESE-AMERICAN BALLOT SCHEME, AND SPOKE CHINESE ON TAPE TO THANK THE PEOPLE WHO GOT HIM INTO THE GEORGIA HOUSE

Georgia Republican Secretary of State Brad Raffensperger was placed into office in the Georgia House of Representatives in 2015 by a powerful network of Mandarin-speaking Chinese people in the United States of America. NATIONAL FILE has obtained video of Raffensperger speaking at an event with Mandarin-speaking Chinese people, begging the Chinese people to get him more than 100 votes to secure his victory in the election (which he ended up winning by 159 votes). A Mandarin-language newspaper that actively coordinates with United Front, a network controlled by the Chinese Communist Party, even explained the strategy to place Raffensperger into office by use of "absentee ballots" that could be obtained by one Chinese person and distributed to others. Raffensperger is trying to stop Communist China's geopolitical foe President Donald Trump from gaining a proper accounting of the votes in the 2020 presidential election.

HERE IS A LINK TO RAFFENSBERGER MAKING A CALL, SPEAKING IN CHINESE, THANKING THE CHINESE FOR ELECTING HIM TO THE STATE LEGISLATURE IN 2015.
The article about Raffensperger's election in the United Front-linked newspaper can be translated into English via Google Translate, and states the following — emphasis added:
"One of the reasons why we did not participate in elections in the past was that "one more vote, one less vote has no effect on the results of the election." This time is different. In the first round of election, there were only two candidates left in the 50th District of the House of Representatives where Johns Creek was located: Brad Raffensberger (sic) and Kelly Stewart. They are all conservative Republicans, with almost the same political opinions. Only 2,500 of the 25,000 voters in the first round voted: Brad was only 26 votes behind Kelley.
Brad took the initiative to approach the Asian community to understand and listen to our voices. He visited the Chinese Dance and Culture School in the city center the previous weekend. Last Saturday he visited the Atlanta Modern Chinese School with more than 500 students. On Sunday, he hosted 30 Chinese at home to talk about his ruling philosophy. As a city councillor, he also participated in the award ceremony of my boy scout team and spoke on behalf of the city government…
According to statistical calculations, we only need 100 Chinese votes this time to determine the outcome of the election and make Brad a victory. He will represent our voice in the state legislature in the future. We have already boasted about Haikou with him and guaranteed 100 votes. This is an excellent opportunity for us Asians to show their strength. Your vote has never been so important. Election day is Tuesday, February 3. If you can't vote in person on the day of something, I can apply for an absentee ballet (sic) for you. After you receive it, you can fill in and send it out. Due to the tight mailing time, if you need, please email me [email protected].
In addition, in the municipal council election in September this year, Chinese people are likely to stand for election. Thank you for your attention…Xiao Yu"
(NOTE: Georgia law forbids people applying for absentee ballots for other people except if the person is out of the county temporarily or if the person applying is a direct relative of the voter).
HERE IS A 2017 ARTICLE IN WHICH THE SAME CHINESE-LANGUAGE PUBLICATION BRAGS ABOUT HANDPICKING RAFFENSPERGER FOR OFFICE, stating, "After a month of hard work and help from the Chinese, he finally won the final election…Shun aroused fighting spirit, so I and Brad reported the number of Chinese votes every hour. In the end, Brad won the victory. The numbers we quoted are very close, obviously the Chinese votes played a key role in winning."

HERE IS A VIDEO OF RAFFENSPERGER SPEAKING AT THE EVENT, FOLLOWING A MANDARIN SPEAKER, BEGGING THE CHINESE PEOPLE FOR VOTES.
Raffensperger discusses absentee ballots at 0:48, discusses the number of votes he needs to win specifically at 1:12, hints at trading political favors with the expression "Out of little acorns, great trees grow" at 1:27, and again begging for votes at 3:12.
HERE IS MORE OF RAFFENSPERGER SPEAKING AT THE EVENT
HERE IS RAFFENSPERGER COORDINATING WITH THE CHINESE PEOPLE ON VOTING
HERE ARE SOME PHOTOS FROM THE EVENT WHERE RAFFENSPERGER BEGGED FOR CHINESE VOTES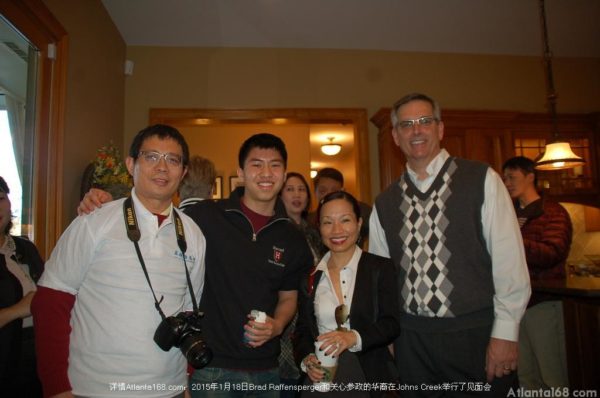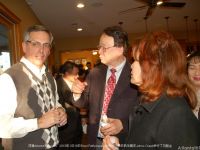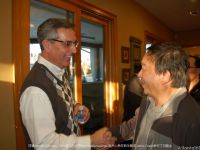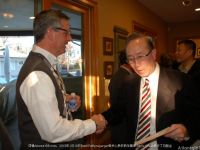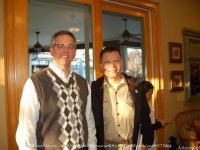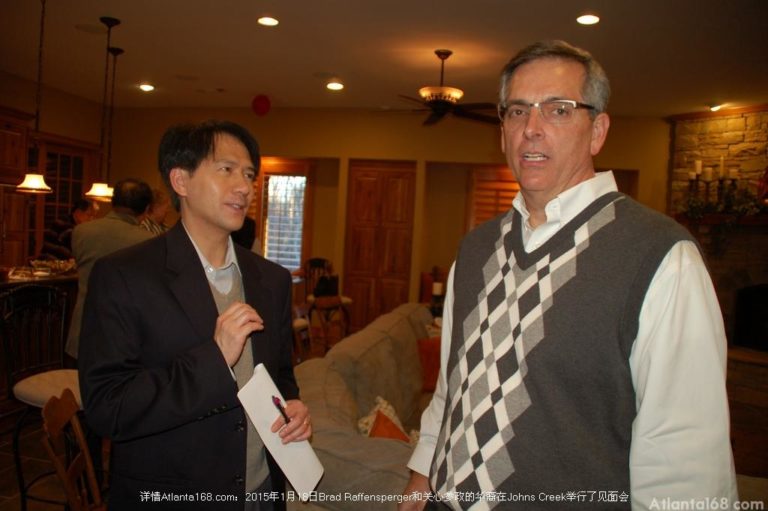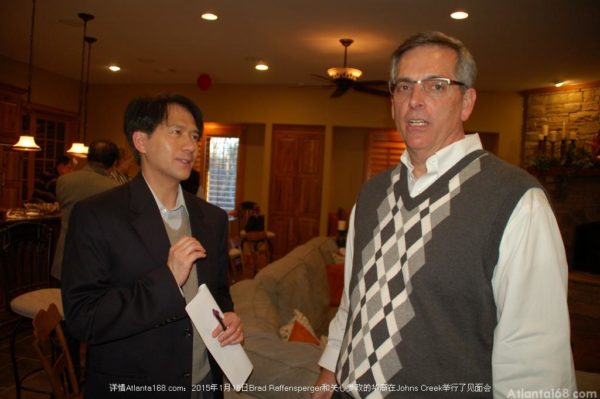 BRIAN KEMP AND CHINA
Republican Georgia governor Brian Kemp met with and made deals with the Chinese Communist Party, according to Chinese-language records. Kemp reportedly "warmly welcomed" the Chinese Consul General from Houston in a meeting in which Kemp invited Chinese business investment in Georgia. That Consul General was accused by the Trump administration's State Department of running an espionage ring, and the United States closed his Consulate in July 2020. Kemp effectively prevented China's geopolitical foe President Donald Trump from getting a fair count of the votes in the 2020 presidential election in Georgia.
HERE IS AN OCTOBER 9, 2019 ARTICLE IN THE CHINESE-LANGUAGE NEWSPAPER "Atlanta America Chinese Life," an outlet that coordinates with United Front, a network controlled by the Chinese Communist Party. The article, translated by Google, reads in part:
"At the end of September 2019, Consul General Cai Wei visited Georgia in person, visited Atlanta, Gunet County, and other regions, and had a cordial meeting with Georgia Governor Brian Kemp. Consul General Cai Wei called on Georgia Governor Kemp. At the meeting with Governor Kemp, Consul General Cai reviewed the cooperation between China and Georgia. Consul General Cai expressed his willingness to continue to promote bilateral exchanges and practical cooperation on the basis of previous work. Governor Kemp warmly welcomed Consul General Cai to take office, introduced the business environment in Georgia, and said that he welcomes more Chinese companies to invest and more Chinese students to study. At the same time, Governor Kemp spoke highly of the outstanding contributions made by overseas Chinese to the local economic and cultural development."
#China's consulate in #Houston is not a diplomatic facility. It is the central node of the Communist Party's vast network of spies & influence operations in the United States. Now that building must close & the spies have 72 hours to leave or face arrest.

This needed to happen.

— Marco Rubio (@marcorubio) July 22, 2020
Kemp's relationship with the Chinese Communists is concerning considering China was the outbreak spot for the Wuhan Coronavirus pandemic that resulted in 2020 election chaos in America, with many paper ballots getting counted late at night in Fulton County, Georgia. China has been open about its adversarial relationship with President Trump after Trump imposed tariffs to gain trade concessions from the Chinese regime.
NATIONAL FILE REPORTED:
In a Chinese advertisement released by Georgia USA, Georgia Governor Brian Kemp is seen on video encouraging Chinese investors to consider working with Georgia, noting that "China is a top source for imports."
"China is a top source for imports and our third largest export market. We welcome thousands of Chinese visitors every year to the 'Peach State' and we are constantly helping to develop new opportunities for Chinese companies," said Kemp, standing in front of the Chinese flag.
https://twitter.com/1PathLessTaken/status/1335694151401279488?ref_src=twsrc%5Etfw%7Ctwcamp%5Etweetembed%7Ctwterm%5E1335694151401279488%7Ctwgr%5E%7Ctwcon%5Es1_&ref_url=https%3A%2F%2Fnationalfile.com%2Fvideo-kemp-tells-chinese-investors-we-are-constantly-helping-to-develop-new-opportunities-for-chinese-companies%2F