Last Updated on February 1, 2020
#WalkAway founder Brandon Straka attempted to hold an LGBT Town Hall in San Francisco, and had the venue he chose cancel at the last minute due to unfounded accusations of his organization disparaging the homeless population.
The event was set to feature notable LGBT activists in the conservative movement including Scott Presler, who has made headlines around the country for his trash cleanups in major cities, as well as Blair White and Mike Harlow.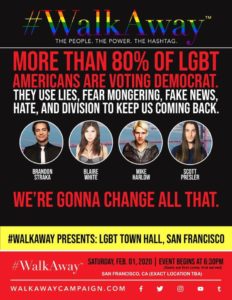 Despite the positive strides these activists have made, the owners of the venue decided to inform #WalkAway that they're cancelling their event only hours before it was to occur.
Straka was able to confront one of the employees of the venue, who offered little reasoning as to why they decided to pull the plug at the last minute.
Brandon captured the exchange on video and uploaded it to his social media. Confrontation starts at the 4 minute mark:
https://twitter.com/BrandonStraka/status/1223744326267633664
In the exchange, you can hear Straka explain to the employee that hundreds of people flew in from out of state for the event and now since they cancelled the event, they're stuck with their tail between their legs.
In the email that was send to the #WalkAway team by Women's Building employee Olivia Herrera, she claimed that the #WalkAway team "Disparaged the homeless" and used that excuse to void the proposed contract.
This comes hours after Presler had another successful trash cleanup this morning in San Francisco, which was, ironically, protested.
https://twitter.com/BrandonStraka/status/1223724372147331072
No evidence was provided of Straka, Presler, or White disparaging the homeless population, and as noted, Presler had just conducted a cleanup of San Francisco streets that would seem to help the homeless in a tangible way.
National File contacted Herrera of the Women's Building to see any potential evidence of Straka or his associates disparaging the homeless population and did not receive an immediate response.
Straka plans instead to hold a free speech rally outside the Women's Building.