Last Updated on February 17, 2022
Twitter has locked President Trump out of his account for 12 hours, and is threatening permanent suspension if there are more "violations."
Thousands of supporters of President Trump descended on Capitol Hill today, after Mike Pence declared that he will not wield his constitutional power to unilaterally reject Electoral College votes from states with a severe lack of election integrity and occurrences of widespread voter fraud.
During clashes between supporters of the President and police inside the building, one unarmed young woman was shot by "a man in a suit," according to eyewitnesses, potentially DC Police or internal Capitol security. The victim of the shooting, who was a Trump supporter, later died.
The President, in a Twitter video and a number of tweets, had called for peace, noting that the patriots are hurting, but told them to go home. "These are the things and events that happen when a sacred lanslide election victory is so unceremoniously & viciously stripped away from great patriots who have been badly & unfairly treated for so long," he wrote. "Go home with love & peace. Remember this day forever!"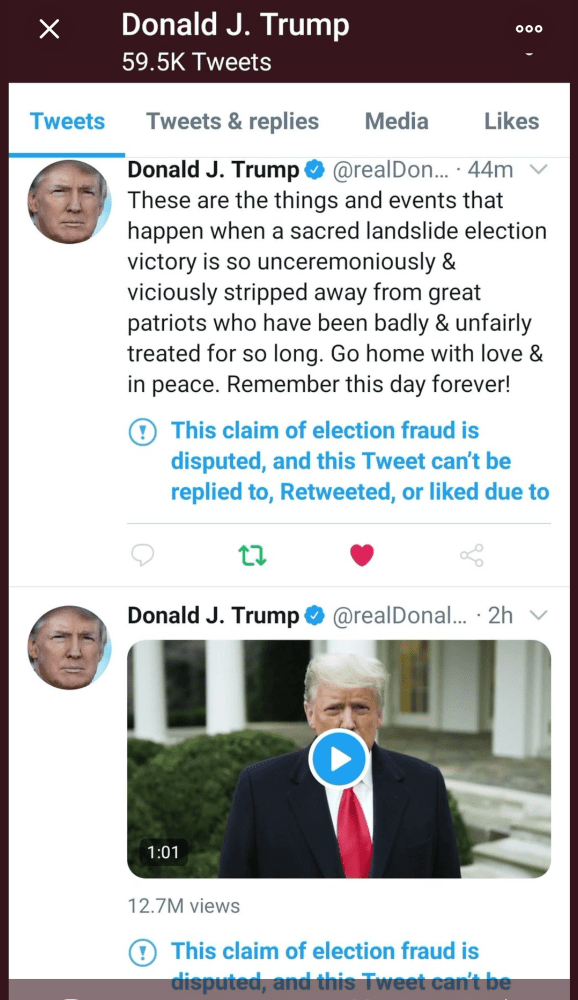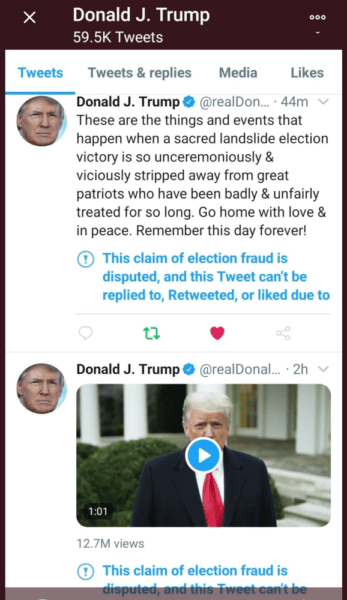 However, three tweets were then removed by Twitter for "repeated and severe violations of [their] Civic Integrity Policy," following the "unprecedented and ongoing violent situation in Washington, D.C." Twitter announced this on their official Twitter Safety account and threatened permanent suspension of if there are more "violations" from President Trump's account:
This means that the account of @realDonaldTrump will be locked for 12 hours following the removal of these Tweets. If the Tweets are not removed, the account will remain locked. Future violations of the Twitter Rules, including our Civic Integrity or Violent Threats policies, will result in permanent suspension of the @realDonaldTrump account.

Our public interest policy – which has guided our enforcement action in this area for years – ends where we believe the risk of harm is higher and/or more severe. We'll continue to evaluate the situation in real time, including examining activity on the ground and statements made off Twitter. We will keep the public informed, including if further escalation in our enforcement approach is necessary.
This means that the account of @realDonaldTrump will be locked for 12 hours following the removal of these Tweets. If the Tweets are not removed, the account will remain locked.

— Twitter Safety (@TwitterSafety) January 7, 2021
Future violations of the Twitter Rules, including our Civic Integrity or Violent Threats policies, will result in permanent suspension of the @realDonaldTrump account.

— Twitter Safety (@TwitterSafety) January 7, 2021
We'll continue to evaluate the situation in real time, including examining activity on the ground and statements made off Twitter. We will keep the public informed, including if further escalation in our enforcement approach is necessary.

— Twitter Safety (@TwitterSafety) January 7, 2021
Breitbart's Allum Bokhari, an expert on Big Tech, had strong words on the action from Twitter. "What's more dangerous?" Bokhari asked. "A president using legal means to challenge an election result, and urging his supporters to remain peaceful? Or an unaccountable corporation stopping that president from communicating to voters?"
What's more dangerous?

A president using legal means to challenge an election result, and urging his supporters to remain peaceful?

Or an unaccountable corporation stopping that president from communicating to voters?

— Allum Bokhari (@LibertarianBlue) January 7, 2021