Last Updated on August 26, 2021
45th President Donald Trump offered a statement via email addressing the devastating attack on the airport in Kabul, Afghanistan earlier today which led to the deaths of at least 12 members of the United States Armed Forces, while Joe Biden, his White House, and the federal government have remained silent on the deadly bombings.
"Melania and I send our deepest condolences to the families of our brilliant and brave Service Members whose duty to the U.S.A. meant so much to them. Our thoughts are also with the families of the innocent civilians who died today in the savage Kabul attack," wrote President Trump in a statement released moments ago. "This tragedy should never have been allowed to happen, which makes our grief even deeper and more difficult to understand. May God Bless the U.S.A."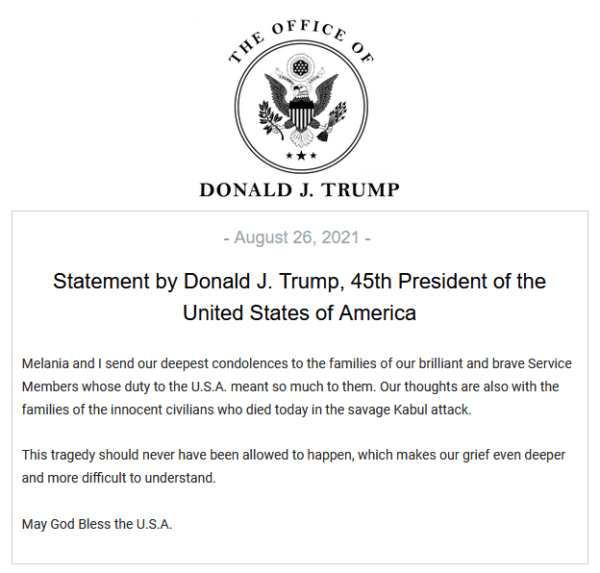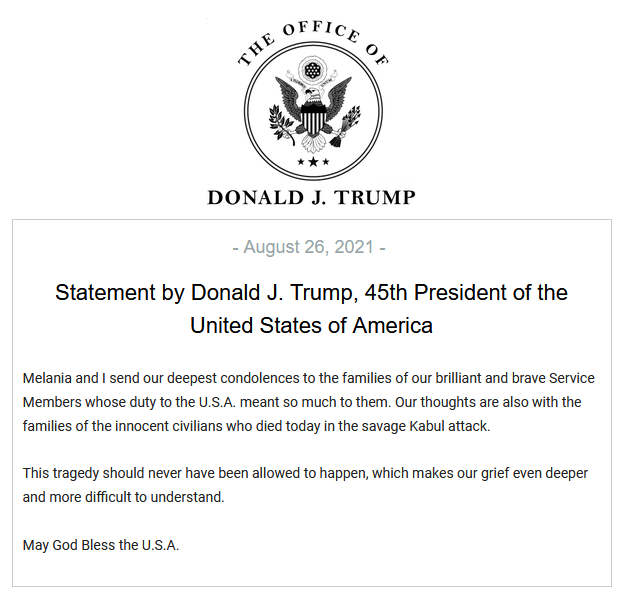 Earlier today, the Biden regime admitted that Americans were injured but offered no specifics on possible fatalities or the extent of the injuries. Later, Russian and Taliban spokespersons gave much larger casualty estimates than were originally offered by the Biden regime, and media independently verified that at least 12 Americans were killed in the bombings.
United States officials within the Biden regime have spoken to media, all under strict conditions of anonymity, and said that the attack is being attributed to ISIS, the Islamic State, which media has described as more radical and violent than the Taliban. Prior to the attack, Biden offered contradictory messages suggesting that the airport should be avoided due to a terror threat from ISIS.
Since the attack, the Biden State Department cancelled its planned press conference, and Biden has not delivered a statement, made a speech, or even posted tweets to his personal or presidential Twitter accounts. President Trump's statement is, at press, the closest thing to a message from the executive branch of the United States.
Melania Trump, the former First Lady, posted her own message of condolences on Twitter.
We are praying for the families and loved ones of the Marine heroes killed in Kabul and for everyone who is suffering during this difficult time.

— MELANIA TRUMP (@MELANIATRUMP) August 26, 2021