Last Updated on March 17, 2020
Readers of nationalfile.com who had shared links from the site on Facebook first noticed the purge when they received notifications that the links were labelled "spam" by Facebook at approximately 4:30 Central Standard Time on Tuesday.
National File's editorial team received zero notice, either in advance or in real time, from Facebook about the blanket censorship, which consisted of an enormous purge of every National File link shared since the news outlet's inception in August 2019.
Jack Hadfield, National File's senior UK correspondent, received notice last week that a link he had posted had been flagged as "spam." Links to the site were still available on Facebook until Tuesday, when National File's readership received Facebook "spam" notifications en masse.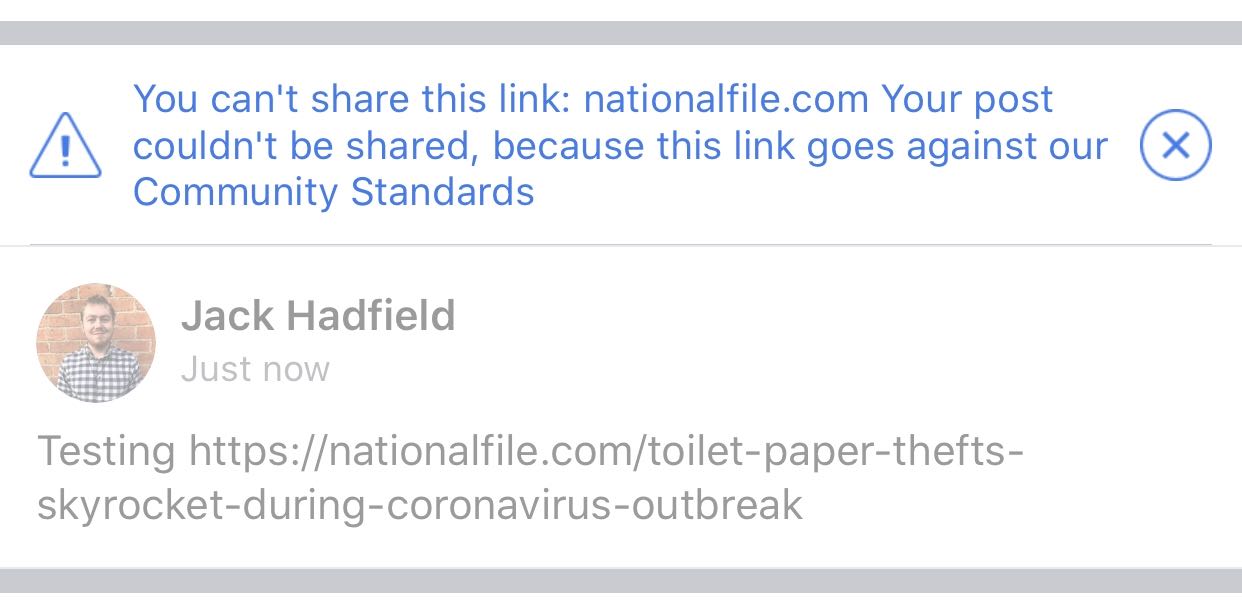 Upon investigating further, Hadfield encountered a notice that referenced a "spam" violation of the Community Standards that said "we don't allow people to use misleading or inaccurate information to get likes, followers, or shares."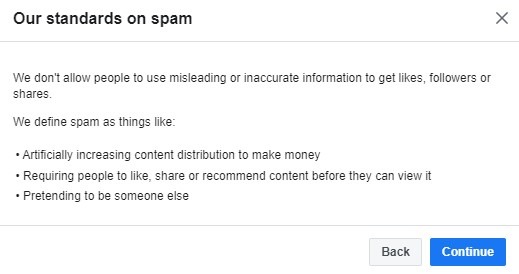 National File has a track record of extremely high credibility, and an unprecedented level of accurate reporting in the nearly 1,500 articles published on the site since 2019.
National File's Senior Reporter Patrick Howley has authored multiple high-profile exclusive reports with National File that were propelled into the mainstream, including a series on Paul Pelosi Jr.'s business dealings in Ukraine and troubled relationship with ex-girlfriend Karena Feng, as well as reporting on scandals within Child Protective Services.
Prior to his tenure at National File, Howley broke the story of Virginia Governor Ralph Northam's blackface scandal, was featured on the Drudge Report with four separate outlets, and was a respected reporter at Breitbart and the Daily Caller.
The Daily Caller has been accredited by Facebook as an official third-party fact-checker, and Breitbart is an accredited source as part of Facebook's Facebook News curation service.
The story, confirmed by mainstream media, about social worker trashing sex abuse reports is blocked on Facebook as "Spam"https://t.co/44rYx1O41U

— Patrick Howley (@HowleyReporter) March 17, 2020
National File also was one one of the first outlets to report on the FBI's arrest of Harvard Department of Chemistry and Chemical Biology chair Charles Lieber after his work in Wuhan, as well as many other exclusive reports relating to censorship, politics, tech, and foreign policy.
Facebook started mass flagging of articles related to the coronavirus as "spam" on Tuesday, including articles published by its own Facebook News and fact-checking affiliates.
National File reached out to Facebook for an explanation, and has not yet received a reply.
No public statement on this debacle has been made by Facebook as of press time. National File will provide updates if and when such a statement is provided.
UPDATE: National File articles are slowly returning to Facebook. It is still unknown if this was an error. Facebook has not returned our requests for comment.