Last Updated on December 14, 2022
Richmond, Virginia's BLM-aligned mayor, LeVar Stoney, ordered crews to dig up the remains of Confederate General AP Hill, which were buried beneath his former monument. The digging up of the General's remains was a long-time goal of Stoney and BLM, as they've sought to remove all traces of the Confederacy from Virginia's capital city, where monuments to Christopher Columbus and other White historical figures unrelated to the Civil War have also come under attack.
The desecration of General AP Hill's resting place came after the BLM-aligned Mayor of Richmond, Virginia, LeVar Stoney, ordered his remains and monument removed from city property, along with the rest of Richmond's Confederate relics.
Because the monument to General Hill doubled as his resting place, a battle to keep it in place ensued but Stoney and BLM ultimately got their way.
On Monday, December 12th, the statue serving as the General's headstone was removed, and the following day, his remains were dug up.
Black Lives Matter supporters with a propensity for violence gathered around the area of the exhumation, even threatening violence against John Hill, a descendant of the General who was on the scene to personally lift the General's remains out of his resting place and ensure their respectful care.
"I'll beat you like your daddy should've," a bystander can be heard shouting at Mr. Hill, in between other varying threats, in video posted by local news station NBC12.
In addition to threatening Hill, the BLM'ers issued threats to a wide variety of White people who were in attendance at the desecration/exhumation of General Hill's remains, while police on the scene stood down, and did nothing about it.
A number of the threats were captured on video by a local NBC reporter.
Watch a local thug threaten General Hill's descendent below:
John Hill, descendant of AP Hill, is retrieving the remains. Now he is engaging with onlookers who have been arguing behind the caution tape. People on both sides of the controversy yelling at one another. @NBC12 pic.twitter.com/cXAzbTy26u

— Riley Wyant (@rileywyantTV) December 13, 2022
Following the exhumation, John Hill, the General's closest living relative, posted to Twitter, announcing that General Hill is "now in a beautiful oak casket draped in a Virginia Flag."
"It was an honor to do this today," Hill wrote of safeguarding his ancestor's remains.
Now, what was recovered of General Hill will travel to his native Culpeper, Virginia, where he will again be buried.
A legal battle continues though as for the fate of the General's monumental headstone, which Stoney and Richmond Democrats say belongs in a black history museum, not on top of the General's grave.
As has been seen in several other instances, especially in Richmond, once the statues arrive at such museums, they are destroyed or severely altered, and portrayed as a trophy in a war against White people, as was done to a statue of Confederate President Jefferson Davis in a Richmond museum.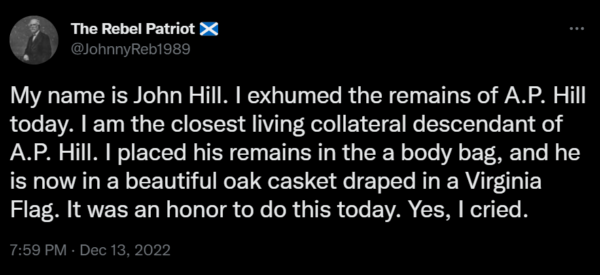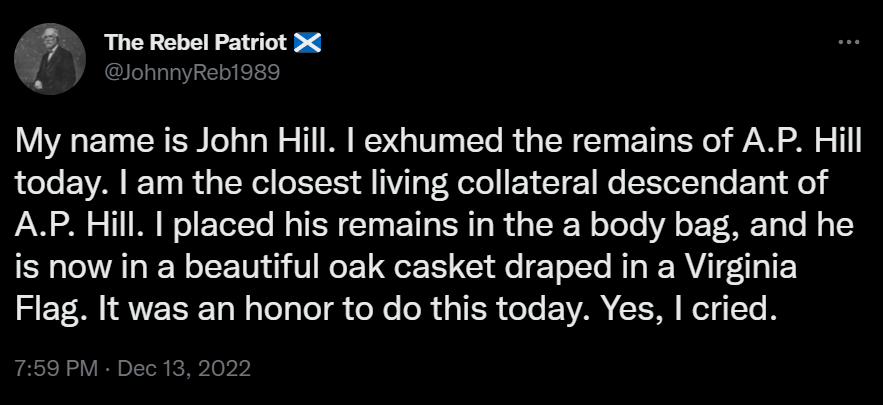 In digging up the remains of General AP Hill, Democrat Mayor Stoney reportedly contracted with "Team Henry," a company owned by one of his biggest campaign donors, and used city funds to pay roughly 10 times what the job was actually worth. 
The monument's destruction and the grave's desecration mark the removal of the last major Confederate monument on Richmond city property.
At the state-level, Republicans like Glenn Youngkin have been completely flaccid on the issue, even on the desecration of General Hill's grave, with the Governor and his peers having repeatedly endorsed historical vandalism.
Despite the removal of the supposedly racist monuments, Richmond, which is a majority black city, remains one of the most dangerous places to live in the entire country, boasting a per-capita murder rate rivaling that of Chicago.
A pivotal but lesser-known figure in Confederate history, Hill, affectionately known throughout the Confederacy as "Little Powell," was a Culpeper, Virginia-born West Point graduate.
Personally opposed to slavery, Hill resigned his commission in the United States Army upon Virginia's 1861 secession, going on to command the Army of Northern Virginia's Light Division and quickly gaining a reputation as one of the Confederate Army's ablest officers.
A true believer in his native southland's fight for independence, Hill said he'd rather die than see the end of the Confederacy and was later killed in combat during the Siege of Petersburg, in the closing days of the war.
When General Robert E. Lee was informed of Hill's death, aides reported the General being overcome with emotion before stating, "he is at rest now, and we who are left are the ones to suffer."
Years later, as Lee lay on his death bed, witnesses described Hill's name being among the last words the General uttered.