Last Updated on February 17, 2022
BLM activist Quintez Brown, 21, was charged with attempted murder and four counts of wanton endangerment after conducting a failed assassination attempt on Louisville mayoral candidate Craig Greenberg, a Democrat. Greenberg was not injured in the attempt on his life, though gunfire did graze his jacket. Brown pleaded not guilty to the charges levied against him in court on Tuesday.
While Greenberg was holding a meeting with a group of staffers, Brown allegedly entered the mayoral candidate's office and opened fire. "My team is blessed no one was physically injured today," Greenberg later said in a press conference. "Despite one bullet coming so close that it grazed my sweater and my shirt, no one was physically harmed and we're extraordinarily grateful for our safety."
A staff member closest to the door managed to close it, Greenberg said, and others barricaded it with tables and desks. "I'm very fortunate to have a great team of great people who responded in that way," Greenberg said.
The accused shooter, Quintez Brown, is a self-styled "civil rights activist" who previously spent time at the Louisville Courier Journal. Brown would occasionally write editorial columns for the outlet and last posted in May of last year. Brown had been a University of Louisville student and an opinion editor for the Cardinal, the student newspaper. According to the Louisville Courier Journal, Brown was an active participant in 2020's BLM protests. Most recently, he announced his candidacy for Metro Council in Louisville's District 5.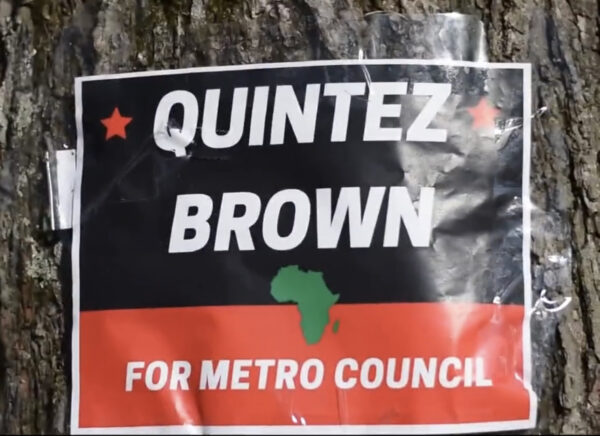 Brown has expressed support for black supremacist causes and "pan Africanism" through his Twitter account. "We have one scientific and correct solution, Pan-Africanism: the total liberation and unification of Africa under scientific socialism," wrote Brown under a "Tez4Liberation" Twitter handle.
"In this same interview Dr. King talked about how his biggest mistake was believing that white Christians would rise to aid the movement once their consciences were challenged," Brown wrote in a tweet that referenced a quote From Martin Luther King Jr. In a post last month, referred to the deployment of the Kentucky National Guard — who were dispatched to Louisville in 2020 following violent riots — as a "colonial occupation."
Brown lists his policy goals as "freedom, reparations, political power, community control, full employment" and UBI.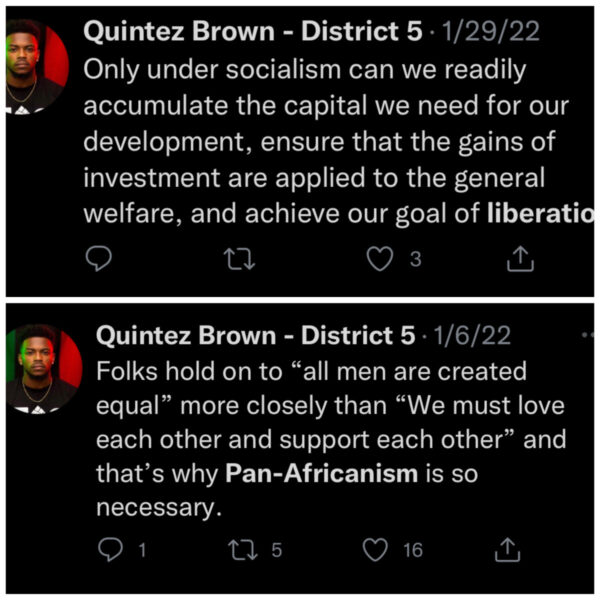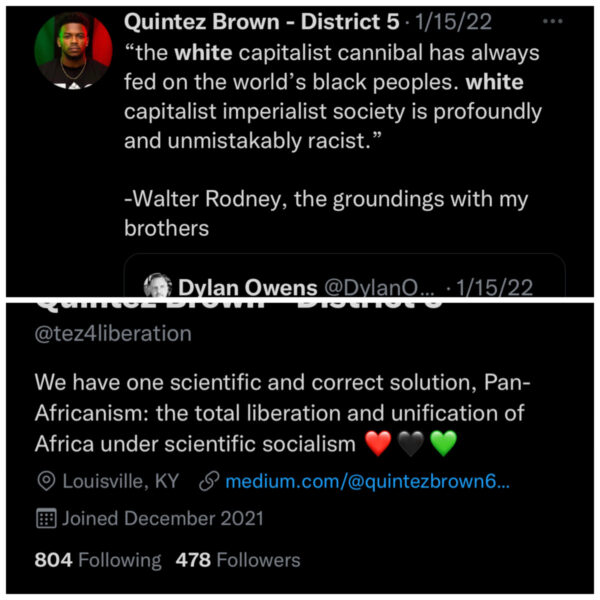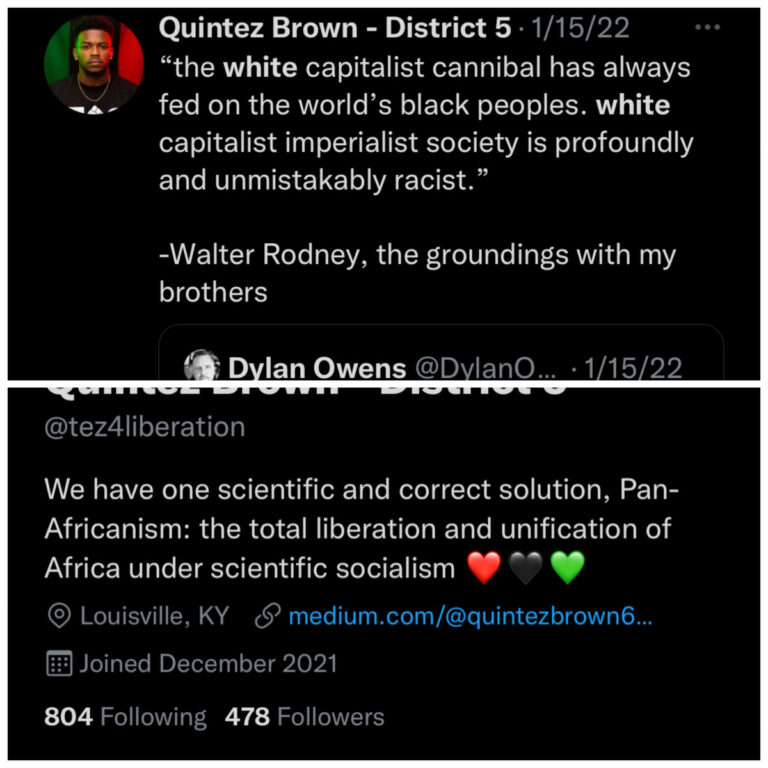 In reference to the Greenberg shooting, a police report says a man later identified as Brown entered the building and fired a 9mm Glock handgun at Greenberg before fleeing the building. Officers found Brown less than a half-mile from the campaign headquarters about 10 minutes later, carrying a loaded 9mm magazine in his pants pocket, according to the arrest report.
Greenberg, a Democrat, announced his mayoral campaign last year in the race to succeed outgoing Mayor Greg Fischer. Greenberg has said public safety would be his No. 1 priority if he's elected mayor this year. He released his public safety plan for Louisville last month, which called for "fully" funding and staffing a "community-oriented police force" and expanding mental health treatment, among other things.
It is unknown whether Brown knew Greenberg personally.