Last Updated on February 17, 2022
The Louisville Community bail fund has posted accused shooter Quintez Brown's $100,000 cash bond in order to free him from the Louisville Metro Department of Corrections. Brown, 21, is a local BLM activist who has been charged with attempted murder and four counts of wanton endangerment after allegedly targeting Louisville mayoral candidate Craig Greenberg in an assassination attempt.
Brown allegedly entered Greenberg's campaign office and fired a handgun at the candidate while he was in a meeting with staffers. Greenberg was not injured in the shooting, though a bullet did graze his jacket. "My ears are still ringing from the gunshots yesterday," Greenberg said in an interview with WAVE News on Tuesday. After fleeing, Brown was arrested not far from the scene and was found to be carrying a loaded 9mm handgun.
The alleged gunman has expressed support for black nationalist causes and "pan Africanism" through his Twitter account. Brown also spent time as an intern with the Louisville Courier Journal and attended Louisville University, where he worked as an opinion editor for the university's student newspaper, the Cardinal. Most recently, Brown announced his candidacy for Louisville Metro Council.
"We have one scientific and correct solution, Pan-Africanism: the total liberation and unification of Africa under scientific socialism," wrote Brown in a tweet under a "Tez4Liberation" Twitter handle.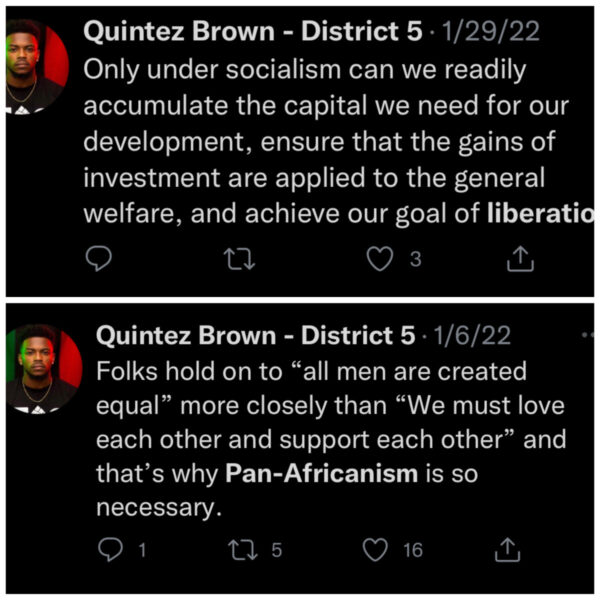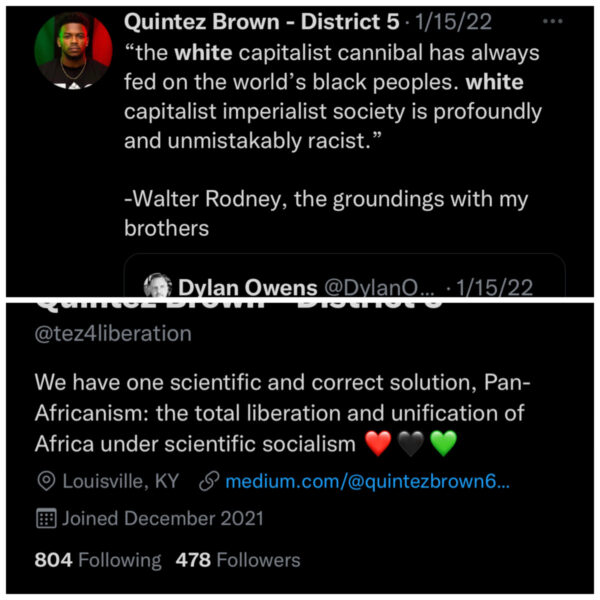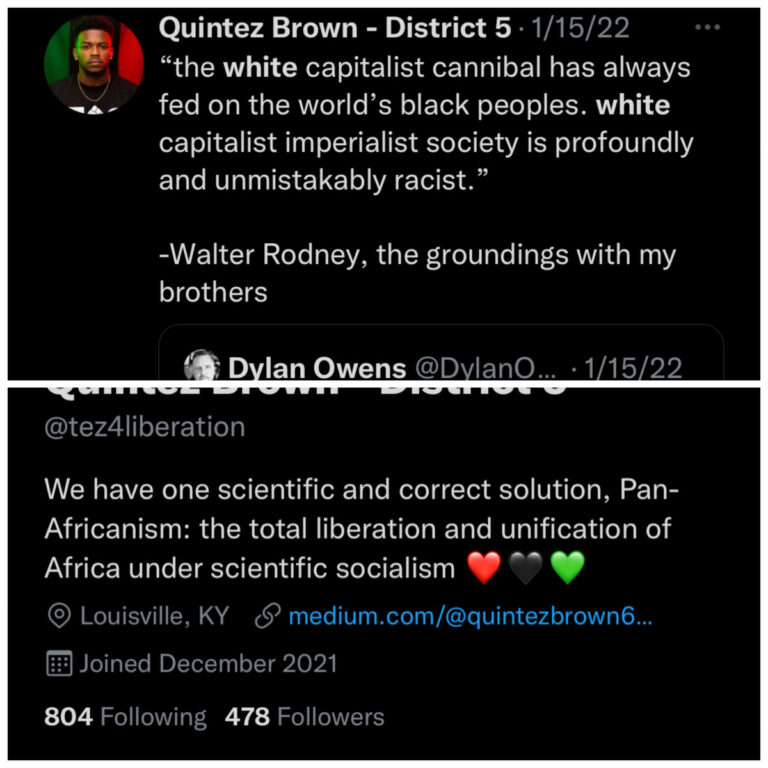 At his arraignment on Monday, Judge Annette Karem raised Brown's bond from $75,000 to $100,000 and said if bond was posted, Brown would be released to home confinement. Attorney Rob Eggert said in court that he planned to have a psychiatric evaluation for Brown, who has "serious mental issues."
On Tuesday, after Brown's arraignment, a Community Bail Fund member posted on social media asking if they could make a donation toward paying Brown's bail, to which another member responded saying his bail has already been "solidified." According to WAVE News, the group claims Brown is struggling with his mental health and stated that incarceration is not beneficial for him due to lack of mental health resources at the jail. The group reportedly held a virtual meeting Tuesday night to discuss the plan further. "Cash bail is one of the aspects of the criminal justice system that keeps communities wrapped up in systemic slavery and in debt. The need to end cash bail is not new," reads the group's website.
As of Wednesday evening, the Louisville Community Bail Fund has posted Brown's bond. Brown remains incarcerated at Louisville Metro Corrections, but organizers of the fund said he should be out by Wednesday evening after processing. The alleged gunman has pleaded not guilty to the charges levied against him.