Last Updated on October 14, 2020
Left-wing Big Tech platform Twitter has banned links to a story from the New York Post regarding the Biden family's overseas dealings. Despite the fact that the New York Post is one of the most prestigious, credible, and mainstream papers of record in the United States, and the story itself is well-vetted and reliably sourced, the damaging political implications for the Democrat Party in the 2020 presidential election have led Big Tech platforms to label the story "potentially harmful" and block users from seeing it.
The news follows a decision from fellow left-wing tech monopoly Facebook to "reduce distribution" of the story, setting the precedent for Silicon Valley censorship of journalism on what appear to be purely partisan grounds.
New York post editor Sohrab Ahmari noticed the banning of the story by Twitter early Wednesday afternoon.
"This is a Big Tech information coup. This is digital civil war. I, an editor at The New York Post, one of the nation's largest papers by circulation, can't post one of our own stories that details corruption by a major-party presidential candidate, Biden," Ahmari posted, accompanying a screenshot of Twitter's message calling the link "potentially harmful."

https://twitter.com/SohrabAhmari/status/1316446749729398790
When I clicked on the link in another tweet, it sent me to this page rather than to the Post. pic.twitter.com/yTvWWddVsC

— ThirstyMayor (@thethirstymayor) October 14, 2020
Other Twitter users were able to independently confirm that the "unsafe" story is being suppressed across the entire platform.
The link is also banned from being sent in private direct messages between users.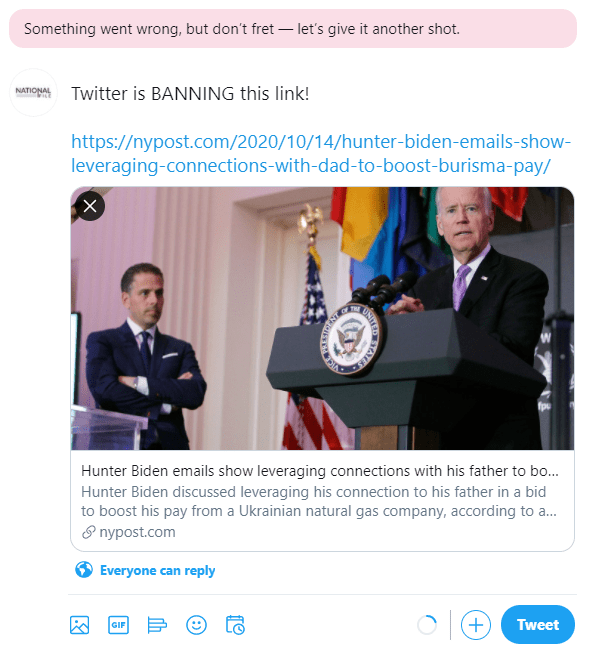 Some users noticed that links to the story using Google's fast-loading AMP version intended for mobile devices. Links to the story ending in /amp/ are still able to be posted on the Twitter at the time of this article's publication.
Users who click on links to the story are redirected to a Twitter page that warns the link has been deemed "potentially spammy or unsafe," and agree to "ignore this warning and continue" to view the article.
The New York Post story went viral on Wednesday in part due to never-before-seen photographs of Joe Biden's son Hunter sleeping with a crack pipe in his mouth, amongst other compromising evidence.