Last Updated on March 4, 2023
Joe Biden's COVID jab mandate is barring legendary tennis star Novak Djokovic from competing in the upcoming Miami Open. Djokovic is fresh off a triumphant victory in the Australian Open, in the nation where he was imprisoned last year for refusing to accept to jab.
As things currently stand, the world's top-ranked men's tennis player, Serbia's Novak Djokovic, is barred from entering the United States and therefore unable to compete in upcoming events at Indian Wells, California, and Miami, Florida, thanks to Joe Biden's jab mandate on foreign nationals entering the United States. Curiously, while this mandate has been repeatedly enforced on Djokovic, also barring him from competing in last year's US Open, it isn't being enforced along the southern border, where millions of illegal aliens, who are unvaccinated against a whole slew of deadly diseases, have been let into the United States under Biden's watch.
With the Miami Open being one of tennis's biggest events outside of the four "Grand Slam" tournaments, and evidence growing by the day that "vaccines" against COVID-19 are actually highly-lethal bioweapons, US Senators Rick Scott and Marco Rubio have called on the Biden Administration to grant a special waiver allowing Djokovic to enter the United States. Thus far, their efforts have been denied by the Department of Homeland Security.
"We have been told that @DHSgov just denied @DjokerNole's vaccine waiver request," Senator Scott wrote in a tweet, adding that the decision makes Djokovic "ineligible to compete in the US next week in CA & in the @MiamiOpen."
"@JoeBiden must fix this NOW, grant the waiver & allow him to compete here in the states," wrote Scott.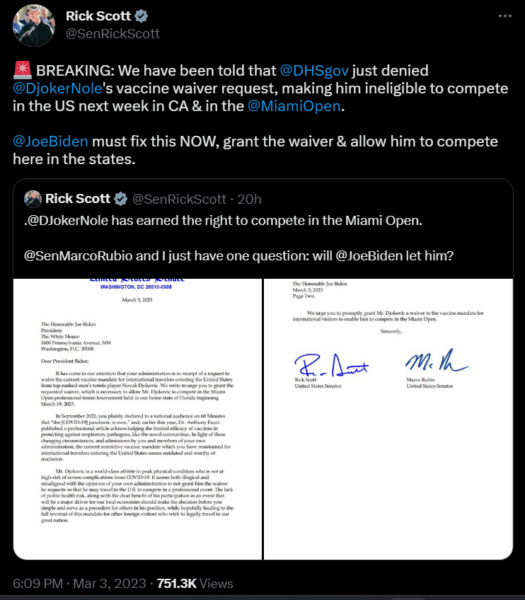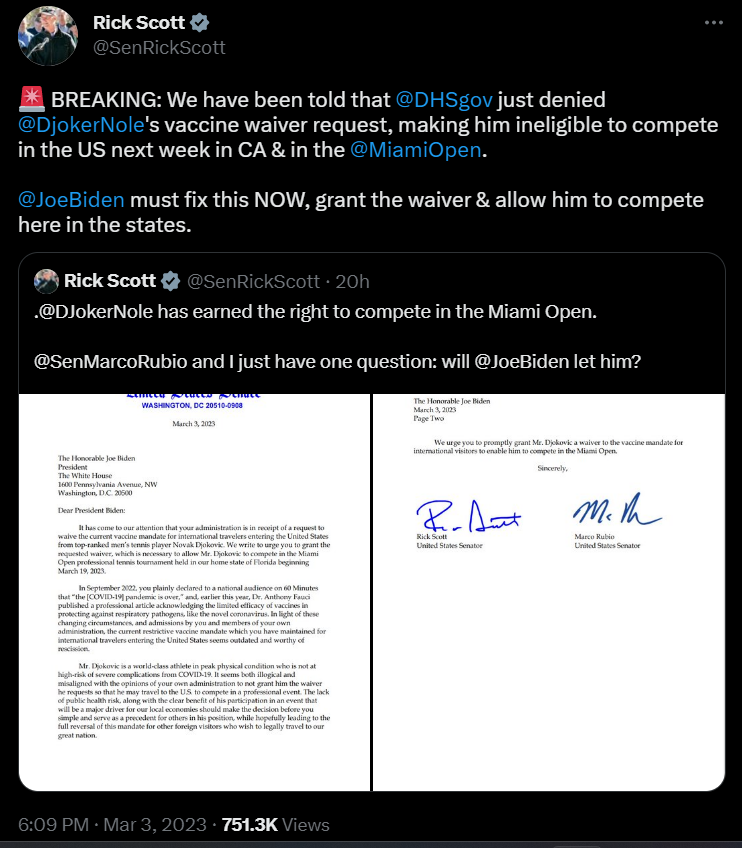 Those sentiments were echoed in a tweet from the account of the US Open, whose tournament Djokovic is expected to be able to compete in, as entry rules regarding COVID jabs are expected to be relaxed at the end of next month.
"Novak Djokovic is one [of] the greatest champions our sport has ever seen," the tweet from the US Open reads. "The USTA and US Open are hopeful that Novak is successful in his petition to enter the country, and that the fans will be able to see him back in action at Indian Wells and Miami."


Djokovic's fight to compete in the Miami Open and other US tennis events is part of a wider struggle that's made him a symbol of medical freedom and body autonomy all over the world. Just a year ago, Djokovic was imprisoned in Australia for refusing the COVID jab, after he landed in the country only to be barred from competing in the Australian Open.
In January, Djokovic made a triumphant return to Australia, where he won the tournament for the 10th time, picking up his 22nd Grand Slam title.
As National File previously reported:
Novak Djokovic defeated Stefanos Tsitsipas, of Greece, to pick up his 22nd Grand Slam title and 10th Australian Open championship, putting the icing on the cake of a legendary run that's made him a symbol of freedom all over the world and has made him an even bigger national hero than he already was, in his native Serbia.

Djokovic's win ties him with fellow tennis legend Rafael Nadal, for the most Grand Slam victories of all time.

…

But just one year ago, Djokovic was barred from competing in the Australian Open and was imprisoned after arriving down under, for refusing to submit to the COVID-19 jab that's been credited with causing thousands of athletes in peak physical shape to drop dead on the field of play.

After his release, Djokovic went on to win at Wimbledon and received a hero's welcome upon his return to Serbia.