Last Updated on November 8, 2022
With polls now officially closed in Pennsylvania, poll watchers in Delaware County have reported scanning issues at the Union Power Plant Central Counting Center in Chester. Gregory Stenstrom, a Navy veteran and forensic computer scientist, told National File that he observed two stacks of roughly 500 ballots being run through a scanner twice.
The first scan was reportedly voided, but he added that it was not possible to be certain. They were then moved about 20 feet away from the scanner to the back of the room.
Stenstrom, who is both an observer and certified poll watcher for PA House candidate Nichole Missino, told National File that the counting center has had a good turnout of trained poll watchers, as well as lawyers for statewide and county campaigns.
"Good turnout of trained poll watchers, and this time we have attorneys from Oz, Mastriano and Galluch on hand who are all smart, savvy and nice, but tough," Stenstrom said. He added that the attorneys are "pushing and assertively fighting back with citations of law and procedures," in addition to asking questions and demanding answers.
Leah Hoopes, another certified poll watcher and Republican Committeewoman for Bethel Township in Delaware County, also reported issues with scanners at the central counting center. "There have been issues with ballots scanning properly," Hoopes told National File.
According to Hoopes, the machines were not properly tested during logic and accuracy testing, which is required according to directives under state law.
In addition to the scanning issues, Hoopes claimed that Delaware County elections officials had already pre-canvassed mail-in ballots before observers arrived at 7 a.m.
"Just so you know, Delaware County Board of Elections and Bureau have already broken the law," Hoopes wrote in a Facebook post. "At 7 am when observers arrived at the Wharf, the county had already pre-canvassed the mailing ballots. The inspection of an envelope and the sorting is a part of the pre canvas, that is the law."
"It is reiterated in the PA Supreme Court Case in Re Canvassing Observation, in our election code, and the Republican lawyers present are clueless to the law," Hoopes continued. "There should have been an emergency injunction 2 hours ago."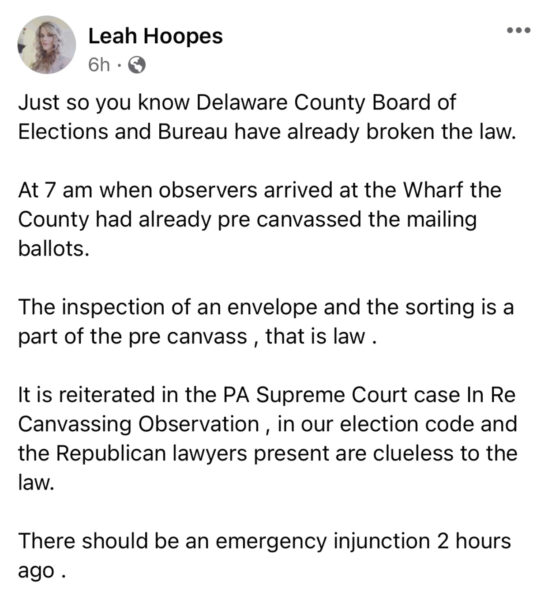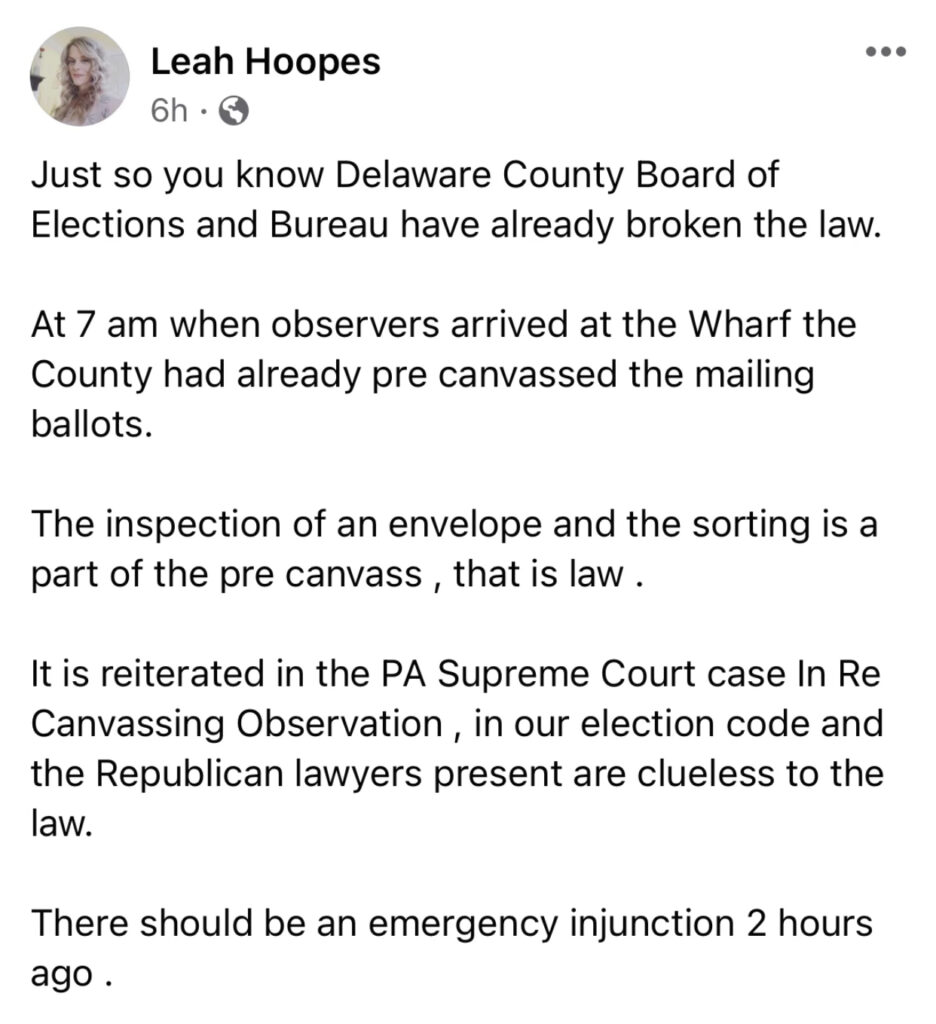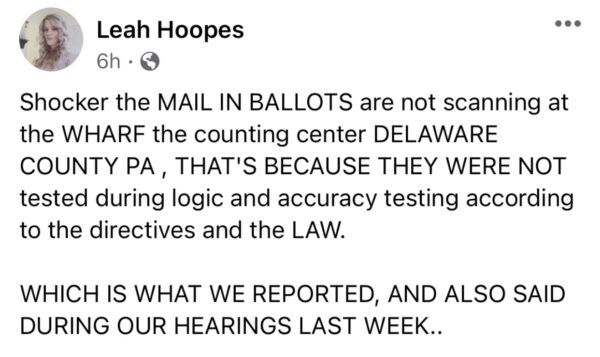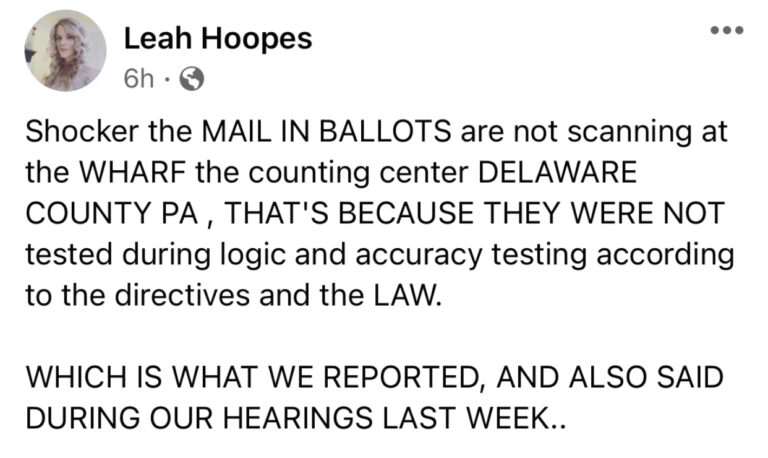 Leigh Chapman, Pennsylvania's acting secretary of state, recently stated that voters can expect "delays" in receiving final tallies from elections. This, Chapman claims, is due to a Pennsylvania law that prevents election workers from counting mail-in ballots until polls open on election day.
According to a report from Spotlight PA, roughly nearly 1.4 million Pennsylvanians requested to vote by mail this cycle. Roughly 70% of those were requested by Democrats, the journalistic consortium reported.
In Delaware County — a suburb of Philadelphia and fifth most populous county in Pennsylvania — a little over 60,000 mail-in ballots have been requested for the midterm elections.