Last Updated on July 19, 2021
Patriot audit organizers in Arizona tell NATIONAL FILE that they are fighting to get a Senate warrant for the materials that Maricopa County has withheld from the Cyber Ninjas audit team. The Arizona Senate Republicans seem poised to either re-request the subpoenaed materials from Maricopa County or issue a new round of subpoenas. But patriot organizers have a plan to get a warrant for the evidence without going through the courts. The patriots maintain that the Arizona Senate is perfectly capable of issuing warrants. (READ: Arizona Audit Finds Enough Tainted Ballots To Erase Biden's Lead As Senators Call To Decertify Election).
"They haven't gotten all the items on the subpoena," Josh Barnett told NATIONAL FILE. Barnett is an activist who was part of the original team that drove the affidavit effort to get the Maricopa County audit, which is now being overseen by the Arizona Senate Republicans. "But I'm not talking about a subpoena. I'm talking about a warrant."
"To get a warrant, we need a written report from the Chairman of the Judiciary Committee, Senator Warren Petersen, signed off on by Senate President Fann. Then we can send a Sergeant at Arms to go pick this stuff up. We don't need courts involved. I told Warren this," Barnett said, referring to Judiciary chairman Sen. Warren Petersen. "I have spoken about this with senators" and numerous lawmakers agree with the tactic, Barnett said. "They do NOT need to vote on it. The Senate Judiciary Committee chairman can issue the written report himself." Barnett said that Arizona governmental super-lawyer Alex Kolodin confirmed that this tactic is proper and legitimate.
The most recent available version of the Arizona Senate Rules, Rule 2D, states that "The President shall sign all acts, addresses, joint resolutions, writs, warrants and subpoenas issued by the order of the Senate, and decide all questions of order, subject to an appeal by any member, on which appeal no member shall speak more than once, unless by permission of the Senate." In this case the president of the Senate would be Karen Fann, the Republican overseeing the Maricopa County audit.
The Mason's Manual of Legislative Procedure, which is recognized by the Arizona legislature as "a procedural and parliamentary manual that supplements the Constitution, statutes and House and Senate Rules," acknowledges that a Senate committee can issue a warrant. The Mason's Manual states: "No affidavit charging contempt need be filed before a house to authorize it to issue its warrant to arrest a contumacious person who refuses to testify before one of its committees. The written report of the committee is sufficient authority for the issuance of the warrant."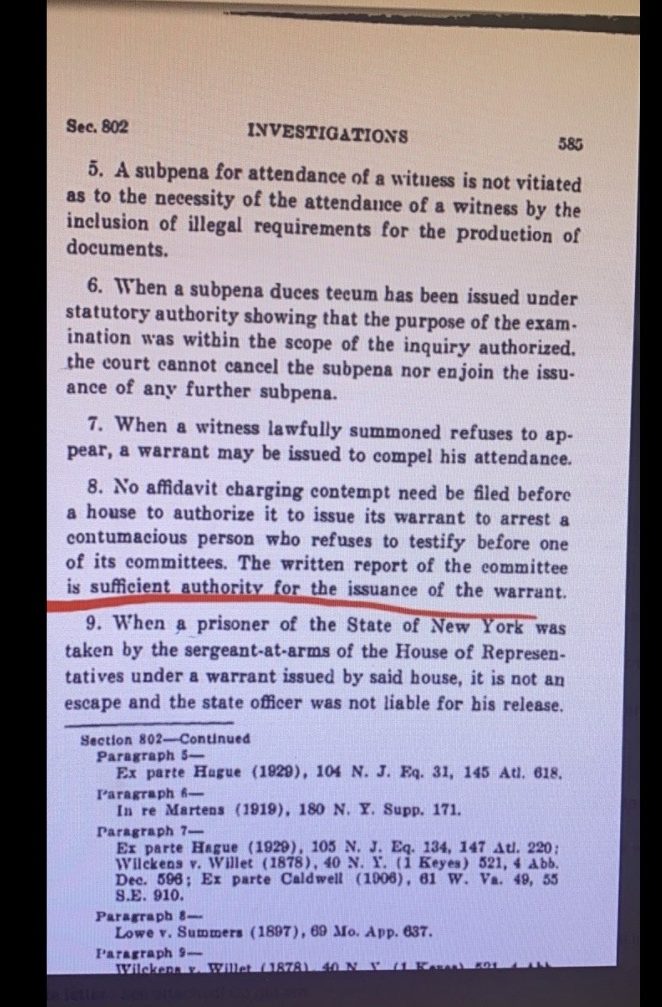 Cyber Ninjas CEO Doug Logan stated that the standard of verification for mail-in ballots dropped considerably as the volume of the ballots increased. "We've had an affidavit that specifically stated that when mail-in ballots were received, that so many of them were received that the standard was reduced over time. They originally talked about, there was originally 20 points of comparison on the signature and then after some time they were told to go to ten points of comparison, then five. And then eventually they were just told to let every single mail-in ballot through," Doug Logan stated, noting that Maricopa County is withholding mail-in ballot images that can be used as evidence. Former Arizona Secretary of State Ken Bennett recommended re-subpoenaing those images.
HUGE: Arizona Audit experts say they received an affidavit from Maricopa County revealing that verification of mail in ballots went from 20 points to 10 to 5 to ZERO. pic.twitter.com/lTE39dK0wX

— National File (@NationalFile) July 15, 2021