Last Updated on February 17, 2022
A special education teacher commented on the viral image of a Black Lives Matter activist kneeling on the neck of a toddler in a scene imitating George Floyd's fatal arrest, suggested kneeling on specific parts of the toddler's body in order to kill them.
Brian Papin, a special education teacher in Cedar Grove, Atlanta, commented on a viral post made by Ohio man Isaiah Jackson, who has since been arrested for violating probation since allegedly posting the image.
Papin wrote, "Again! Your doing it wrong! One knee on the center of the back one one the neck and lean into it until death! You saw the video! Get it right or stop f***ing around!"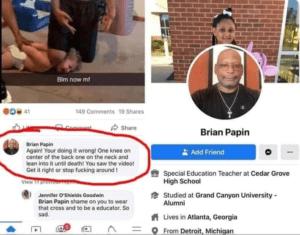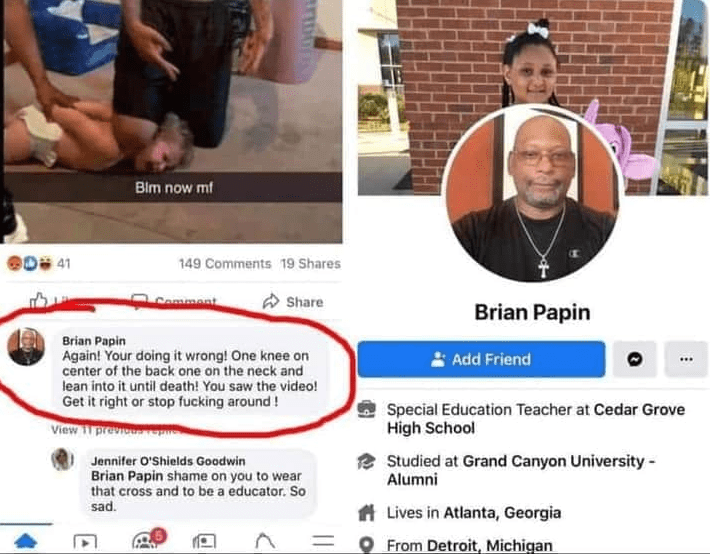 Nationalist Review discovered Papin's job description as an educator at Cedar Grove high school, with "oral, written and interpersonal communications, including communications for sight, hearing
and speech impaired," being part of his skillset.
Papin's Facebook page contains posts supportive of the Black Lives Matter movement as well as black revisionism including a depiction of Jesus Christ and his disciples as black.
Jackson, who was seen in the picture kneeling on the child's neck, was picked up by police on a reportedly unrelated parole violation. He is awaiting charges to be drawn up by the prosecutor's office.
WHIO reported that 21-year-old Isaiah Jackson was arrested by police who suspect he committed the crime depicted in the photo. Jackson was arrested in in Clark County, which encompasses much of Springfield and the surrounding area.

Jackson was processed into the Clark County Jail for a probation violation after the image was posted to Facebook and began to go viral. An investigation into Jackson was reportedly launched by police after the sheriff's office was alerted that the image was being shared on social media.

The photo appears to show Jackson kneeling on a crying toddler as another person holds the child's arms behind their back, in a scene apparently mimicking Floyd's death in May.
National File recently reported on another incident in Georgia, where a University of Georgia teaching assistant was recently cleared by the university after claiming that "Some white people may have to die for black communities to be made whole," and "To pretend that's not the case is ahistorical and generally naive."