Last Updated on July 23, 2020
Ashley Rae Goldenberg, also known as Communism Kills, was permanently banned from Twitter for questioning the ban of QAnon accounts on the site.
Goldenberg, a prominent America First conservative commentator, whose work was previously featured in MRCTV and other outlets, was permanently banned from Twitter on Tuesday evening.
Goldenberg's last tweets were questioning the recent crackdown by Twitter on so-called "QAnon" accounts. Twitter Safety announced on Tuesday that they are taking "further action" on the QAnon accounts across their service, including no longer serving content and accounts related to QAnon, stopping the highlighting of it in searches, and blocking URLs associated with QAnon being shared on Twitter.
We will permanently suspend accounts Tweeting about these topics that we know are engaged in violations of our multi-account policy, coordinating abuse around individual victims, or are attempting to evade a previous suspension — something we've seen more of in recent weeks.

— Twitter Safety (@TwitterSafety) July 22, 2020
These actions will be rolled out comprehensively this week. We will continue to review this activity across our service and update our rules and enforcement approach again if necessary.

— Twitter Safety (@TwitterSafety) July 22, 2020
Goldenberg queried as to what "offline harm" the QAnon accounts caused, and wondered whether this crackdown only happened "because Chrissy Teigen complained" about them. Shortly afterwards, she was permanently suspended from the platform.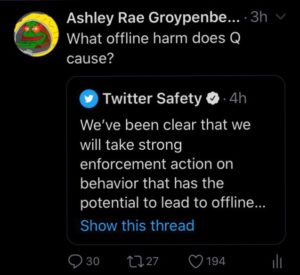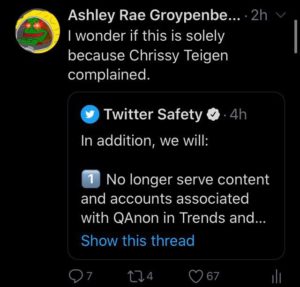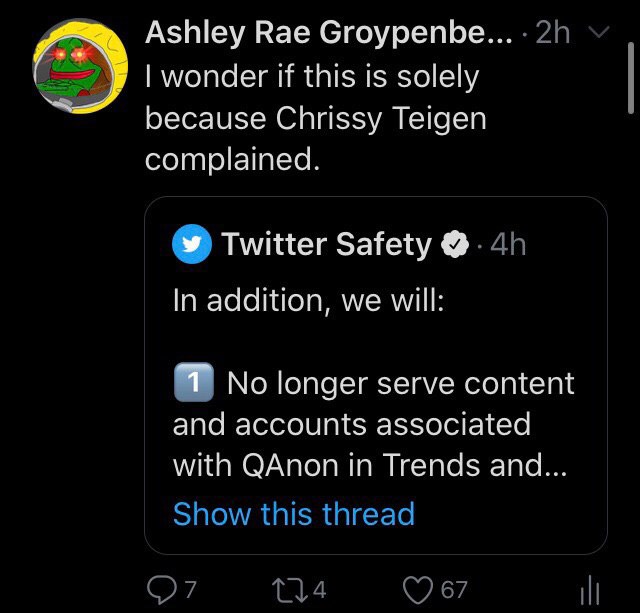 READ MORE: Twitter Prevents All Verified Accounts From Posting After Major Hack
Many conservatives were outraged on Twitter by Goldenberg's permanent suspension:
Yesterday @Communism_Kills was suspended from Twitter for criticizing the Q ban. You can follow her on Telegram. Here are her most recent messages about the suspension. https://t.co/MoNhM3ynpL pic.twitter.com/UY066veMGg

— Michelle Malkin (@michellemalkin) July 22, 2020
Ashley Rae Goldenberg aka @communism_kills who has been single handedly exposing Conservative Inc., is hilarious and a great reporter, and one of the only accounts I check on here everyday, is suspended.

Big loss for the America First movement

— Patrick Howley (@HowleyReporter) July 22, 2020
https://twitter.com/Anthony37398921/status/1285967580742721538
However, some "conservatives" didn't care about this cracking down of Big Tech. Chad Felix Greene of the Post Millennial argued that because Goldenberg is "a deeply, profoundly disturbed individual who displayed concerning behaviour for years," she is "not worth fighting for."
Ashley is a deeply, profoundly disturbed individual who displayed concerning behavior for years and we all tried to help her and support her and she turned on all of us in the most cruel and malevolent ways possible.

She is not worth fighting for.
Her choices.
Her consequences.

— Chad Felix Greene (@chadfelixg) July 22, 2020
In response, Goldenberg said it was "truly telling" that there is a "smear campaign going on against me by conservatives who say they're anti-censorship and anti-cancel culture, saying I deserved to have been banned from Twitter":
Some are even lying and saying they and others reached out to me out of "concern" for me and my "mental health," but that is complete bullshit. These are the people who actively tried to destroy me on the right, and now they're rejoicing in my Twitter ban. Remember this the next time they say they're anti-cancel culture, probably in a few hours. This is exactly what I'm talking about when I criticize Con Inc. It is beyond parody.
Goldenberg was approached for request by National File and this story will be updated with her response. You can follow her Telegram here or her Gab @Communism_Kills.