Last Updated on November 20, 2023
Argentine President-elect Javier Milei is tied to the World Economic Forum and has worked alongside the group as it's expanded its political, economic, and cultural influence in Latin America. Revelations that Milei is a longtime associate of Klaus Schwab's WEF directly contradict reporting from American media outlets on both the left and the right, who are decrying or praising depending on their perspective, the election of a "Trump-like" "right-wing outsider."
In what looks to blow "right-wing populist" talk out of the water as it relates to Argentine President-elect Javier Milei, the economist-turned-politician who's been compared in the press to President Trump and Jair Bolsonaro has been revealed as a longtime associate of Klaus Schwab's World Economic Forum.
Milei is listed as a member of the World Economic Forum on the group's website, and a profile dedicated to him includes a photograph and biographical information.
On the profile, Milei is listed as the Chief Economist at Corporación América International, a private sector position that he no longer holds, though he did at the time of his active WEF participation.

Also according to the World Economic Forum's website, In 2014, Javier Milei attended the World Economic Forum on Latin America in Panama City, Panama, and was listed as a participant in a discussion about "Investing in Human Capital".
According to a webpage memorializing the "human capital" discussion, participants were asked how "Latin America can translate its current demographic bonus into long-term economic success".
Notably, the discussion came as the WEF and its partner groups around the globe began a hard push into Latin America, presumably in search of developing governments and cheap labor to seize control of.
In the years since, the group's hard push into the region has continued and, as reported by National File, the World Economic Forum has openly meddled in Latin American elections, including those held in Paraguay earlier this year.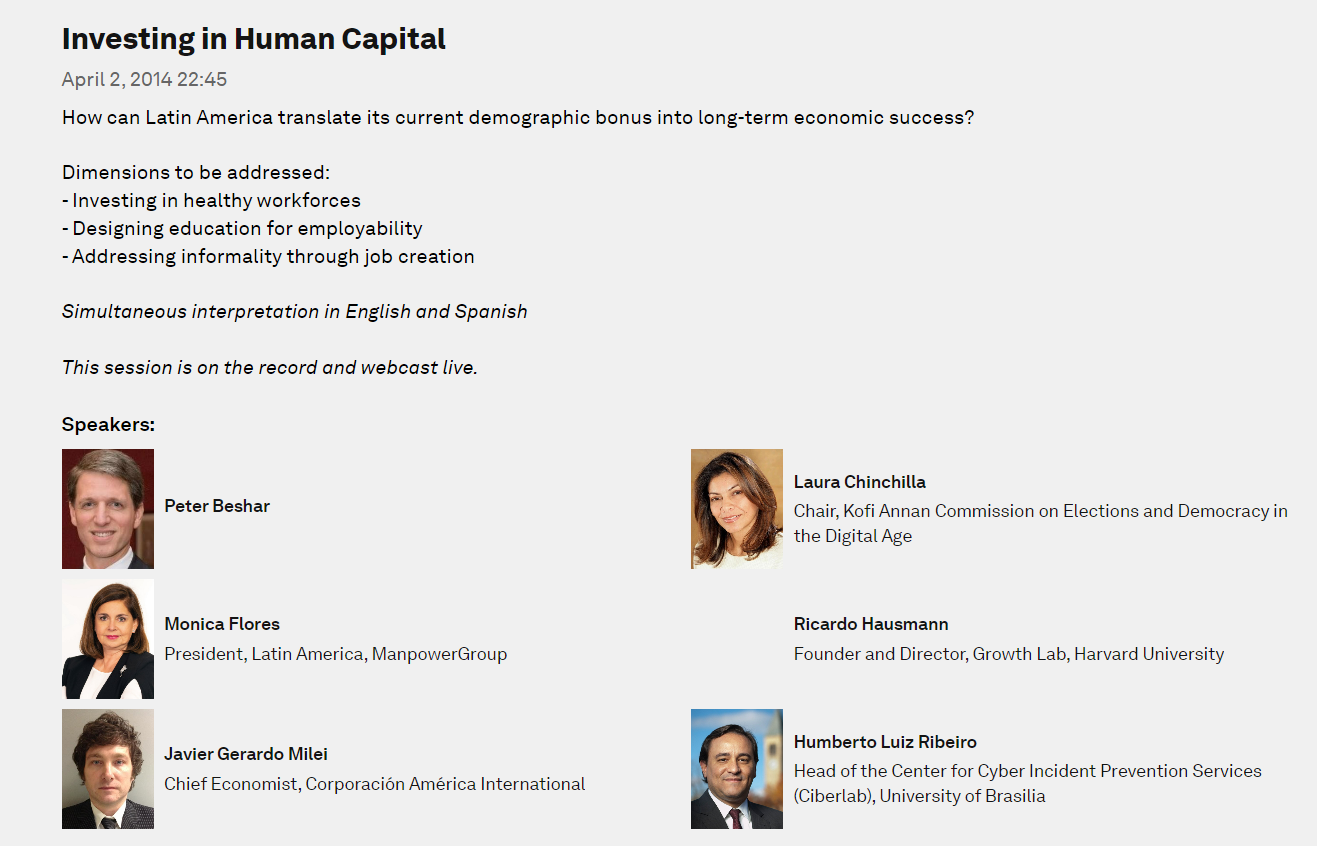 Further raising the specter that something is amiss in relation to Javier Milei's election as President of Argentina is the fact that in the United States and around the world, media outlets on both the left and the right are uniformly describing Milei's political views as being akin to those of President Trump and the America First movement, with some "libertarian" economic principles thrown in to spice things up.
Very few, if any of them, have covered Milei's ties to globalism and the World Economic Forum, though he is being widely hailed as a devout supporter of Israel.
As Stew Peters noted in a post he made to X, which included a photograph of Milei attending the World Economic Forum on Latin America, "American 'conservatives' are drooling over this guy."