Hasan Piker, who only a year ago claimed that 'America deserved 9/11' has resurfaced to team up with democratic representatives to promote voting.
A Twitch stream was organized for Democratic House Reps. Ilhan Omar (D-MN) and Alexandria Ocasio-Cortez (D-NY) by a streamer known as Piker. The trio were set to play the popular game Among Us, where players must attempt to detect murderous alien intruders among them while completing crucial tasks.
Piker, a former contributor to the Young Turks, is now known for playing video games and vlogging on Twitch. The live streamer also raised eyebrows when he went on a expletive-laden rant about American foreign policy and Rep. Dan Crenshaw (R-TX) last year that culminated in the streamer claiming the United States "deserved" the September 11 terrorist attacks.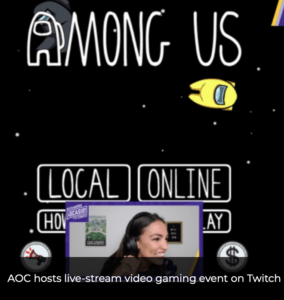 "This guy has the understanding of foreign policy of, like, a 12-year-old," Piker said in reference to Republican Dan Crenshaw in Piker's vlog last year.
"What the f*** What the f*** is wrong with this dude? Didn't he go to war and like literally lose his eye because some mujaheddin- a brave f***ing soldier f****ed his eye hole with their d***"
Piker continued, "America deserved 9/11, dude. F*** it. I'm saying it."
The recent livestream was intended to promote the election and to encourage young people to plan ahead and make sure they are ready to cast their vote. Piker has since claimed that his comments about 9/11 was directed towards America as a country and not the individual 3000 who died tragically in the hands of Islamic Terrorists.
During a Thursday night interview with TYT founder and host Cenk Uygur, Piker explains, "I should've used more precise and better use of the language there. It's messed up that I would even give the opportunity to the right to try to morally grandstand on an issue like this, when they are 100% responsible for all the bloodshed that's been caused." Piker then goes on to insist that he only was being "satirical."
Ocasio-Cortez had pulled out of participating in another event Tuesday night due to pressure from Palestinian activists. The Tuesday event was for the purpose of honoring the deceased Israeli Prime Minister, Yitzhak Rabin.
According to the Free Beacon, Ocasio-Cortez has even gone so far as to totally refuse to meet with Jewish leaders in New York City; the city she is a representative for.
In the past, Omar has been equally as dismissive as to the severity of the terrorist attacks on Americans that happened on 9/11. In 2019, Omar infamously described the 9/11 attacks as "some people" who "did something." This sentiment about 9/11 was also defended by non-other than Ocasio-Cortez.