Last Updated on June 1, 2023
US Representative from New York, Alexandria Ocasio-Cortez (AOC), went on a ballistic Twitter tirade after Elon Musk responded with a fire emoji to an AOC parody account that claimed it had a crush on the Twitter owner.
"This might be the wine talking, but I've got a crush on @elonmusk," the @AOCpress parody account tweeted, prompting Musk himself to respond with a fire emoji and send the real AOC spiraling into a censorious rage.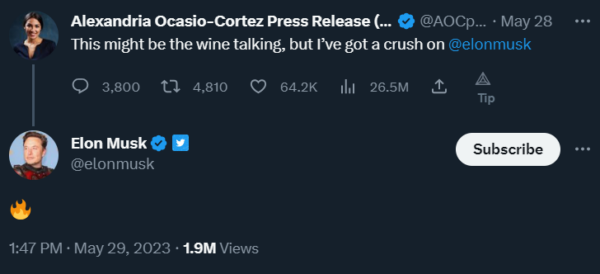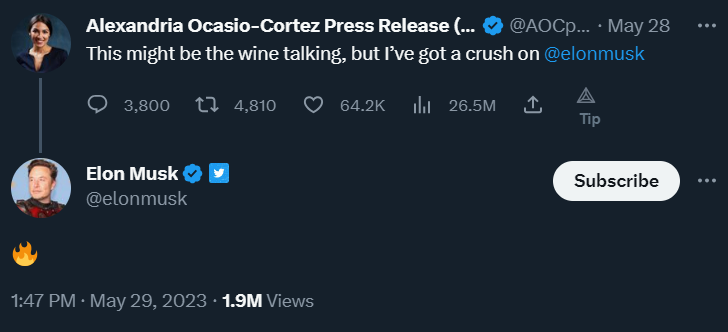 After the exchange between Elon Musk and the AOC parody account went viral on Twitter, the real AOC responded, claiming that @AOCpress, which openly lists itself as a parody account, was "impersonating" her and "releasing false policy statements."
"FYI there's a fake account on here impersonating me and going viral," tweeted the real AOC from her @AOC Twitter handle. "The Twitter CEO has engaged it, boosting visibility."
"It is releasing false policy statements and gaining speed," AOC added, implying that she and her "team" are working to get the account banned.
"I am assessing with my team how to move forward. In the meantime, be careful of what you see."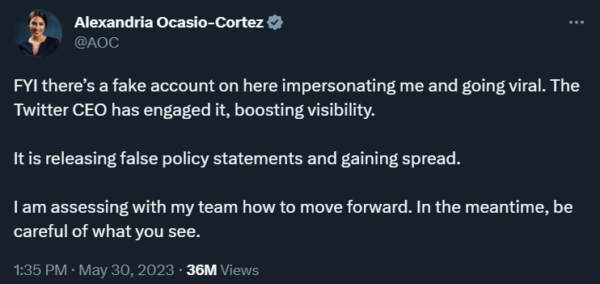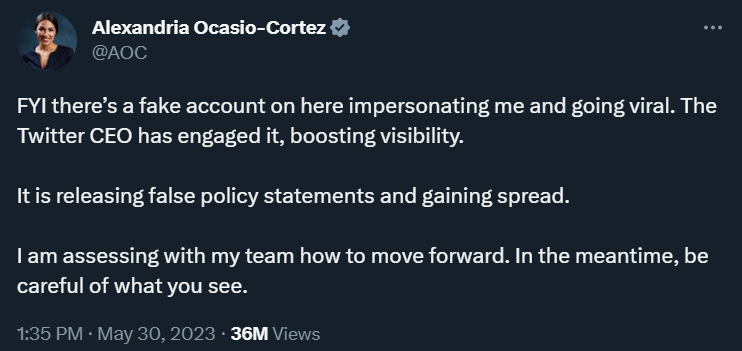 After the real AOC released her Twitter statement, the parody account fired off another tweet, writing that "If @elonmusk wants to have a chance with me, he'll immediately ban the parody account of me."
"This is like literally not funny."


"I'm calling on @elonmusk to permanently suspend the @AOCpress parody account," another tweet from the @AOCpress parody reads.
"Making fun of someone as important as me should never be allowed in a free society."


While the Elon Musk crush tweet from @AOCpress was a joke, the real AOC has previously linked her love life to her political career.
In 2021, after her boyfriend was mocked for being a grown man who wears sandals in public, AOC claimed in multiple tweets that Republican lawmakers and voters had developed a "sexual" fixation on her, and only criticize her because "Republicans are made they can't date me."