Last Updated on June 1, 2023
Nearly 10,000 photos from Hunter Biden's "laptop from hell" are being published online, showing the President's son using drugs and having sex with suspected prostitutes, among other things. Nude photographs of Hunter's own sister-in-law, Hallie Biden, have been redacted.
The massive trove of Hunter Biden laptop photos has been made available to the public at BidenLaptopMedia.com, a website run by former Trump White House aide Garrett Ziegler, whose Marco Polo research group has spent more than a year picking through the contents of Hunter Biden's infamous laptop and preparing said contents for public release.
The images published on BidenLaptopMedia.com were taken between 2008 and 2019, and Ziegler told Fox News that his operation has published roughly 98% of the photos that Hunter Biden stored on the device as part of the massive laptop release.
While thousands of images are already available on BidenLaptopMedia.com, thousands more will be released to the website on Thursday afternoon.
Many photographs included in the massive release have been censored, as they show Hunter Biden nude, either alone or alongside women often suspected of being prostitutes.
In other photographs, Hunter Biden showed off his massive collection of crack cocaine and drug paraphernalia. He even sent one of those photos to Hallie Biden, his sister-in-law, and the wife of his deceased brother, Beau Biden, who Hunter was having a sexual relationship with. Included in the photo that Hunter sent to Hallie is a condom wrapper.
FULL HUNTER BIDEN LAPTOP RELEASE HERE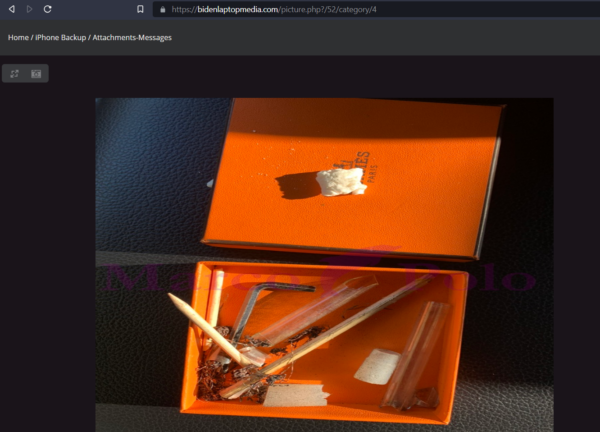 Marco Polo has repeatedly demonstrated Hunter Biden and the wider Biden family's nefarious relationships with foreign nationals tied to governments like China and Ukraine, using the "First Son's" saved emails and communications to do so. The massive release of Hunter Biden's laptop photos marks just the latest chapter in what has been an ongoing exposé.
FULL HUNTER BIDEN LAPTOP RELEASE HERE
This story is developing.