Last Updated on November 25, 2020
Exclusive analysis by National File demonstrates that independently-monitored audits of 2020 mail-in and absentee ballots could easily flip the 2020 election to President Donald J. Trump.
If honest audits rejected absentee and mail-in votes at the same rates as 2018, they would entirely eliminate Biden's margin of victory in Pennsylvania, Georgia and Wisconsin.
Election officials in every disputed state have so far failed to perform independently-monitored audits of their mail-in and absentee ballots in accordance with the U.S. Election Assistance Commission's bipartisan guidelines. 
Transparent audits would provide answers to the high-profile anomalies around votes being cast in the names of deceased voters and out-of-state voters.
For instance, they could shed light on the 40,000 votes cast for presumably-dead voters in Pennsylvania and the thousand-plus voters registered at apparently-fake addresses in Georgia.
Update:

– Georgia: We have identified over a thousand early/abs votes cast by individuals whose registered addresses are in fact at post offices, UPS, and FedEx locations, wilfully disguising the box numbers as "Apt," "Unit," etc.

— Matt Braynard (@MattBraynard) November 22, 2020
The following graph compares the vote total of Democrat presidential candidate Joe Biden's reported margin of victory to the estimated number of votes an honest audit would put into doubt.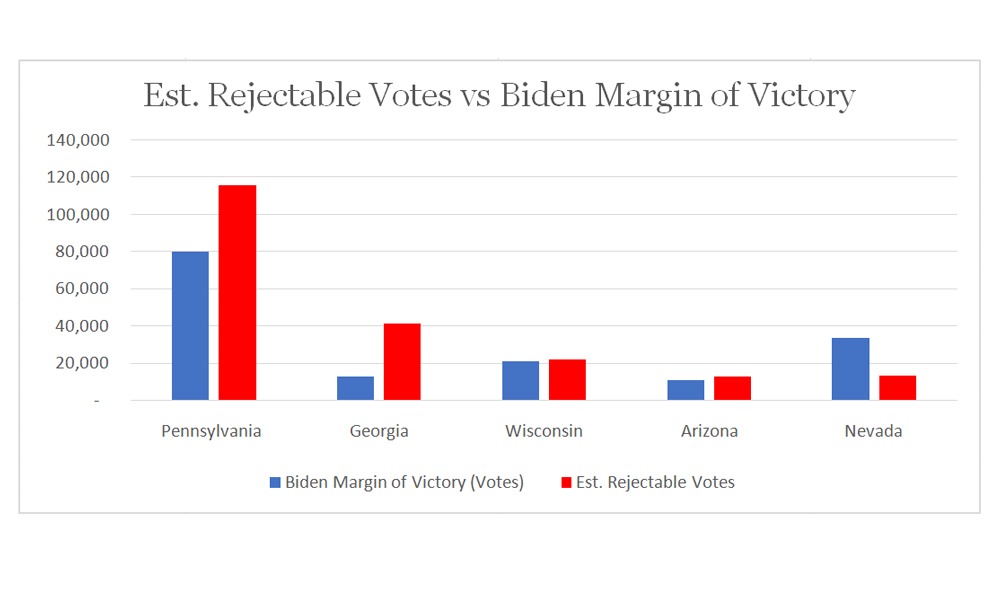 Our analysis drew primarily from the latest election data assembled by the University of Florida's Professor Michael McDonald for the U.S. Elections Project and from the federal Election Assistance Commission's 2018 Comprehensive Report. For Nevada, we pulled directly from their official election website.
We used estimates in press accounts for Wisconsin, where official absentee ballot rejection rates are not available. As of time of publication, there are no public estimates of Arizona's rejection rate.
| | | | | |
| --- | --- | --- | --- | --- |
| | 2018 Rejection Rate | Est. 2020 Rejection Rate | Biden Margin of Victory (Votes) | Estimated Rejectable Votes |
| Pennsylvania | 4.4% | 0.27% |                                                    80,000 |                                                   115,684 |
| Georgia | 3.1% | 0.20% |                                                     12,670 |                                                    41,008 |
| Wisconsin | 1.7% | 0.076% |                                                    20,608 |                                                     21,675 |
| Arizona | 0.5% | ??? |                                                     10,457 |                                                     12,358 |
| Nevada | 2% | 0.63% |                                                     33,596 |                                                     13,087 |
| Michigan | 0.6% | 0.06% |                                                   154,188 |                                                     17,061 |
The reason why transparent audits could put the election into doubt is that rejection rates for mail-in and absentee votes absolutely cratered between 2018 and 2020.
Georgia alone went from rejecting 6.4% in 2016, to rejecting 3.1% in 2018 to rejecting just 0.2% in 2020. Brad Raffensperger, Georgia's Secretary of State, is being sued for entering into an allegedly illegal deal with Democrats governing the handling of the absentee ballots.
According to the data currently available, every swing state still disputed has a rejection rate lower than 1% (Arizona's rejection rate is currently unknown).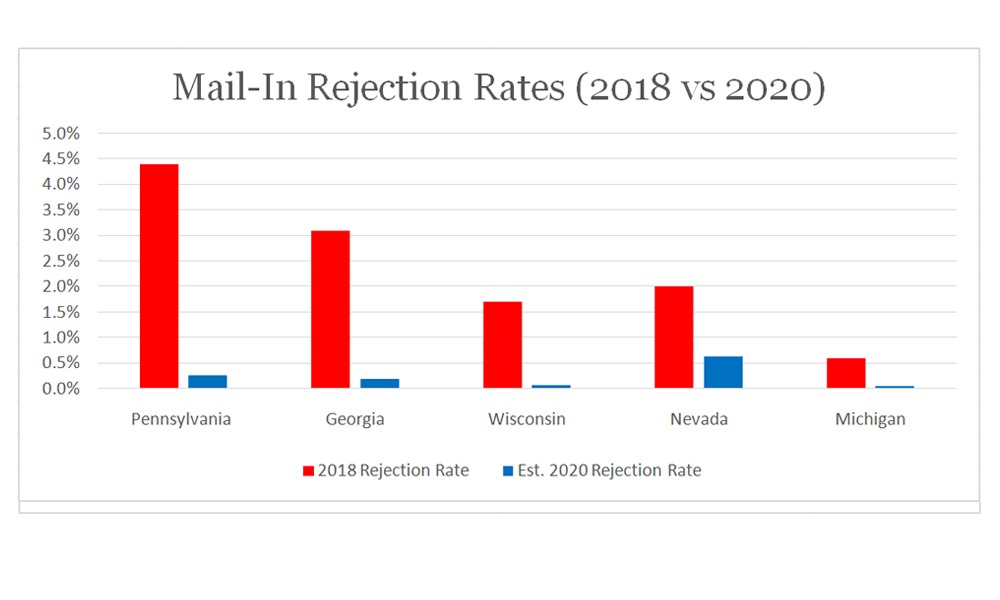 Historically, absentee ballots have routinely been rejected at a rate between 1% and 20%. The nationwide average was 1.4% in 2018.
Election fraud experts are unanimous that absentee ballots are the #1 vehicle for voter fraud, a fact that even the New York Times has admitted.
In the 2020 election so far, simple recounts and check-ups by concerned officials have added thousands of votes to Trump's total, flipping entire counties as well as down-ballot races from Democrat to Republican.
If audits were to find irregularity and fraud exceeding Biden's vote total in a given state, it would bolster the Trump campaign's ability to challenge official certification of that state's vote.
Top constitutional lawyers such as Robert Barnes, Jonathan Turley and Alan Dershowitz have concluded that decertifying disputed swing states is Trump's only viable path to victory.
That's because there is simply not enough time to find proof of fraud, connect said fraud to specific Biden votes and prove it in a court of law before December 14th: the final deadline for selecting members of the Electoral College.
In the event of a disputed presidential election where the Electoral College cannot reach a majority, the Constitution mandates that the result be decided by the House of Representatives in a contingent election. Each state would receive one vote each, with the winners of state votes being decided by a simple majority of their U.S. House Representatives.
President Trump is projected to win a contingent election should one take place.