Last Updated on July 9, 2022
Teddy Daniels has announced that he's joining the growing Stew Peters Network, where his talk show, In The Trenches With Teddy Daniels, will start airing five nights a week, effective next Monday. Daniels, a combat veteran and retired police officer who has played a central role in Pennsylvania's election integrity and wider America First movements, announced the move in social media posts this week.
In The Trenches With Teddy Daniels started airing on Facebook Live and other video platforms recently, with the new show picking up a big following and high-quality guests from jump street. Daniels, who gained national attention during his America First campaigns in Pennsylvania, will join The Stew Peters Network, home of the massively popular Stew Peters Show, starting next week, with an hour-long segment of In The Trenches With Teddy Daniels airing each weeknight.
In an announcement posted to Gab, Daniels wrote that he is "honored" to join the network of "one of the top, unfiltered conservative voices in America."
"Honored to announce that I will be a part of the @RealStewPeters network," Daniels posted to Gab. "On Monday 'IN THE TRENCHES with TEDDY DANIELS' will be joining Stew's network with an hour long show nightly. Stew is one of the Top, unfiltered conservative voices in America," Daniels went on to say.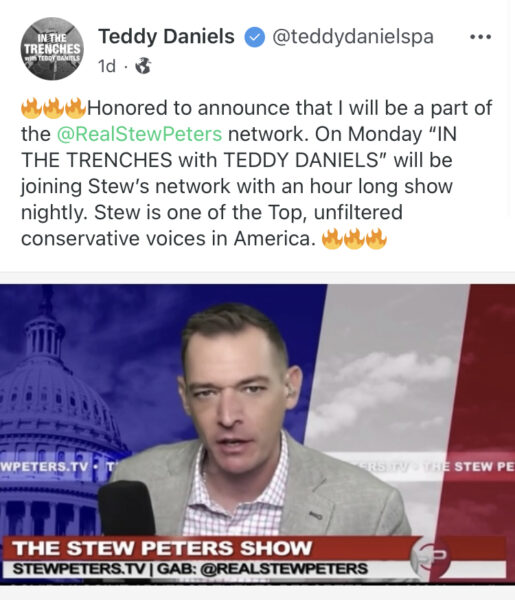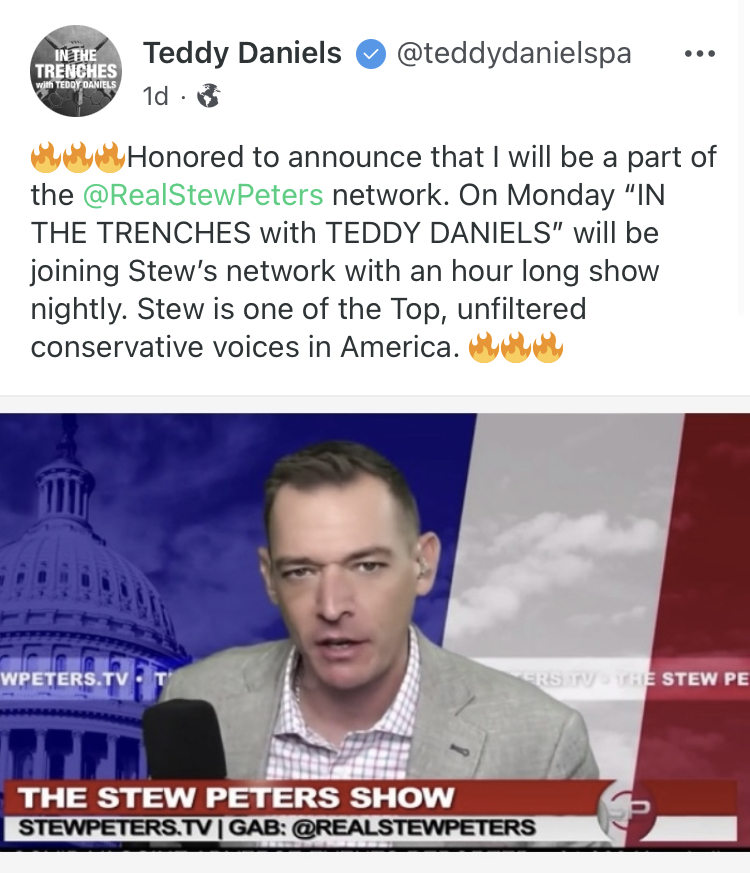 Since bursting onto the political scene, Daniels has garnered a reputation as a pro-Trump, America First conservative who isn't one to mince words or back down from a fight. After the contested 2020 Election, Daniels called for an Arizona-style audit of Pennsylvania's reported vote totals, sending uni-party establishment members into meltdown mode when he joined Arizona Audit champion Wendy Rogers and now-Gubernatorial nominee Doug Mastriano in Scotland, Pennsylvania, delivering a thunderous speech to a packed crowd.
"The time is now. This is the hill that we stand and fight on. If we lose this fight we lose everything," Daniels said of the urgency of securing America's elections. "The time of playing nice is over, the time of political correctness is over," he continued, brushing off attacks from left-wing media outlets by saying "The more they hit me, the more they try to silence me, the more I dig in."
Before entering politics, Daniels played Division 1 football at West Virginia University and went on to have what is described as a very distinguished career in law enforcement. Amidst US wars overseas, Daniels enlisted in the US Army and deployed to Afghanistan, seeing combat and becoming a highly-decorated soldier.
Learn more about Teddy Daniels by watching his interview with Tucker Carlson below: