Last Updated on December 9, 2020
The Canadian government released documents confirming that the Canadian Armed Forces (CAF) has been actively working with the Chinese People's Liberation Army (PLA). This comes 19 months after Rebel News inquired about reports which indicated that Canada sent a delegation to China for the 75th anniversary of the PLA Navy in 2019.
Canadian Prime Minister Justin Trudeau not only sent troops to China, but actively encouraged PLA and CAF military coordination on Canadian soil, even after the Chinese detainment of Canadian citizens Michael Spavor and Michael Kovrig in 2018.
Trudeau invited the PLA to conduct "cold weather training" exercises at CFB Petawawa in Ontario alongside the CAF, along with other concerning revelations found in documents obtained by Rebel News.
In one instance, Canada had plans to train Chinese commanders at the Canadian Forces College in Ontario, as well as other military installations in Canada. Those participating in the training exercises included 1-2 star Chinese generals, as well as a larger force of Chinese soldiers. The purpose was to teach Chinese forces cold weather exercises and other Canadian military tactics.
The CAF planned to cancel the event with the PLA due to the recent detainment of the "Michaels," which prompted Trudeau to instruct the CAF to not cancel engagements with PLA forces without permission, giving many reason to believe that the Trudeau government is reluctant to displease the Chinese. Despite the recent detainment of the two Canadian citizens, the Trudeau government continued to urge that the CAF maintain good relations with the Chinese military.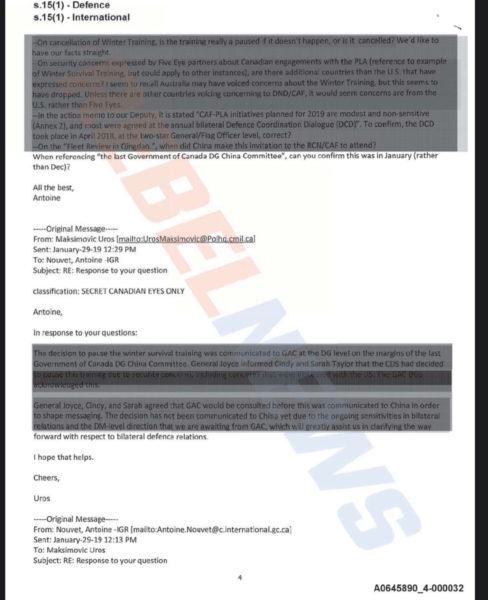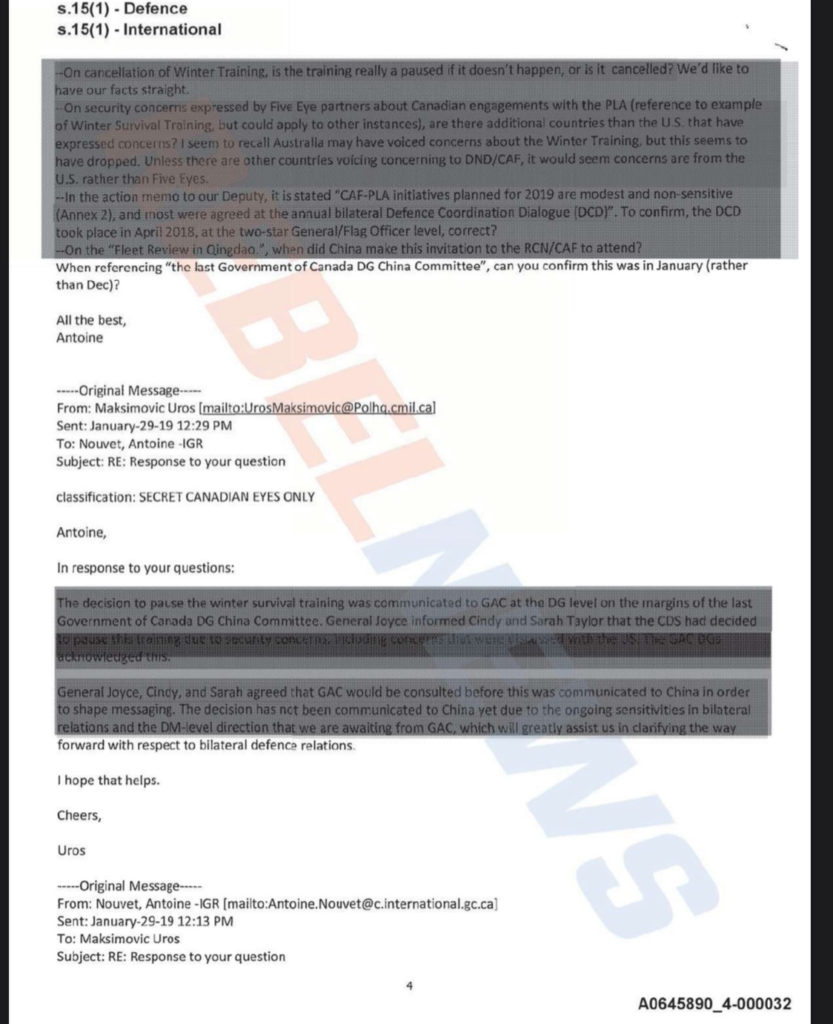 It was discovered that China uses Twitter to find users who access "harmful information on illegal websites," as the documents detail how the Deputy Programming Director of the Suzhou City TV Broadcasting Organization was fired for violating "political rules."
The documents state: "It is unclear whether this signals a new trend in monitoring Party cadres online behaviour, or is a one-off event, but it fits into the broader trend of increased monitoring of Twitter by authorities inside the Great Firewall. BEIJING-GR will continue to monitor."
Furthermore, it was revealed that Canada had withheld information about Chinese human rights abuses. An NGO known as Human Rights Watch alleged that China was using a "smartphone app" to track Muslims in the Xinjiang Province, as part of a campaign of illegal mass surveillance and arbitrary detention." The newly released documents revealed that the Canadian Embassy had actually "seen this app in use at police checkpoints in Xinjiang."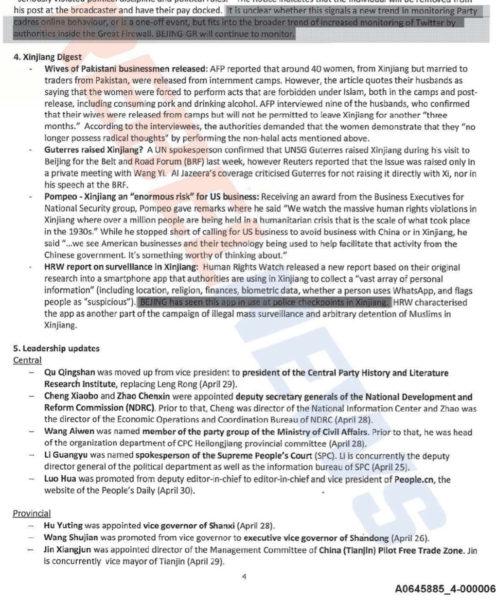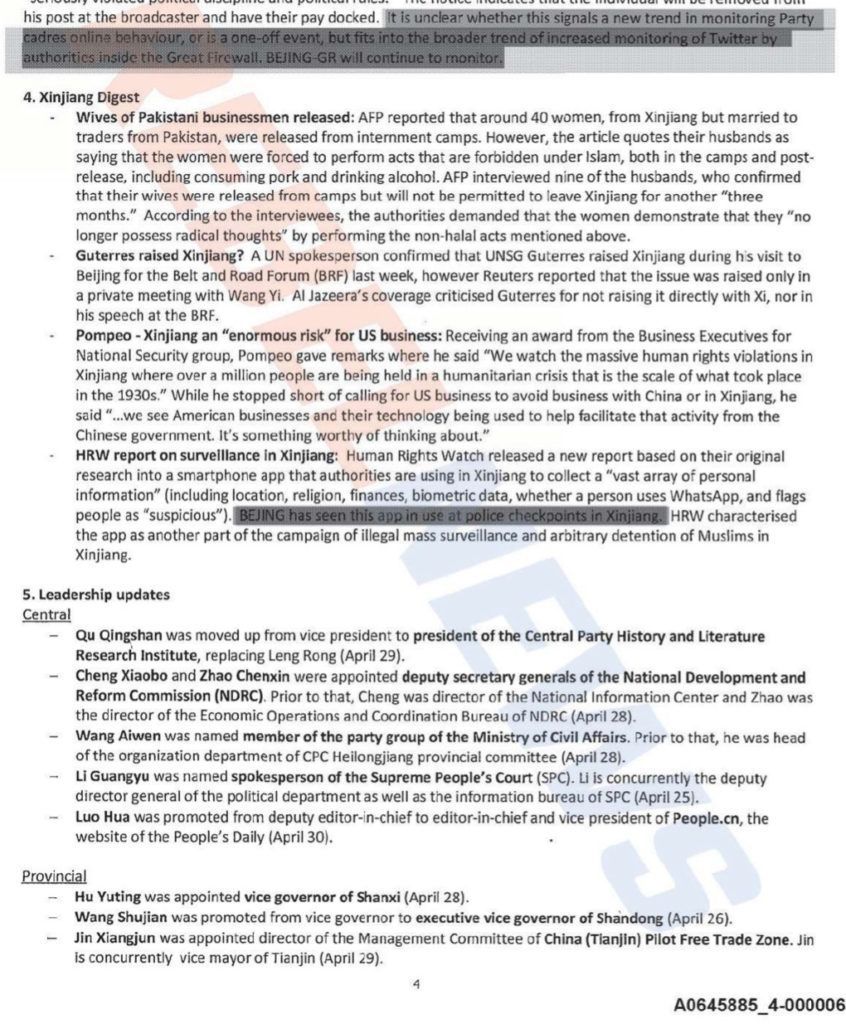 Internal memos found in the documents show that China demanded that democratic nations refrain from referencing human rights, regarding trade deals. Additionally, the Chinese are practicing "muli-bilateralism" in an attempt to colonize the globe, according to their "Belt and Road" initiative (BRI).
"This describes the hub-and-spoke model which China negotiates bilaterally with a host of partners under a largely symbolic umbrella organization. This model can also be seen in the 16+1 mechanism and the Forum for China-Africa Cooperation (FOCAC), among other examples. China emphasized the openness, transparency and inclusivity of the BRI at this year's forum, but it evidently intends to remain firmly at the wheel."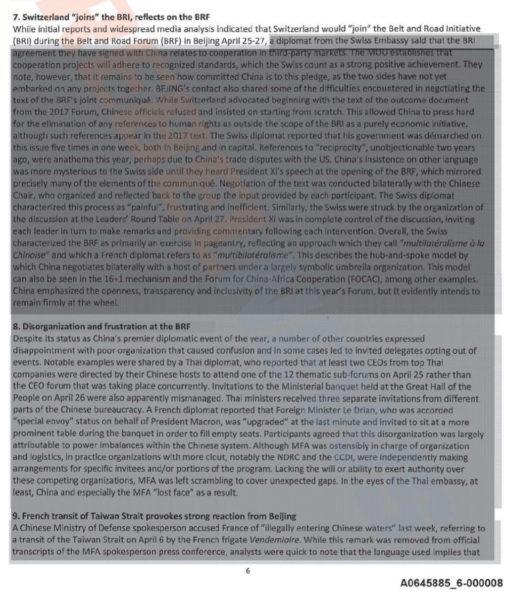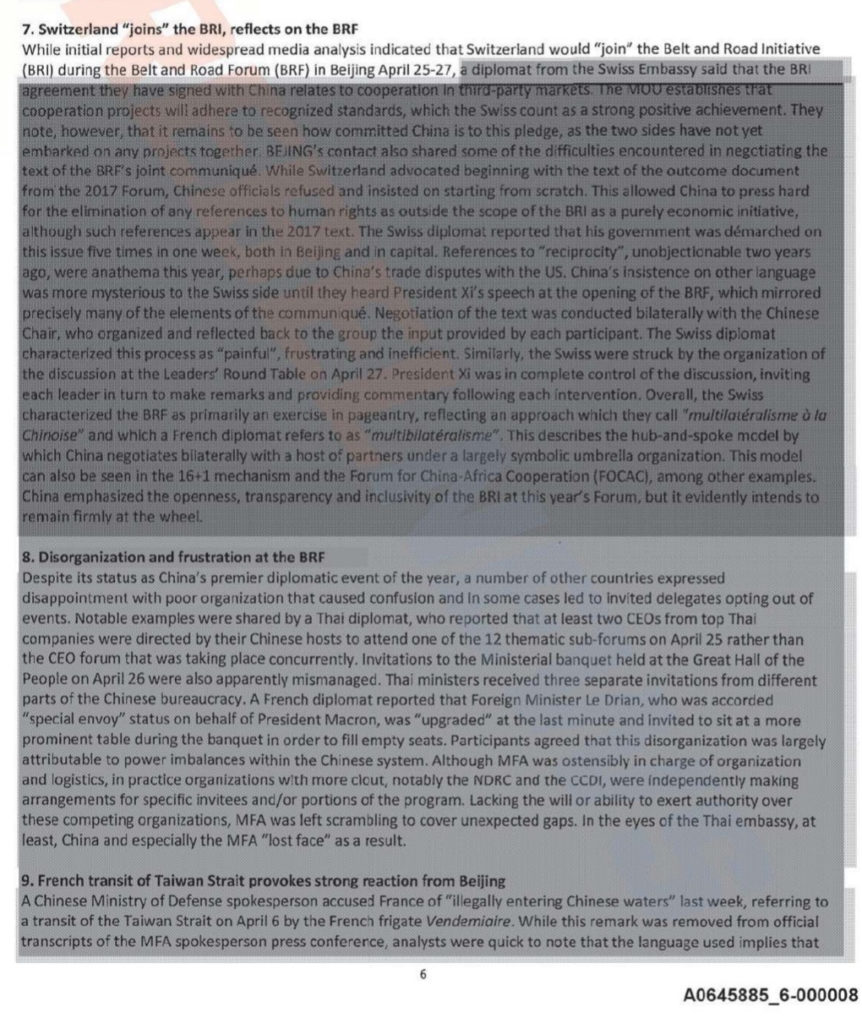 In a speech at Georgia Tech on December 9, 2020, Secretary of State Mike Pompeo said "the Chinese Communist Party wants what we have and they will do whatever they must do to take it and get it" and that China aims to "build a high-tech, repressive state like the world has never seen."
"General Secretary Xi Jinping has made clear his intentions. You only have to listen to what he says. He says he wants total control at home and to make China the number one power abroad, and he's well on his way to working on that project. He's building up the People's Liberation Army. He's manipulating international organizations for Beijing's benefit, and he's engaging, as we have seen in TV only just these last two days, he's engaging in a vast influence campaign all across the world. And that may, for some of you sitting at home today, seem like a long ways away, very ambitious touch for Xi Jinping to make, but I must say he has his eye on each and every one of us," said Pompeo.
Read the Canadian government documents released by Rebel News for yourself here.