Last Updated on May 6, 2022
Pennsylvania Lieutenant Governor candidate Clarice Schillinger has presented an image of a grassroots activist throughout her campaign. However, numerous activists have accused Schillinger's behavior as "deceptive" while one activist described her as a "ladder climber."
Schillinger points to her work with two political action committees that sought to keep schools open during the pandemic — Keeping Kids in School and Back to School PA — as proof. However, a number of former PAC members have accused Clarice Schillinger of booting them from accounts before cutting off contact completely, including Back to School PA's former treasurer. The ousted PAC members took issue with Schillinger's desire to support progressive organizations so long as they agreed with reopening schools, which Back to School PA ultimately did.
Schillinger was involved with multiple groups prior to the formation of Back to School PA, which is still active. The most notable was the Keeping Kids in School PAC, which was founded by a group of grassroots activists in Montgomery County.
What would become Keeping Kids in School did not start out as a political action committee, however. The PAC was a successor to local activist groups who were holding rallies and protests against school closures.
One of these activists, Kaitlin Derstine, first became acquainted with Schillinger during one of the early rallies. Schillinger told Derstine and her associates that she had a falling out with her previous group, Voice for Choice, whose Facebook page had been deactivated.
"We were very trusting with Clarice, which was our mistake," Derstine told National File. Derstine and other grassroots activists described Schillinger as seeming "very sincere" and found her past experience in politics useful. She previously served as a staffer for PA State Rep. Todd Stephens.
Schillinger was then welcomed to join Parents for In-Person Education (PIPE), where Derstine was working as an administrator at the time.
Schillinger joined the PIPE group as leaders were already organizing to help parents run for school board seats. Clarice then suggested that they form a PAC in order to amplify their message, an idea the group welcomed. However, when Clarice registered the PAC, which was named Keeping Kids in School, she registered it in her name instead of those leading. It was then agreed that board members would have equal say in decision making.
This ultimately did not hold, as Schillinger became increasingly authoritarian in decision making. PAC officers have accused Schillinger of adding her name to press releases and taking credit for what the group did as a whole. She also began to drift from the group ideologically, asserting her desire to back any and all groups who support in-person learning no matter their views on student curriculum.
Derstine and other PAC officers were not on board with giving money to progressive groups and candidates, which increasingly became a point of contention.
Without a board vote, Schillinger then locked members out of the accounts and ceased contact.
Schillinger even locked out the PAC treasurer, who made repeated attempts to get in contact with Schillinger but received no reply.
The treasurer was only able to have her name removed from the account after sending Schillinger a scathing email last February.
"As the registered Treasurer of Keeping Kids in School PAC, I felt uncomfortable with you changing the passwords to the bank account and the google drive without sharing the information with me," wrote the PAC treasurer.
According to the email, which was reviewed by National File, the treasurer made repeated attempts to get in contact with Schillinger. After ghosting numerous text messages, Schillinger said she would call on February 18, but did not do so until the morning of February 22, 2021.
When Clarice Schillinger finally returned the call, she claimed that she would be sending the passwords that day. But upon calling PNC bank, the treasurer found out that their name was removed from the account. "That is funny you did not mention that in our conversation this morning!" reads the email.
"Honestly, I am not accustomed to working with someone who lies and is so deceitful," the treasurer continued. "In 35 years, working in the business world I have never been treated with such disrespect! I find the behavior to be very volatile and I do not have the time to play such childish games."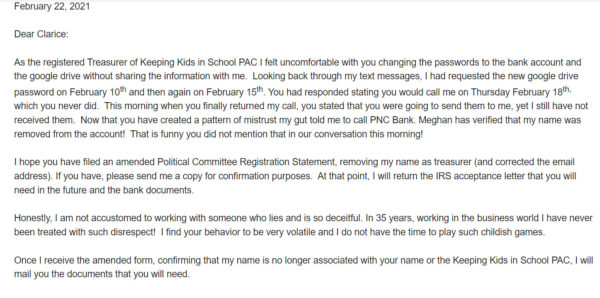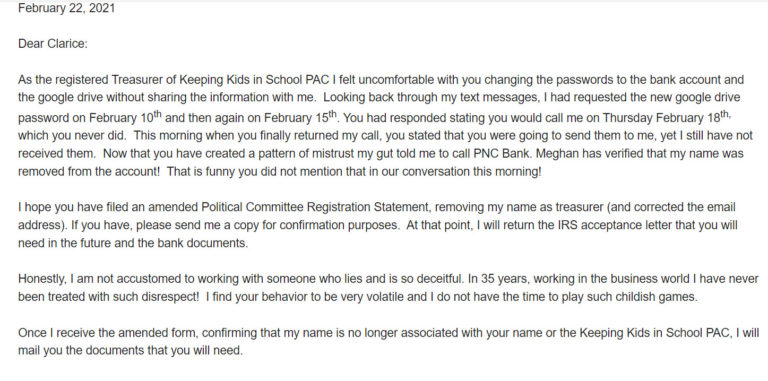 While the PAC issues were playing out, Schillinger had been growing increasingly close with Paul Martino, a local businessman who took an interest in the reopen schools movement. While Martino was committed to getting schools open, he and Schillinger did not want to focus on "wedge issues" such as CRT or mask mandates.
…said Back to School Pa Executive Director Clarice Schillinger.https://t.co/0cSauHMSNL

— Back to School PA (@backtoschoolpa) November 4, 2021
Months after locking founding members out of the Keeping Kids in School PAC, Paul Martino formed the Back to School PA PAC. Martino offered to provide any group with assistance and a check worth $10,000 so long as they stood for the sole issue of reopening schools.
The PAC, which is still active, funded several conservative school board candidates. However, Back to School PA made a point to paint their movement as "nonpartisan."
Back to School PA did indeed fund leftist organizations, including the "Blackwall PA" PAC. The group describes itself as a "black diaspora progressive" organization that demands reparations, support for the 1619 project, and a bill to federalize elections. Blackwall PA also has links to Stacey Abrams.
Schillinger, Martino and current Back to School PA Executive Director Beth Ann Rosica presented the group with a check for $10,000 in Harrisburg last year.
On the campaign trail, Schillinger has promised that the PAC will continue to support "strong conservative" candidates. Beth Ann Rosica does not subscribe to this vision, however. As recently as 2021, Rosica endorsed leftist talking points on race while running as a libertarian in the West Chester mayoral race.
"I am a white woman, I have two white boy children, and I get it that for my friends that are African American, they have to have different conversations with their kids than what I have to have with my kids," Rosica said during an interview with West Chester University's student newspaper The Quad last fall.
"So I tell my kids, 'You can put on a hooded sweatshirt and run through a town and probably nobody is going to think or say anything about that. But your friends, who are African American, they might not have that same experience and you have to be cognizant of that," Rosica continued.
In addition, activists familiar with Schillinger's prior contributions to the Voice for Choice activist group described similar behavior. A Montgomery County activist told National File that Schillinger would take sole credit for group efforts before eventually "nuking" the group's social media presence and moving on to PIPE. "She has taken all of the credit and done none of the hard work," the activist told National File.
The activist, who requested to remain anonymous, accused Schillinger of repeatedly exhibiting "erratic" behavior that included screaming and yelling. "When Clarice is losing a battle she resorts to facetiousness and will start yelling and hollering at people," the activist said.
Following her "nuking" of Voice for Choice and her disposal of the Keeping Kids in School PAC officers,
Schillinger kept Keeping Kids in School alive by bringing on a new treasurer, Misty Law Flurry. Together,
Schillinger and Flurry operated the PAC until the May 2021 primary election. After the election,
Schillinger moved on to Back to School PA and locked Flurry out of the Keeping Kids in School accounts, effectively abandoning the PAC.
"Clarice is a political opportunist nothing more. She will do whatever is politically popular and financially beneficial to elevate herself," another former Keeping Kids in School officer told National File. "She built her success on the backs of hardworking parents who she hoodwinked into sharing platforms and then locked them
out of accounts and ghosted while taking credit for all their work. She is a picture of the
establishment and what is essentially wrong in Harrisburg."
National File spoke with six individual activists — all of whom were heavily involved in the reopen schools movement in Bucks and Montgomery counties — while developing this story.