Last Updated on May 26, 2023
Three years ago today on May 26th, 2020, openly-communist Black Lives Matter and their Antifa allies kicked off their reign of homicidal destruction and riotous terrorism that spread all over the United States and left dozens of innocents dead and countless properties looted and destroyed in their wake.
According to an October 2020 study, at least 25 Americans were killed during the BLM and Antifa-led riots, which lasted all summer and were openly endorsed by Democrat politicians and by some Republicans, like Mitt Romney, who marched with BLM radicals in DC just days after they'd burnt St. John's Church and after they'd attempted to storm the White House to kill President Trump and his family. Notably, the attempted White House stormers, who caused the President to be evacuated to the White House bunker by the Secret Service, have never faced the scrutiny that January 6th demonstrators have, and they've even been celebrated by corporate media outlets.
The riot death toll dwarfed the number of unarmed blacks killed by police in the preceding year of 2019, the supposed motivating factor behind the riots. The 2019 figure stood at 9 to 15 in total, depending on the source and the definition of "unarmed" being used by various data collectors.
As police across the country were ordered to stand down and allow the violence to play out, even as police stations were being burnt to the ground with officers inside, hundreds, if not thousands, of American monuments and memorials, were destroyed. One of those monuments was located in Portsmouth, Virginia, where Democrat State Senator Louise Lucas personally ordered local police to stand down before turning to a BLM mob and instructing them to "wreck it".
A portion of that statue fell onto a demonstrator's head, turning him into a wheelchair-bound vegetable.
Senator Lucas, along with local BLM organizers and NAACP leadership, were charged with felonies for conspiring to destroy the monument, but those charges were later dropped by the order of then-Virginia Governor Ralph Northam.
In addition to the support of elected officials, the murderous rioters had the support of corporate media, which repeatedly claimed that riots that cost human lives and saw entire city blocks burnt to the ground were "mostly peaceful".
As the George Floyd riots played out nationally and led to other criminals becoming martyrs of BLM and Antifa, the corporate media coverage became even more ridiculous, and aggressively sought to condone the murderous riots, sewing as much chaos and division as possible in the run-up to the 2020 Presidential Election.
In one ridiculous CNN news segment, a field reporter claimed that the deadly Kenosha, Wisconsin riot he was observing was "fiery but mostly peaceful." A snapshot of the news coverage has become a widely-circulated internet meme, used to draw attention to the brazen lies told by the corporate news industry.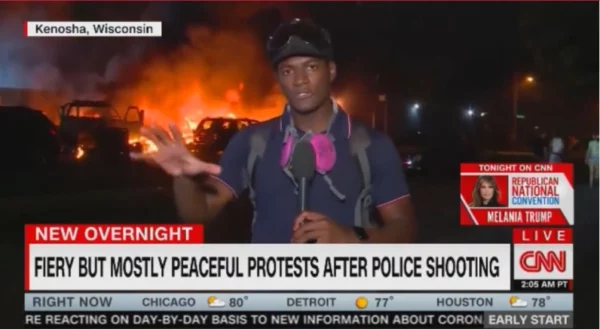 When it was all said and done, the deadly riots cost the United States more than $2 billion in property damage, and many shells of small businesses that have been unable to bounce back from COVID lockdowns and riotous destruction have been bought up by private equity groups.
Politically, thanks to elected "conservatives" standing down, the riots pushed the United States further to the left than it's been at any point in its history and GOP politicians have cowered to accusations of "racism" for opposing the political violence and erasure of American history. The erasure, which began with rioters pulling down historical monuments, has now become the official policy of numerous Democrat governments in cities around the country, and of uni-party politicians in Washington, who have revamped the Capitol's Statutory Hall to remove statues of white men.
But the entire narrative surrounding the death of George Floyd at the hands of Minneapolis PD office Derek Chauvin, who was convicted of murder and is serving decades in federal prison, was PHONEY.
According to the results of Floyd's autopsy, the career criminal suffered "no life-threatening injuries," but did have a body full of fentanyl, methamphetamine, and other drugs.
Despite reality, on May 25th, 2023, the third anniversary of George Floyd's death, Joe Biden shared a video to Twitter, featuring Floyd's young daughter giving Biden a hug and recounting that her "daddy changed the world."
"And he did," Biden added.