Last Updated on April 3, 2023
A report from The New York Times chronicles how Soros-funded DA Alvin Bragg, together with an Obama-appointed lawyer and other hardcore leftists within the Manhattan District Attorney's Office, "resurrected" their "zombie case" against President Trump after it had long been declared "dead" and unworthy of prosecution.
Though the Manhattan DA's case against President Trump was "dead" and left-wing prosecutors felt a sense of hopelessness over the prospects of actually taking a case against Trump to trial, The New York Times recounts in a recent report how DA Alvin Bragg and others were so determined to prosecute the 45th President that they poured over their files until they found anything they could possibly frame up and take to a grand jury, in hopes baiting an indictment.
After failing to find any actual crimes committed by President Trump, the Manhattan DA's office, then under Bragg's predecessor, Cy Vance, declined to pursue formal charges against him.
The New York Times reports that after taking office determined to file any charge remotely possible against President Trump, "Mr. Bragg had decided to assign several additional prosecutors to pursue one particular strand that struck him as promising."
That "strand" turned out to be the alleged "hush-money payment" made to Stephanie Clifford, also known as Stormy Daniels, who Trump has been accused of having an affair with decades ago. The supposed payment is said to have been made by ex-Trump lawyer and convicted liar Michael Cohen, without the permission of President Trump.
Despite Trump having nothing to do with the alleged payment, and Daniels previously claiming in an official statement that the alleged affair never happened, Bragg, The New York Times reported, found the Daniels angle to be his best chance at prosecuting President Trump, something he admits he was obsessed with doing because of Trump's status as a "rich old white man."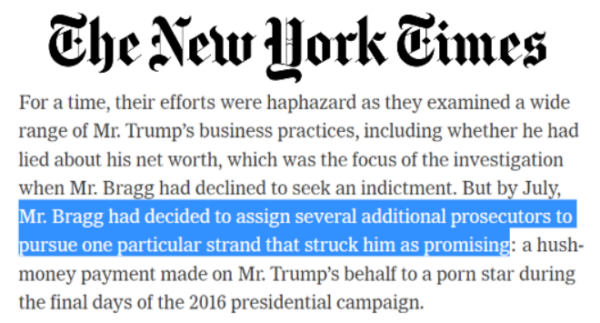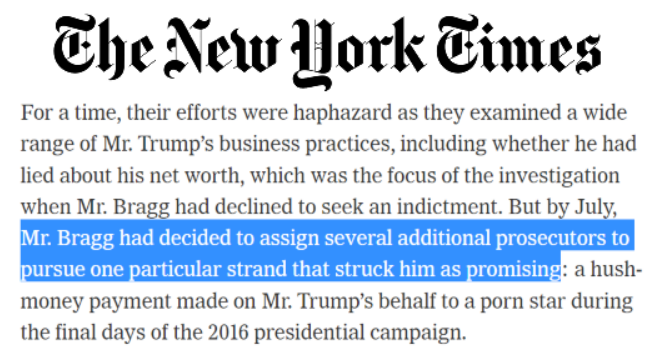 The Stormy Daniels angle had previously been seen as such a hopeless case to prosecute that Manhattan DA's Office employees referred to it as the "zombie case." But once Alvin Bragg decided to pursue the Daniels angle against President Trump, he brought in reinforcements to work on the case around the clock.
Around the same time that he was moving forward with a criminal case against President Trump as an individual, Bragg was attacking the Trump Organization as a business, and building a prosecutorial army of Trump-haters in an apparent effort to strengthen both cases.
Among those Bragg hired to lead the anti-Trump charge was Matthew Colangelo, a Democrat partisan who worked for both the Obama and Biden Administrations and has a history of working on anti-Trump witch hunts. Curiously, The New York Times leaves this part of Colangelo's resume out of their report, referring to him merely as a "former senior Justice Department official" with "experience building a civil case against Mr. Trump."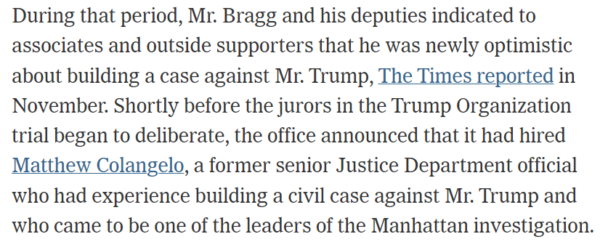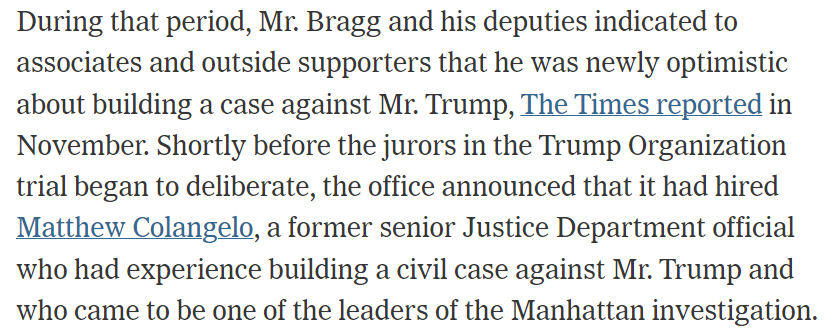 After building his witch hunt team, The New York Times reports that Alvin Bragg held a "peace summit" with ex-Trump lawyer Michael Cohen, a frequent target of the Manhattan DA's Office and the SDNY federal circuit in their many failed attempts to ensnare President Trump. Cohen was convicted of perjury in 2018 and sentenced to 3 years in prison.
In many cases, large prosecutors' offices, including the Manhattan DA's Office and the DOJ, are notorious for their low conviction rates and are accused of piling up hypothetical sentences to intimidate the subjects of their investigations into taking a plea deal or turning on someone else to aid the prosecution and avoid jail time.
It's widely hypothesized that Cohen stabbing his old boss in the back is a direct result of the legal campaign being waged against him, and prosecutorial intimidation efforts.
In comments he made to The New York Times, Cohen said that while he was at first "skeptical and guarded" when it came to Bragg and his prosecution team, he felt "reassured and confident in the team" after a "three-hour initial meeting" with them in early 2023.
While it's unclear what was actually discussed during the meeting between Cohen, Bragg, and company, The New York Times reports that "it was the first of at least seven visits Mr. Cohen made to the office this year."
When the Manhattan DA's Office took its case against Trump to the grand jury that indicted him, Bragg called on not just Michael Cohen for testimony, but also ex-White House staffer Hope Hicks, whose previous testimony to the J6 committee has been described as "twisting the knife" in the 45th President's back. Also called were former White House staffer Kellyanne Conway and National Enquirer tabloid editor David Pecker.
Pecker is said in the report to have helped facilitate Cohen's alleged payment to Daniels, a facet of the prosecution's story that appears to distance President Trump from the entire ordeal even further than he already is. Nevertheless, the grand jury in deep-blue Manhattan voted to indict him, and President Trump is expected to be formally arrested and arraigned on Tuesday.