Last Updated on March 23, 2022
A school district in Eau Claire, Wisconsin told parents they must "earn" the right to know their children's "sexual identity", leaked documents show. Documents obtained by Ian Prior of America First Legal reveal that the district believes it has an obligation to protect "queer students' identities" from "faith-based" attacks, "especially" if this is coming from their parents.
"We handle religious objections too often with kid gloves, instead of seizing opportunities to assert queer students' rights to safe, inclusive education," reads a district document obtained by Ian Prior. "When the conversation turns to navigating parents' faith-based rejection of their student's queer identity, it's critical to remember that we must not act as stand-ins for oppressive ideas/behaviors/attitudes, even and especially if that oppression is coming from parents," the document continues. "Never forget that you may be the only supportive person in that student's sphere. Guard and preserve that responsibility."
The district later accused parents not on board with their ideology of being "bigots" who are "weaponizing" their religious beliefs.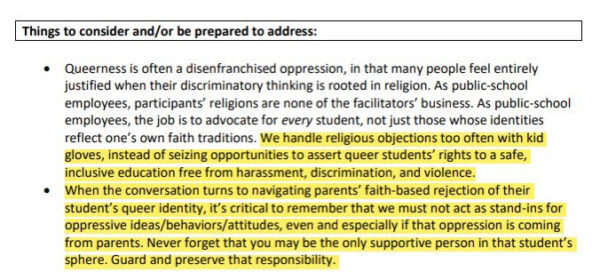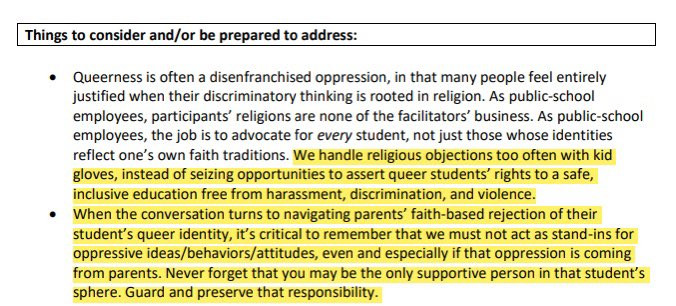 In another document, the Wisconsin district states that parents need to "earn" the right to know their own child's sexuality. "Remember, parents are not entitled to know their kids' identities. That knowledge must be earned," reads the document.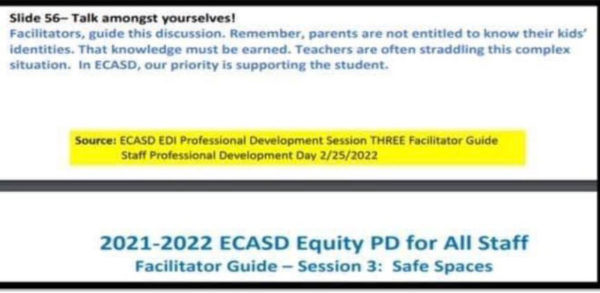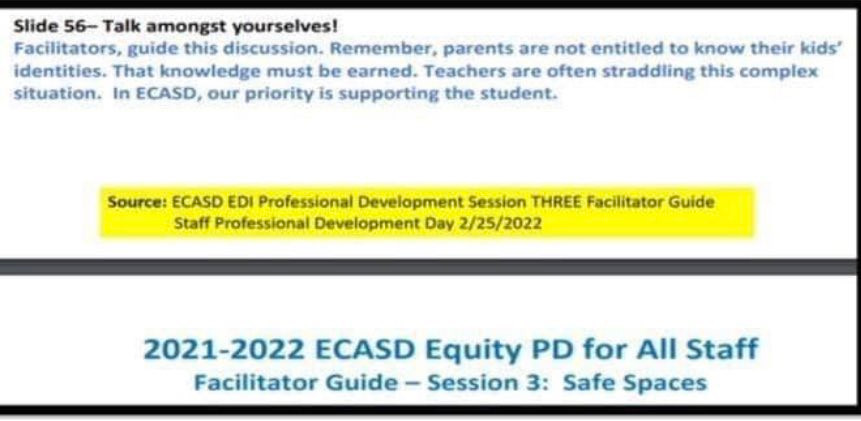 Among the guidelines presented to school staff for support of "gender-nonconforming" youth is a clause that gives students the ability to use any gendered facility that corresponds to their identity. "Schools maintain separate restrooms and locker rooms for male and female students. Access should be allowed based on the gender identity expressed by the student," the guidelines state, according to Fox News.
The district also distributed a "heterosexual privilege" list, which included statements such as "My sexual orientation was never associated with a closet," or "I can kiss a person of the opposite gender without being watched and stared at."
Students were forced to check boxes that apply and were then lectured on the "privileges" they enjoy. A similar exercise was conducted for "white privilege."
"The actions of the Eau Claire Area School District are not only dangerous to the mental, emotional and physical health of its students, but they also violate the constitutional rights of parents to make choices about their family life and upbringing of their children," said Ian Prior in a statement.  "Parents in Eau Claire need to use every legal means to fight back."
U.S. Secretary of Education Miguel Cardona visited an elementary school in the district last September as part of his "Return to School Road Trip."
Hello from the Return to School Road Trip! @SecCardona and Deputy Secretary Marten kicked things off this morning at a pep rally at Locust Lane Elementary in Eau Claire, WI, celebrating all the students, teachers, & staff who are getting #BackToSchool & #BackTogether. pic.twitter.com/ylx1byoUsI

— U.S. Department of Education (@usedgov) September 20, 2021