Last Updated on November 13, 2023
A white 17-year-old boy from Las Vegas, Nevada has died days after he was beaten by a mob of an estimated 15 black assailants outside of Rancho High School, where the victim was a student, presumably along with his killers. National media has ignored the story while local media has tried to diminish its severity, referring to the murderous mob attack as a mere schoolyard "fight" while also trying to distance Rancho High School from the situation.
Jonathan Lewis, a white 17-year-old from Las Vegas, Nevada, died after spending days in the hospital clinging to life after he was viciously beaten by a mob of black assailants outside of Racho High School, a public magnet school where Lewis was a student. According to US News & World Report, just 7% of students at the school are white. Lewis was beaten to death when he stepped up to defend a younger white student from the mob.
The fatal beating was live-streamed on Facebook and multiple people, presumably students of Rancho High School, can be seen recording the attack. Additionally, multiple adult eyewitnesses refused to intervene and save the boy's life.
No arrests have been made in the murder yet, and it does not appear that Las Vegas authorities plan on charging the assailants with hate crimes, which they'd obviously do were the races reversed.
Watch the disturbing video footage of the attack below: 
#VIDEO: Extended footage of the fatal black mob beating of white 17-year-old Jonathan Lewis shows that the murder was live-streamed to Facebook.#WhiteLivesMatter pic.twitter.com/DpIFabH0D0

— Frankie Stockes (@realStockes) November 13, 2023
As mentioned, the national media has ignored the vicious mob murder of Jonathan Lewis. Though the attack took place on November 1st, even supposedly "conservative" media outlets ignored it until the situation went viral over the weekend following Lewis's death.
Even then, the media worked hard, along with Big Tech, to censor the story, minimizing the black-on-white murder as a mere schoolyard "fight".
On November 12th, Fox News and the New York Post finally got around to covering the story. But when they did, their headlines failed to mention the fact that Lewis, a white teen, was ruthlessly beaten to death by a mob of his black peers.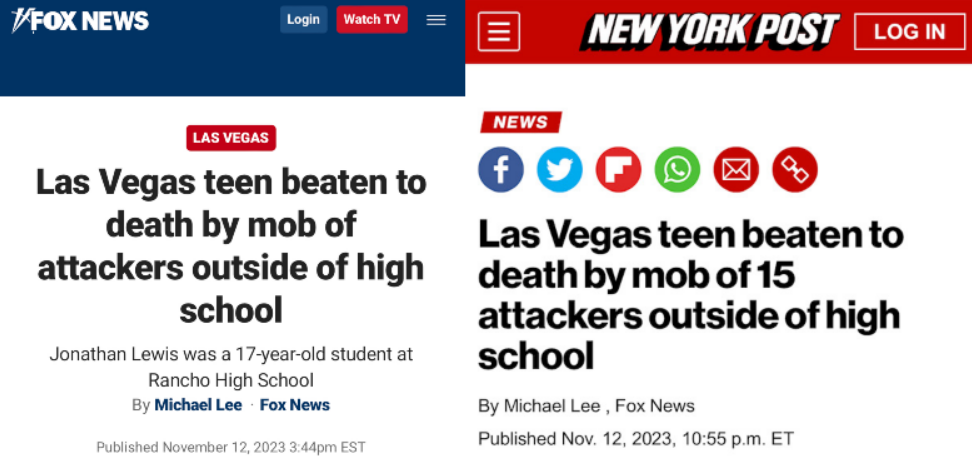 Elon Musk, however, has acknowledged the story, responding to an X post from @TheXReportCard reading "A dozen blacks stomped a white teen to death."
…"THEY WOULD BE BURNING DOWN YOUR NEIGHBORHOOD RIGHT NOW IF THE RACES WERE REVERSED", the post added.
In response, Musk wrote, "What the hell???"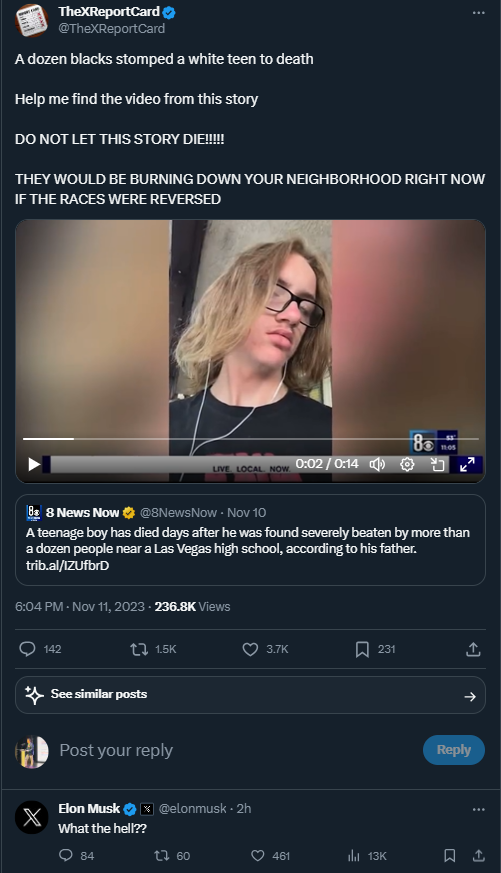 A GoFundMe page has been set up for the family of Jonathan Lewis. Donations can be made HERE