Last Updated on March 29, 2023
An English professor at Michigan's Wayne State University was suspended from his job on the same day as the Nashville trans terror attack that left six Christians dead after he used social media to call for the murder of "transphobes" and "right-wing" Americans.
"I think it is far more admirable to kill a racist, homophobic, or transphobic speaker than it is to shout them down," Shaviro wrote to Facebook, openly calling for the murder of American citizens for exercising their 1st Amendment rights and, in many cases, advocating for the very principles that America was founded on and the very facts that humankind has existed on since the first days of man.
"Every time protestors shout down a racist or transphobic speaker, they are indulging their own moral sense of validity at the expense of actually strengthening the very bigots against whom they are protesting," Shaviro went on, claiming that merely protesting or debating "transphobes" isn't enough, before using a historical anecdote to issue an outright call for murder.
The anecdote Shaviro chose to use regards a murderous communist who played an active role in the 20th-century creation of Ukraine, where in the 21st century, Christianity has been banned and pro-gay, pro-trans "values" play a central role in the nation's ongoing war against Russia.
"The exemplary historical figure in this regard is Sholem Schwarzbard, who assassinated the anti-Semitic butcher Symon Petliura, rather than trying to shout him down. Remember that Schwarzbard was acquitted by a jury, which found his actions justified."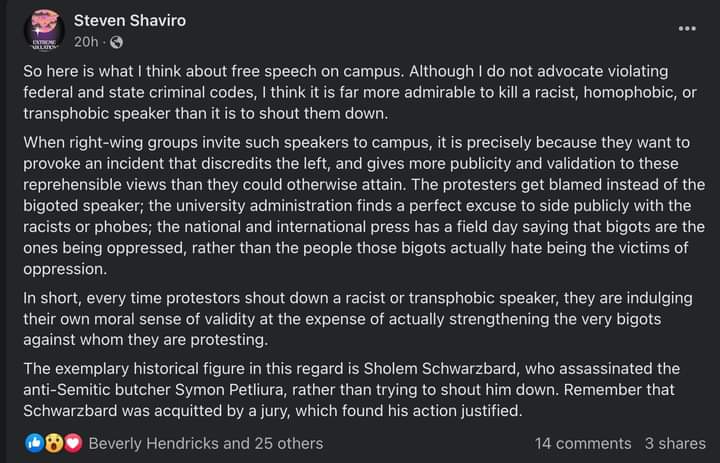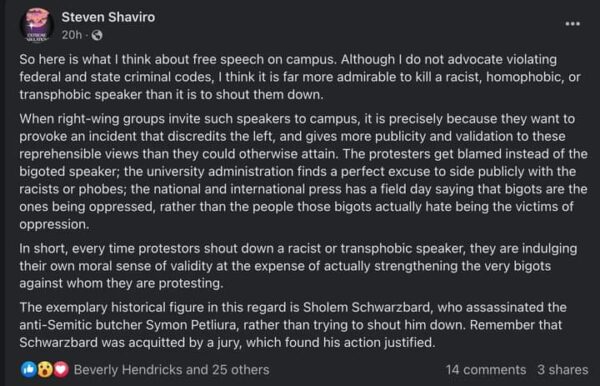 According to The College Fix, which recently profiled Shaviro's Facebook post, the Wayne State University professor most recently taught courses related to the film industry. According to his online presence, Shaviro is an openly left-wing radical. He declined to discuss his openly violent ambitions with local media when they reached him for comment.
Shaviro's call for violence is one of numerous made by pro-trans radicals, which have drawn increased concern in the aftermath of the Nashville mass shooting, a targeted terrorist attack against Christian children that was committed by a woman who claimed to be a man.
RELATED: In The Trenches With Teddy Daniels – RISE OF THE MILITANT TRANNIES – WATCH BELOW: