Last Updated on November 19, 2022
The Washington Examiner is calling on America First Arizonan, Kari Lake, to turn on President Trump and accept election fraud in the wake of her Governor's race "loss" to infamous Arizona election boss Katie Hobbs. Shockingly, Hobbs, as Arizona's Secretary of State, was allowed to run her own election.
"Kari Lake can be a conservative superstar if she dumps Trump," The Washington Examiner claimed in a headline, citing the talking points of a strategist aligned with the open-borders Chamber of Commerce, before claiming that election fraud doesn't exist.
Lake, The Examiner's piece claimed, should just turn on President Trump and sell out to the establishment. If she does, "her career could skyrocket."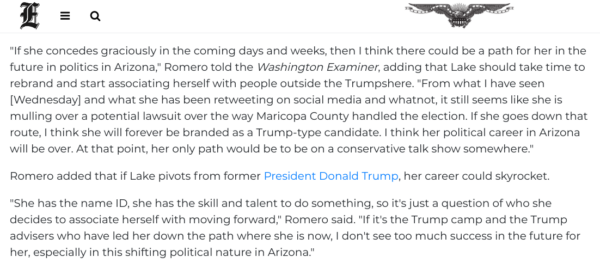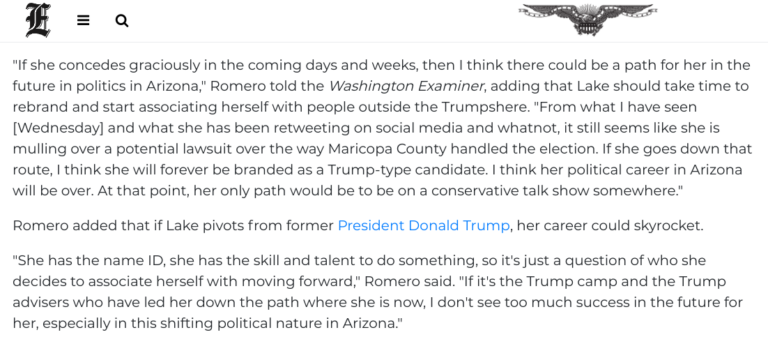 After citing establishment strategist Lorna Romero, The Examiner did a little editorializing, letting readers know that, apparently, the paper doesn't believe fraud could have taken place in Arizona and that Lake is "playing into fears" by standing up for election integrity.
Thus far, Lake has refused to concede the Arizona Governor's race to Democrat Katie Hobbs, after vote counting lasted days and countless instances of election malfeasance, irregularities, or outright election fraud were captured on video.
Lake has started sharing instances of election illegalities and other issues on her Twitter page and is reportedly considering an official election challenge.
Democrat Hobbs, who ran Arizona's disgraced 2020 election before asking voters to promote her to Governor, was shockingly allowed to run her own 2022 election, in which numerous issues experienced in 2020 to the benefit of Democrats have taken place once more, again to the benefit of Democrats, like Hobbs herself.


When The Washington Examiner posted their piece to Twitter, Lake responded, offering a simple answer to whether or not she'll sell out President Trump and the MAGA movement.
"Never." Lake wrote in her tweet.