Last Updated on August 1, 2023
Twitter owner and CEO Elon Musk called out the genocide of white people in his native land of South Africa after left-wing black South African politician Julius Malema led chants of "Kill the Boer, the farmer" during a recent rally of the Economic Freedom Fighters, the militant political organization that he chairs.
Over the weekend, video footage emerged from South Africa showing a massive rally of Malema's Economic Freedom Fighters (EFF) filling up a stadium with chants of "Kill the Boer, the farmer," a song phrase that was formerly banned for its incitement of genocidal, anti-white violence, but was legalized after a South African court ruled that the ban violated the right to free speech.
Boers, the white-skinned descendants of the Dutch settlers of South Africa have long been a critical component of that nation's economic engine, farming South Africa on a massive scale for centuries.
In more modern times and since the fall of apartheid, Boers have been the frequent targets of "farm murders", violent events in which black South Africans invade Boer farms and slaughter entire families. The crimes often include unspeakable acts of rape and torture against men, women, and children alike.
The attacks against Boers have become so severe, that activists around the world have called for them to be granted refugee status and welcomed into large-scale farming nations like the United States and Australia, where their proponents say that they could make an immediate impact.
"Shoot to kill," EFF leader Julius Malema shouted into his microphone as the so-called Economic Freedom Fighters celebrated the anniversary of their founding with a massive rally.
"Kill the Boer," he sang, "the farmer," as tens of thousands of EFF members joined him in calling for the genocide of white people.
After video footage of the chant was posted to Twitter by an account titled "Truthseeker," and reposted by Benny Johnson, Elon Musk, a native South African, responded, tagging South Africa's President and writing that "They are openly pushing for genocide of white people in South Africa."
"@CyrilRamaphosa, why do you say nothing?" Musk added to the tweet, appealing directly to South Africa's president.
Watch the video and see Elon Musk's reaction below: 
They are openly pushing for genocide of white people in South Africa. @CyrilRamaphosa, why do you say nothing?

— Elon Musk (@elonmusk) July 31, 2023
Taking things a step further, EFF leader Julius Malema himself actually responded to Elon Musk's tweet, writing "O bolela masepa," which translates to "You are talking shit."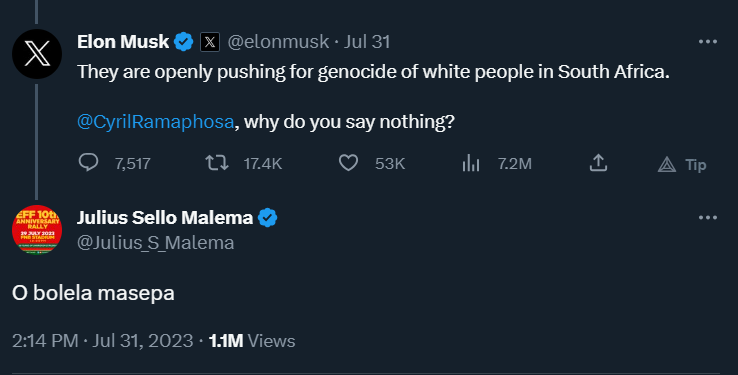 As footage of Malema and the EFF's "Kill the Boer" chants has gone viral around the world, it's been announced in South Africa that charges will be filed against Malema through the United Nations Human Rights Council, by a member of South Africa's Parliament.
In a video statement posted to Twitter by John Steenhuisen of the Democratic Alliance, the parliamentarian called Malema a "bloodthirsty tyrant" and accused him of trying to ignite a genocidal civil war.
"From that stage in Soweto, Malema told thousands of his followers that they must, and I quote, 'shoot to kill.'"
"He instructed them further to, and I quote, 'Kill the Boer. Kill the farmer.'"
"And then, he mimicked the chilling sound of gunfire to members of his political cult, who answered with thunderous approval."
Malema and EFF though, are unphased by the charges, publicly stating that Steenhuisen and the Democratic Alliance can "go to hell."
Roughly a decade ago, Malema faced charges and was convicted of "hate speech" for uttering the "Kill the Boer" chant, but that conviction was eventually tossed.
The events of this past weekend have revealed that the demon of the 1990s, which very nearly plunged this country into violence from which it would never have recovered, is not dead and buried. Malema has resurrected it. Unite behind the DA to stop Malema. pic.twitter.com/gil6j0hBXw

— John Steenhuisen MP (@jsteenhuisen) August 1, 2023