Last Updated on April 25, 2020
Former Virginia Congressman Scott Taylor is echoing Governor Ralph Northam's political hijacking of COVID-19 to push a Democrat-style vote by mail scheme in an effort to win the 2nd district's Republican primary. Taylor served one term in Congress, before being bounced from Washington by Democrat Elaine Lauria in 2018.
"With all the unknowns our community is facing, we encourage you to request an absentee ballot and vote by mail to cast your vote for Scott Taylor," a recent campaign ad reads.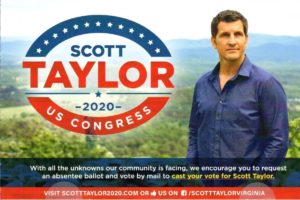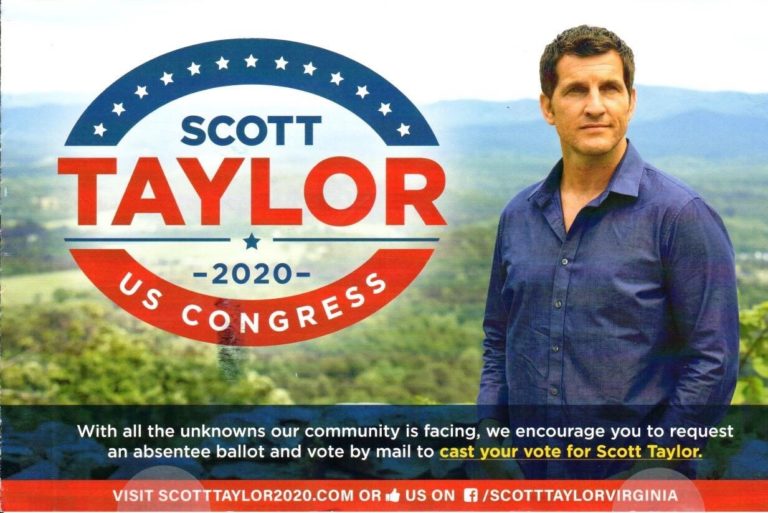 As some have pointed out, Taylor's ad, which depicts the candidate standing before a backdrop of rolling mountains, looks rather out of place in Virginia's 2nd District, which encompasses coastal regions of the state, including Virginia Beach and the Eastern Shore – hundreds of miles away from Virginia's Blue Ridge Mountains. 
Most likely, the picture was recycled from Taylor's aborted run for Senate critics of the ad say, when Taylor launched a short-lived campaign against Senator Mark Warner before deciding to pivot back to the 2nd District, leading to accusations of Taylor shopping around for an office to run for. 
Taylor's push for supporters to vote by mail has certainly raised eyebrows, as he is fresh off a highly publicized election fraud scheme, which saw one of his 2018 campaign staffers, Lauren Creekmore Peabody, plead guilty to charges of "willful neglect of election duty" last month. In doing so, Peabody received a $1,000 fine and a suspended jail sentence of 1-year, contingent on a year of good behavior. 
Peabody's charges stem from efforts by the Taylor campaign to get a two-time Democrat candidate for Congress, Shaun Brown – who Taylor defeated in 2016 – on the 2018 ballot as an independent, for the purpose of splitting the Democrat vote, propelling Taylor to victory. Court documents state that Peabody and fellow Taylor campaign staffers were instructed by senior members of the campaign and Taylor himself to collect ballot access signatures on Brown's behalf. The effort failed, and Taylor was defeated by a 3-point margin. 
According to an investigation by 13News Now, petitions gathered by Taylor campaign staffers included the names and "signatures" of not only voters who moved out of state years prior, but the deceased. 
Contrary to claims by Taylor that he himself has been exonerated, Prosecutor John Beamer has told the media, "Those are his words. We did not say that."
In an unrelated matter, Shaun Brown is currently serving a 3-year federal prison sentence for falsifying financial records related to a summertime meals program for needy children.