Last Updated on April 7, 2022
Former GOP establishment Rep. Scott Taylor has endorsed Jen Kiggans for Congress in Virginia's 2nd District, a seat that Taylor used to hold before being bounced from DC by Democrat Elaine Luria and having his campaign embroiled in a criminal election fraud scandal. Kiggans is also being backed by establishment leader Kevin McCarthy and is facing America First conservative Jarome Bell in the primary, who once released a scathing ad profiling Scott Taylor's political failures and dubbing him a "loser."
As a one-term Congressman, Scott Taylor supported amnesty for illegal aliens and the trans lobby's radical agenda, even appearing at a George Soros-sponsored "Global Citizen" event in New York City. When word of his open borders leftism spread around the 2nd District, instead of acquiescing to the will of the people who sent him to Congress, Taylor attacked those exposing his record. In what may be a first for a sitting US Congressman, Scott Taylor reportedly called in a bomb threat to Numbers USA, an advocacy group that had given him a failing grade on his handling of border security and immigration issues as a legislator.
By the 2020 midterms, Taylor was facing off against the energized grassroots for the GOP nomination to win back his old seat in Congress but still maintained establishment support. After narrowly securing the nomination as two other candidates split the America First vote, Taylor waged yet another losing campaign against Elaine Luria. The entire time, Scott Taylor was dogged by an election fraud scandal related to his 2018 bid for office that saw his staff tried and convicted in a court of law, ending his career as a candidate in the ultimate form of political disgrace.
Now, with Scott Taylor cast aside and reportedly looking for work in Belarus, the GOP establishment is backing State Senator Jen Kiggans for Congress in the 2nd District as she battles America First candidate Jarome Bell for the GOP nomination. Kiggans has said that she will use Scott Taylor's old playbook to flip the district back red but, like Taylor, has drawn the extreme ire of 2nd District voters over her far-left record in the State Senate.
As previously reported by National File, Kiggans, again much like Taylor, has supported the left's radical pro-trans agenda despite being elected as a conservative. Shortly after taking office, she voted for Virginia's ratification of the so-called Equal Rights Amendment to the US Constitution, which would legalize taxpayer-funded abortion on demand and abolish gender-specific bathrooms. While Kiggans admitted at the time that women didn't need the amendment, she explained that it has "symbolic" value, and should thus be inserted into America's founding documents. Furthermore, Jen Kiggans even supported the highly controversial Virginia Values Act, which effectively re-wrote Virginia's most basic civil protections in the image of the far-left trans lobby and was cited by the state's education department in forcing schools to open girls' restrooms up to men and adopt radical pro-trans policies, like the ones that got three Loudoun County schoolgirls raped by a "gender-fluid" male in a skirt.
Backed by GOP establishment leader Kevin McCarthy and bailed out by the GOP's leadership fund after posting campaign numbers that have been mocked as a "joke," Kiggans has also supported Democrat bills that threw Virginia's election system into chaos. As the left sought to mandate experimental COVID jabs, she refused to back legislation that would have protected unvaccinated Virginians from losing their jobs despite routinely touting her background as a nurse practitioner on the campaign trail. Rounding out her establishment credentials, in a recent interview on The John Fredericks Show, Kiggans refused to back a Trump run for President in 2024 and has repeatedly indicated that she believes Joe Biden truly won the 2020 election.
Scott Taylor made his endorsement of Jen Kiggans known in a LinkedIn post from an account with a name that seems to imply he's still a member of Congress. While Taylor didn't specifically mention any political issues that have led him to support Kiggans, he did run through some of what he considers to be his highest accomplishments as a politician before saying he believes that Kiggans will support and cast votes for "issues the majority of us care about" and asked his supporters to "consider giving her the same support you have given me."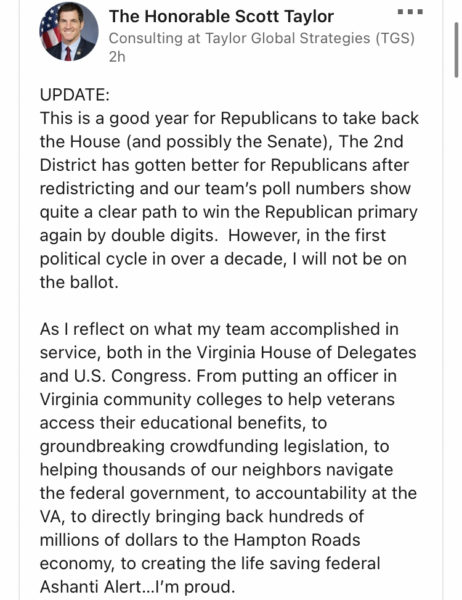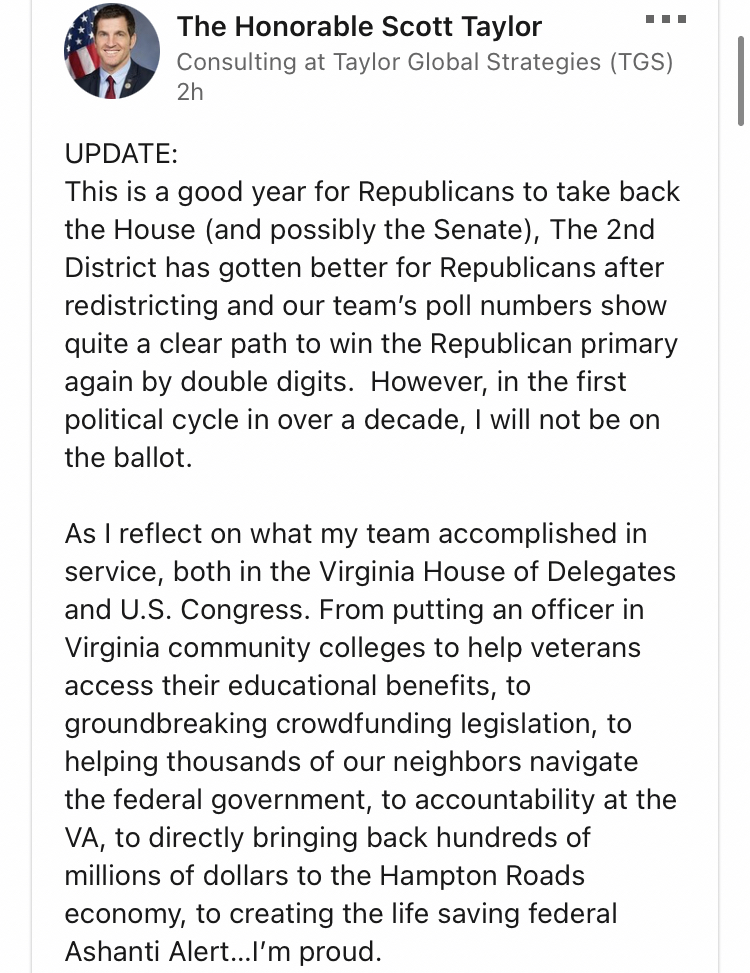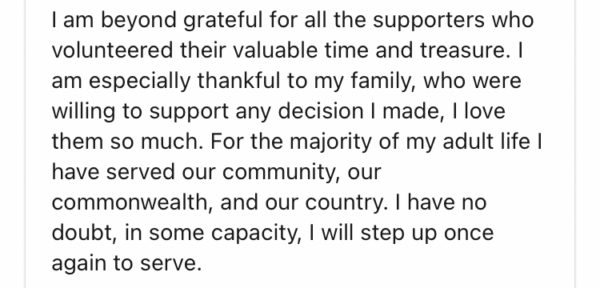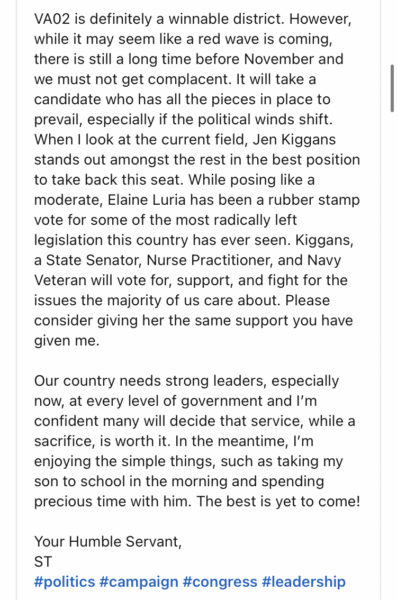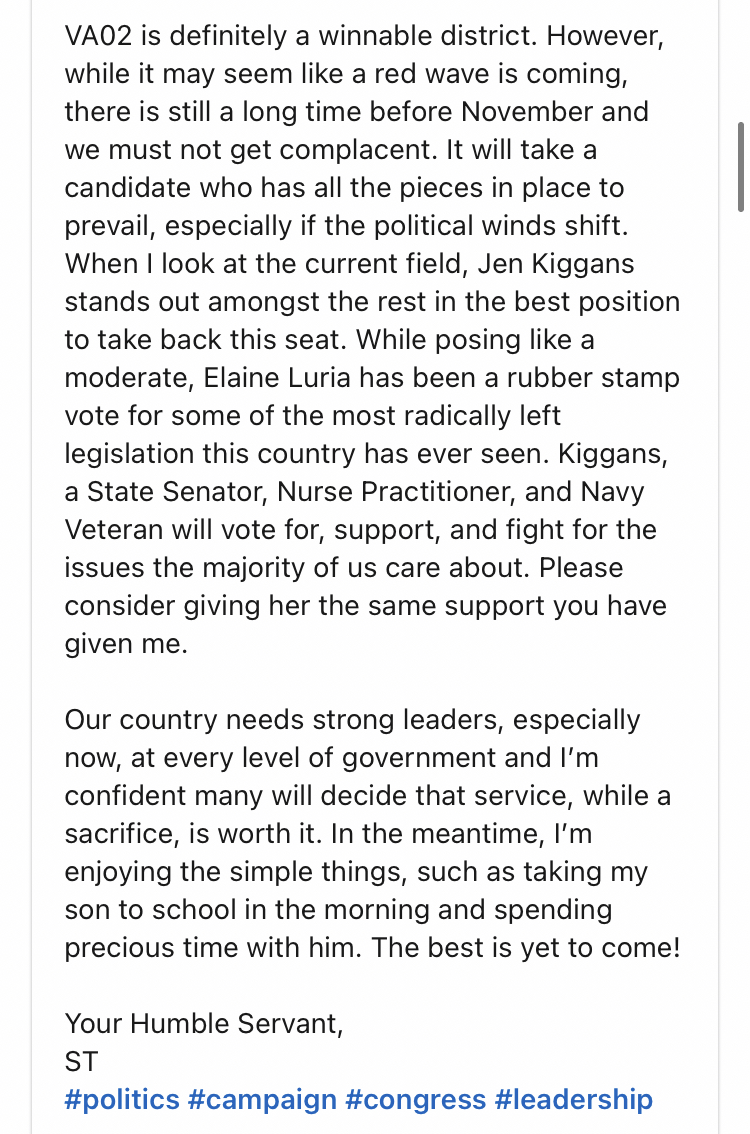 Speaking with National File, America first candidate Jarome Bell said Taylor's endorsement of Kiggans came as no surprise to him given their mutual establishment ties and far-left records. Due to Taylor's poor reputation in the 2nd District, Bell says, the endorsement could even be a "kiss of death" for Kiggans' campaign.
"I guess since Jen Kiggans said she was going to use Scott Taylor's playbook, one establishment RINO is now passing the torch to another," Bell said before comparing their pro-trans votes and establishment funding. "They are the same. They're funded by the same people, they have the same globalist philosophies and, obviously, he also thinks boys and girls should be sharing the same bathrooms. Obviously he thinks boys should be in girls sports," Bell said.
In 2020, Bell ran a grassroots campaign for the 2nd District's GOP nomination, devoting much of his campaign to exposing Scott Taylor's true political identity. Despite his establishment backing, Taylor failed to win over 50% of primary votes but secured the nomination when Bell and another outsider split the anti-establishment vote. Rumors circulated that Taylor would run again in 2022, but the establishment ultimately looks to have settled on running Jen Kiggans instead, as she employs Taylor's old playbook.
"I was hoping he would jump in the race but I guess there was only room for one RINO at a time and he's already a two time loser," Bell said of Taylor. "There is nothing honorable about this dude except his short military service and him being a dad to his kid. Everything else, he's failed at. He even lost with Trump's endorsement. So him endorsing Kiggans is actually of no consequence to me but maybe a kiss of death for her. He can't rescue her either."
National File also reached out Senator Jen Kiggans for comments in this article, but received no response by the time of its publishing.
Watch Bell's 2020 "Scott Taylor: LOSER" Ad Below: