Last Updated on February 21, 2020
Virginia's Senate Democrats voted unanimously yesterday to block a budget amendment giving a pay raise to the employees of Virginia's Sheriff's Departments.
The amendment, introduced by Senator Bill Stanley (R-20), would have provided the employees and deputies of Virginia's Sheriff's Departments, often the sole local law enforcement agencies Virginia counties, with a 3% pay raise for this year.
While the pay raise for law enforcement was shot down, the Senate did approve raises for teachers and state employees, as well as the allocation of funds to launch online sports betting and lottery sales.
Low wages have become a pressing issue for Sheriff's Departments statewide, with many localities experiencing retainment troubles as a result. Using recent figures from the Lynchburg-area as an example, entry-level Sheriff's Deputies can expect to make around $34,000. In comparison, entry-level State Troopers with the Virginia State Police earn an annual salary of around $44,000 on average.
While localities generally provide a slight supplement to deputies' salaries, which may vary by a number of factors, the state is responsible for setting and funding deputies' base salaries. Under the budget for 2019, the state set entry-level deputy salaries at only $32,500.
According to a Facebook post from Senator Stanley, Senate Majority Leader Dick Saslaw (D-35) made the reasoning behind Democrats' opposition to the amendment crystal clear. "Hey Stanley, you want to know why your sheriffs didn't get a raise? Because they came to our committees and said they wouldn't enforce our laws … gun control," Saslaw told him.
Saslaw's statement came in reference of Virginia's massive 2nd Amendment Sanctuary movement, which a number of Sheriffs and their departments have backed, vowing not to enforce unconstitutional gun control bills should they be signed into law.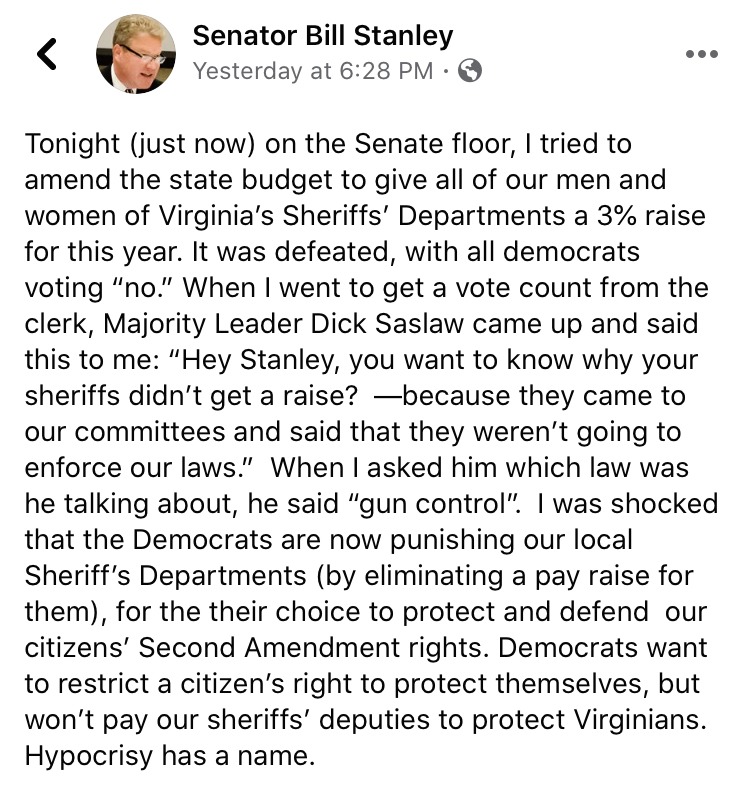 Saslaw wasn't the only member of Democrat leadership to take a jab at law enforcement. In fact, one Senator took things a step further, issuing a full-fledged threat to Virginia's law enforcement community and their livelihood. Following the vote, Senate Budget Committee Chair Janet Howell (D-32) took to Twitter. "Their benefits are next!" tweeted the Senator, seemingly threatening to cut off funding of benefits to law enforcement as punishment for standing in the way of the Democratic Party's gun control agenda.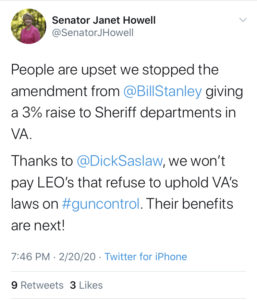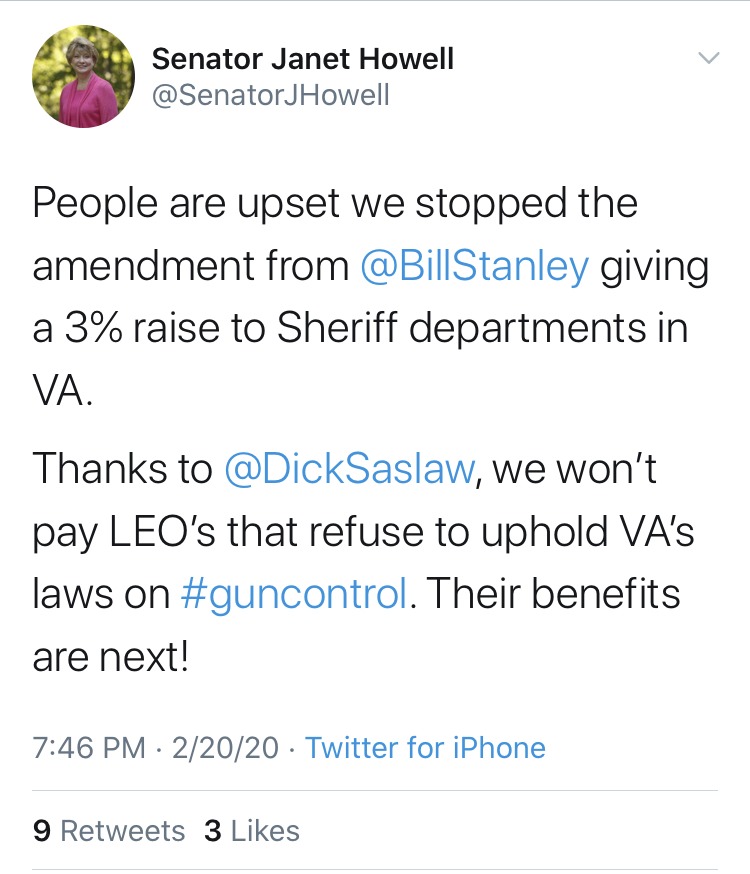 Although Howell has since deleted her tweet, a screenshot of the outlandish threat was saved.