Last Updated on April 19, 2023
Antifa militants set fires in the street and hurled what police have described as an "incendiary device" while they clashed with law enforcement and filled the air with banshee-like shrieks at a pro-trans demonstration at the University of Pittsburgh. Police declared a "public safety emergency" as a result.
The pro-trans militants gathered at the University of Pittsburgh on Tuesday night to demand the silencing of Michael Knowles, who was at the school for a debate and speaking engagement as part of his campus tour around the country in which he's set out to dispel the lies of the trans lobby.
As the pro-trans mob gathered, clashes broke out with the campus security and law enforcement officers who were called in to protect the speaking event, injuring 3 of them.
Watch below:
Pittsburgh, Pennsylvania: 3 officers were reportedly injured but all refused EMS, per Pittsburgh Scanner. pic.twitter.com/3aEbmWbcBN

—  DOUG IS MY GOV  (@DougIsMyGov) April 19, 2023
Police at the University of Pittsburgh declared a "public safety emergency" as a result of the violent crowd, which included someone throwing what the school has described as an "incendiary device."
"An incendiary device was set off outside O'Hara Student Center," a statement from the University of Pittsburgh read on Twitter, adding that no injuries had been reported before instructing students to "stay away from Thackery and University Place."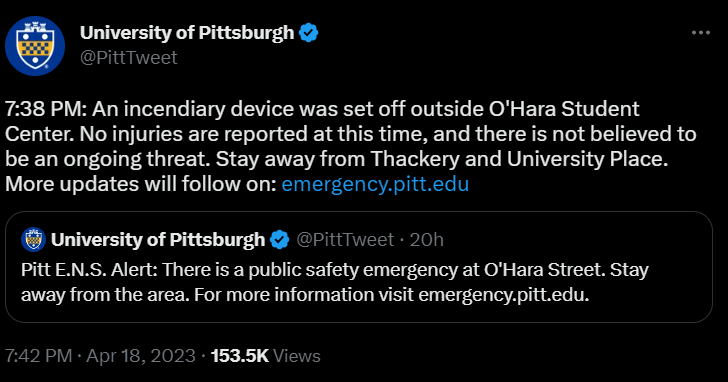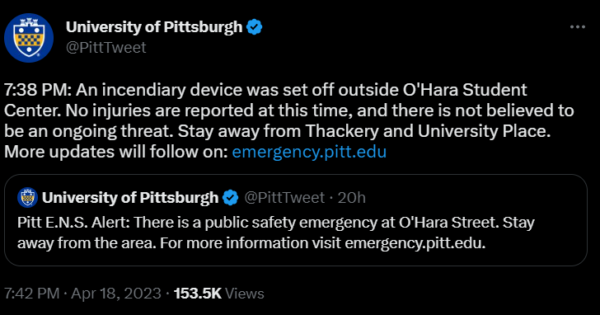 In addition to the "incendiary device" being set off by the pro-trans militant mob, an effigy of Michael Knowles was lit aflame in the street, footage of which was captured by local reporters at the scene. In more video footage of the demonstrations, it's evident that the effigy wasn't the only thing lit on fire, as a massive plume of smoke rises from a patch of grass and mulch occupied by the pro-trans mob.
Watch the video below:
A body dummy with a picture of Michael Knowles' face on it has been lit on fire, about a half hour before Knowles is set to participate in an event on Pitt's campus. Knowles said earlier this year that he believes "transgenderism" should be "eradicated." @WTAE pic.twitter.com/l1k3TrEkDN

— Mike Valente (@ValenteWTAE) April 18, 2023
The pro-trans mob at the University of Pittsburgh comes as the trans movement ramps up its aggression and violence, and publicly partners/merges with Antifa militants. Just a week ago, a pro-trans mob at San Francisco State University attacked former NCAA women's swimmer Riley Gaines, as she spoke out against men participating in women's sports.