Last Updated on February 13, 2021
A man wearing a yellow plastic jumpsuit, a plastic covered clothes basket over his head with "6 FEET" emblazoned across it, and a Chinese communist flag as a cape attended the Michigan House Oversight Committee responsible for determining the state's policies surrounding COVID.
The man, a "Pandemic Superhero" named "COVID MAN" politely entered the seat of government on Friday, appearing to shock security, who apparently could not kick him out as he was wearing a mask and far more PPE than any other person in the room. The man calmly walked through security, has his temperature taken, and proceeded to raise eyebrows among the Michigan legislators.
According to USAgainst Media, a group run by pro-freedom activists in Michigan, who have organized successful rallies to oppose the stringent COVID-19 lockdowns ordered by Democrat Gov. Gretchen Whitmer and largely left in place by the state legislature, "COVID MAN is the offspring of the media and radical left hype, that is constantly being put out."
"You see, COVID MAN is the 'scientific' offspring that is derived from the sociological metamorphosis that occurs when constant bullshit is eventually returned to sender," they explain.
As COVID MAN entered the committee room, he unveiled his secret weapon: A folded sheet of plastic, contained in his clothes basket face shield, which he then unfolded and placed over his chair to offer added layer of protection from the "China virus."
After the committee met, COVID MAN applauded loudly, saying "Great show!" Multiple attendees, and legislators, then asked to take photos with the superhero.
"Hey, you've gotta get the flag," said COVID MAN to one attendee, turning around to expose his cape. "That's the important part, it's the China Virus!"
After one legislator photographed him, COVID Man explained, "You know, this is the way of the future. I mean it's so scary a virus, the Democrats want to make us believe that. It's so dangerous right? So why are they just half stepping it, let's go all the way."
USAgainst Media explains that the superhero was inspired by Michigan Rep. David LaGrand, a Democrat who wears a pink tipped N95 respirator when in public.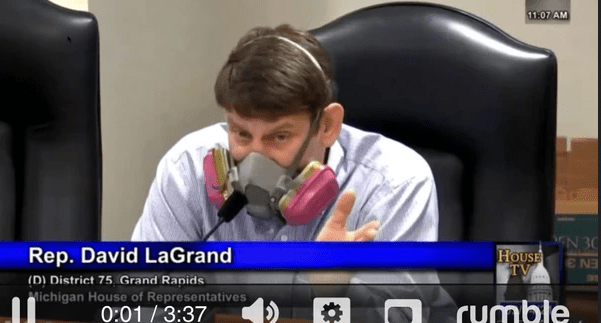 "YES this guy looks like a total conspiracy theory living the life of a state rep. This is really quite sad!" writes USAgainst Media. "And this is a law maker who is filling his head with CNN crap, and then trying to make you believe it."
COVID MAN is also far more concerned about the safety of Michigan legislators than Anthony Fauci or the CDC, as he recently demanded legislators wear three face masks to help fight the spread of COVID-19.