Last Updated on August 5, 2020
A Hispanic woman shopping in a Virginia Mom's Organic Market location recorded a confrontation with a store clerk who told her, regardless of any medical conditions that may preclude her from wearing a face mask due to health reasons, she would not be served at the store unless she wore one.
In a tense exchange between a man identified as store manager Zach and a woman identified by her husband as Mrs. Prudencio, showing the man refuse to offer the woman service and threaten to call the police as she attempts to explain that she is unable to wear a mask due to health issues.
"I already told you, I spoke with your corporate," said Prudencio. "Your policy says that I can pay with a credit and debit card. You guys don't have to touch my cash. You are discriminating against me."
Prudencio added that, not wanting to provoke a confrontation, she previously called "corporate" and was told by a receptionist that she should "explain what the [Virginia] mandate says." In an emotional tone, Prudencio suggested, "You're the manager, you can contact somebody" to confirm this policy.
Instead, the manager told Prudencio "You're not going to pay for that stuff while you're here," and repeatedly told her to leave the premises.
At one point, Prudencio explained that she shopped at the store days prior and was not asked to leave for not wearing a mask, eventually remarking "What is the problem with you people?"
The manager appeared to construe this as a racial insult, and told Prudencio "Now that's being offensive, now you need to leave."
"You started it," said Prudencio. "You told me that I cannot shop because I have a medical condition."
Eventually, Prudencio attempted to argue that she had already touched the groceries in her cart, potentially covering them with COVID-19 in the process of shopping while unmasked, and suggested it did not make sense to force her to leave without purchasing the groceries if public health was the manager's concern.
As the argument continued, the manager eventually deferred to the World Health Organization, and appeared believe it was a law enforcement body in the United States capable of punishing his business for serving unmasked Virginians.
"You know what? If the World Health Organization, if the health department were to come in and see people walking around, in line without a mask, we'd get in trouble," said the manager.
Again, the woman tried to explain that she is medically exempt from the Virginia mask mandate, and her infant child, younger than 9, is exempt from the mandate at the parents' discretion.
Eventually, the manager blocked the shopping cart's path, held his identity badge up for Prudencio to film, and demanded she leave the store.
https://youtu.be/mjIEkzHoiWg
In a Facebook post explaining the altercation, William Prudencio says he and his wife later contacted the store's corporate offices, and received a response from Scott Nash, the founder and CEO of Mom's Organic Market.
Nash allegedly told Prudencio that if he or his wife return to any of his stores, "we will call the police." Nash added, "We know who you are and have notified them."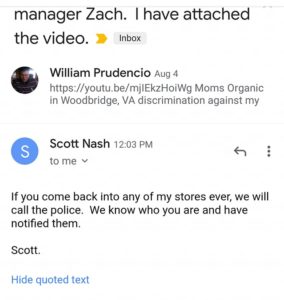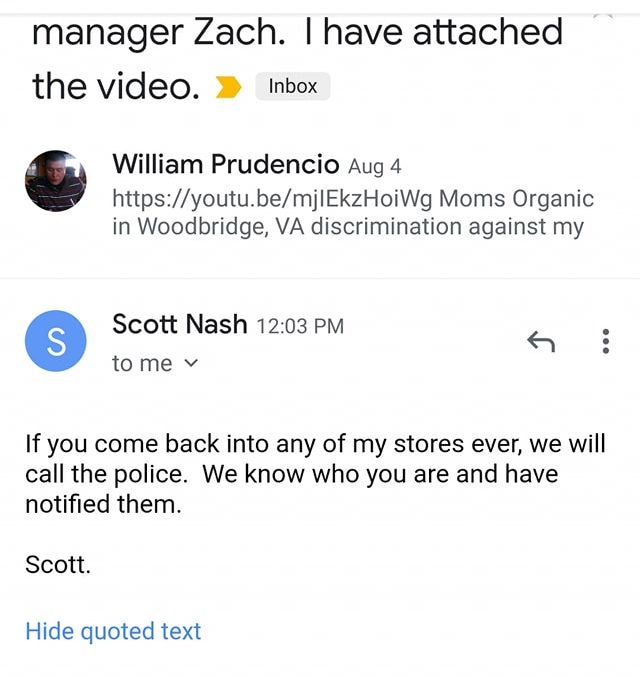 "Scott [Nash] doesn't care to address the discrimination against my wife and baby," wrote Prudencio. "Instead he threatened me with police action."
National File attempted to contact the Mom's Organic Market corporate office and did not receive an immediate response. A call to the store manager Zach was not immediately returned.