Last Updated on September 9, 2020
CNN host and social media workout enthusiast Chris Cuomo is getting scoffed at by the powerlifting community after claiming he presses and curls 100lb dumbbells at his desk while typing and browsing the internet in business attire as a form of pre-show workout.
In one video, Cuomo can be seen casually pressing and curling a flat-sided dumbbell stamped with the words "Cuomo Prime Time 100 Iron Grip" in giant, bold white text.
"Just getting a little pre-show pump, you know… hundred pounds, you know, just kinda work it out, light stuff," Cuomo says casually, while vigorously pumping the "100lb" weight overhead for roughly thirty seconds.
The CNN host then hands the dumbbell to an intern, who comically buckles under its supposed weight and lets it fall to the floor.
DISPUTED VIDEO: A top bodybuilder claims CNN host @ChrisCuomo is using FAKE weights in his macho man promo clips.

What do you think? pic.twitter.com/srpMwBCA0V

— National File (@NationalFile) September 10, 2020
Cuomo has made the claim that he uses the 100lb dumbbell at the office as a form of light workout multiple times, with one photo showing him casually holding the weight aloft, arm muscles relaxed, while he types nonchalantly on his keyboard with the other hand.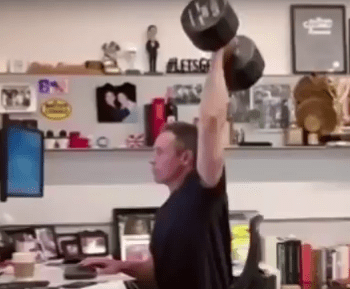 Cuomo's claim has been called out as false by professional bodybuilder Mark Lobliner, who attempted to replicate the television personality's incredible feat of strength.
Despite being visibly buffer than Cuomo, Lobliner demonstrated the difficulty of pressing 50lb and 80lb dumbbells while casually typing with the other hand, and was wholly unable to assume the same position as Cuomo with a 102.5lb dumbbell.
"If you are a part of the lifting community or know anybody who is, there's one thing we hate, and that's when you fake it. Because that makes what we do look insignificant," Lobliner said. "I'm confident those are fake dumbbells, and I'm also willing to bet Chris Cuomo $1,000 that he can't sit at a desk holding a 100-lb dumbbell, typing."
CHALLENGE TO @ChrisCuomo .

Prove you're not a liar. Prove that you can actually lift the weight you're shown with.

I will fly anywhere you'd like to witness it and we can either have a charity event or I'll donate $1k to a charity of your choice.

PLEASE RETWEET! pic.twitter.com/5vVZpUoW8S

— Marc Lobliner (@MarcLobliner) September 9, 2020
Other fitness enthusiasts were also quick to scoff at Cuom's claims in the Twitter replies.
https://twitter.com/BeeLloydBee/status/1303821968517615622
https://twitter.com/BeeLloydBee/status/1303814122262466565
Chris Cuomo is a fucking toolbag. I'll also throw in $1,000 if he can overhead press a 100-pound dumbbell.

— Jonah Lupton (@JonahLupton) September 9, 2020
National File also spoke with two anonymous sources familiar with the physics and logistics of amateur powerlifting, who stated that Cuomo was definitely using a fake dumbbell in the 2018 Facebook video, and noted that Cuomo's casual rotation of the wrist while holding the weight would have resulted in serious injury if the Iron Grip "Cuomo Prime Time" dumbbell was indeed a "hundred pounds."
The beleaguered Cumo has also received negative press after leaked audio of his off-air conversations with disbarred attorney and convicted felon Michael Cohen was aired on "Tucker Carlson Tonight":
At the end of a previously unheard audio clip broadcast during Tucker Carlson Tonight, the CNN host rhetorically asks Cohen, "How do you get in trouble? You don't get in trouble legally."

Cuomo then pauses for a moment, appearing to think briefly, before saying, "I'll ask, um… I'm going to make some phone calls and make sure you don't get f***ed on that."

Carlson noted that "Chris Cuomo offered that help to Michael Cohen unsolicited, and joked that "It's a lot more than most news anchors would do for a guest, we can tell you first hand" before asking, "Did Chris Cuomo call his brother, the governor of New York, on behalf of Michael Cohen?"

"We do know that whatever Chris Cuomo did, it didn't work," added Carlson. "In the end, Michael Cohen went to prison anyway."
National File was unable to find any written or video instances where Cuomo stated that the 100-lb weight stunt is intended as a gag or anything other than a truthful representation of Cuomo's weightlifting prowess.