Last Updated on January 25, 2023
An Antifa-aligned "journalist" performed a mental gymnastics routine live on CNN this week, as he attempted to re-define the word violence to excuse the destruction brought on by Antifa radicals in the city of Atlanta, as they riot against the construction of a new police training facility.
David Peisner, a "freelance journalist" who's done work for CNN, The New York Times, and Rolling Stone among others, bizarrely claimed during a CNN interview on Atlanta's Antifa riots that the left-wing militants who've hurled Molotov cocktails at police and attacked construction workers for their role in building Atlanta's new police training center aren't actually violent at all, even as scenes of fiery destruction played on CNN's screen adjacent to him.
"Well, I think that there's a real blurring of the lines and the use of the word violence," claimed Peisner, excusing Antifa's assaults on buildings and other forms of property while completely dismissing their attacks on law enforcement, construction workers, and others who've had the misfortune of running into them.
"Is property destruction violence?" Peisner asked, attempting to take up a philosophical left-wing approach that's made him a laughing stock all over the internet.
"To some people it certainly is," Peisner said in answering his own question. "But, you know, this idea that breaking windows or other acts of property destruction are the same as actual violence against humans, it's kind of a dangerous and slippery concept."
Watch the video below:
In addition to excusing Antifa's violence during his CNN appearance, Peisner shared a GoFundMe created by the very Antifa militants he was defending on air, which is being used, supposedly, to funnel money to the family of attempted cop-killer "Totugita," the Antifa member who was shot dead by law enforcement during an attack on "Cop City," as the under-construction training facility has been dubbed.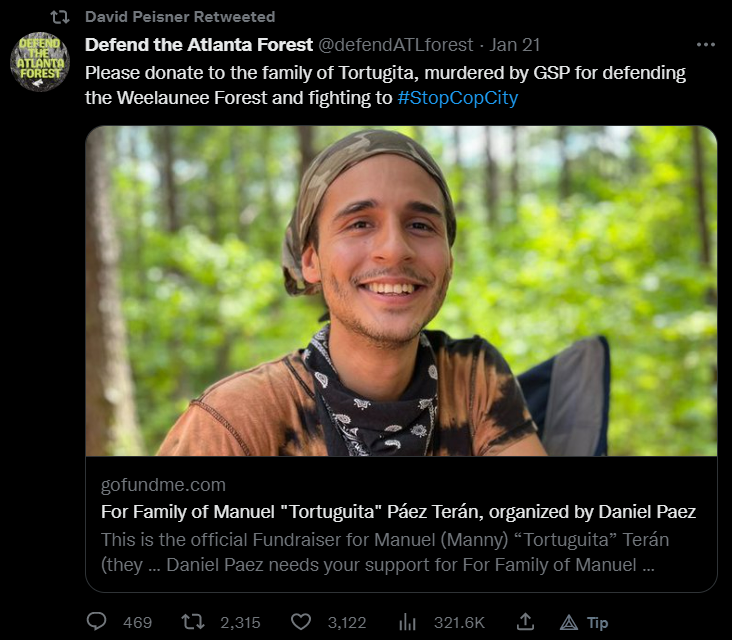 Peisner isn't the only "journalist" shilling for Antifa as the Atlanta riots play out though, as National File recently reported:
Corporate media outlets — including CNN and ABC — have referred to violent riots that rocked Atlanta on Saturday as "mostly peaceful." Antifa militants and other far-left extremists have flocked to the city in order to protest the building of a new police training ground, which has led to repeat instances of violent disturbances at the building site. The latest flare-up marked a significant escalation, however, as far-left extremists set far to cars and buildings in response to an officer-involved shooting.

Far-left protesters set up a camp around the proposed building site and have repeatedly attacked law enforcement and construction workers. In at least one instance, the militants threw Molotov cocktails at responding officers.

[…]

https://twitter.com/TheCharlesDowns/status/1617014036717096960?ref_src=twsrc%5Etfw%7Ctwcamp%5Etweetembed%7Ctwterm%5E1617014036717096960%7Ctwgr%5Edafbb5e424d12a52e3ac14f689d51c13f7d8314c%7Ctwcon%5Es1_&ref_url=https%3A%2F%2Fnationalfile-d200be.ingress-erytho.ewp.live%2Fcorporate-media-outlets-refer-to-violent-antifa-riots-as-mostly-peaceful%2F