Last Updated on June 20, 2023
At least 12 people are dead and over 100 injured nationwide after violence once again plagued the Juneteenth weekend, with shootings and mob beatings popping up all over the United States. Violence, it would appear, has become the top tradition on America's newest federal holiday.
Juneteenth 2023 picked up where celebrations in 2021 and 2022 left off, as street violence left a trail of blood across the country.
In one Juneteenth 2023 shooting, captured on video in Milwaukee, Wisconsin, 6 teenagers were shot after a catfight led to a gun being pulled. In video footage of the shooting, which took place on a street named for Martin Luther King Jr., a young black male can be seen pulling a handgun from his waistband before shots and screams ring out, and the crowd is sent running.
Watch the video below: 
#JUNETEENTH CARNAGE: AT LEAST 12 DEAD, MORE THAN 100 INJURED. #Video below is from a MILWAUKEE celebration where 6 people were shot along a street named for MLK.

'Greater Philadelphia' sign in background is part of a church named for that city. pic.twitter.com/QicnW79A7N

— Frankie Stockes – Reporter (@stockes76) June 20, 2023
Despite the caught-on-camera shooting, the Democrat Mayor of Milwaukee, Cavalier Johnson, dubbed the city's Juneteenth celebration a "glorious" and "safe event".
"Today was a glorious day. We celebrated Juneteenth," Johnson said at a press conference, before insisting that "Juneteenth was a safe event."
Amazingly, in a post he made to Twitter hours after the shooting, Johnson neglected to mention the violence entirely. What's more, is that according to his own tweet, he was on the very street where the Juneteenth shooting took place, calling it "the best MLK Drive in the nation!"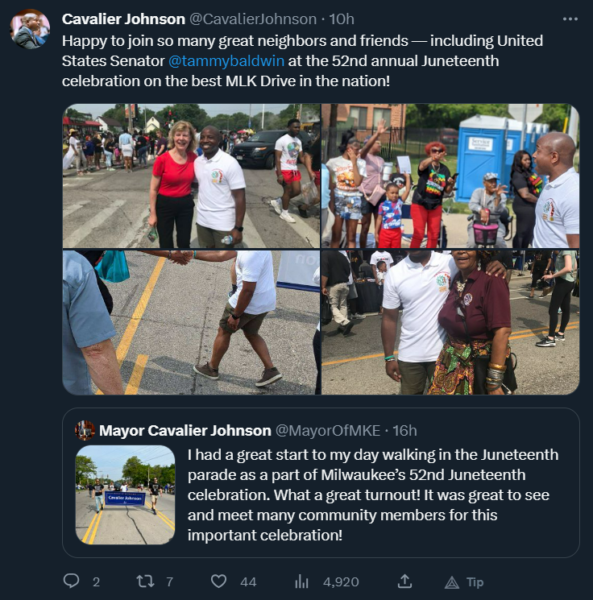 Like in Milwaukee, shootings popped up all over the country on Juneteenth and the celebratory weekend proceeding it.
Over 20 people were wounded and one killed in the Chicago area when a multi-gunman shooting broke out at a large-scale weekend Juneteenth party.
In Asheville, North Carolina, a 16-year-old boy was arrested for shooting two people, and in Akron, Ohio, a 15-year-old was shot in the chest.
On the other side of the country, in San Diego, California, one person was killed and another wounded when what police have described as a "dispute" led to gunfire at a Juneteenth weekend celebration.
In virtually all cases of Juneteenth shootings, police, and media have failed to release racial descriptions of the shooters, even shooters who are still at large.
On Juneteenth, this reporter joined Paul Harrell on the Stew Peters Show to discuss the trend of Juneteenth violence that's gripped the nation, and to lay waste to the phony narrative surrounding the holiday, which is increasingly being used to de-legitimize America's July 4th Independence Day.
Watch the Stew Peters Show segment in the video below: