Last Updated on June 30, 2022
Ex-Mark Meadows staffer Cassidy Hutchinson planned to follow 45th President Trump to Mar-A-Lago when he departed from Washington, D.C., only to be personally fired by him before opting to give hearsay testimony to Nancy Pelosi's 1/6 Committee. Reportedly, the Secret Service agents who Hutchinson claims were attacked by President Trump in an attempt to steer his limo to the Capitol building are prepared to testify under oath that Hutchinson is lying and that the entire saga never took place.
In the aftermath of her testimony, which corporate media has declared to be a "smoking gun" of sorts in the uni-party establishment's quest to bar President Trump from a 2024 run, the words and background of ex-Mark Meadows staffer Cassidy Hutchinson are coming under intense scrutiny. Though Hutchinson claimed under oath to Congress that President Trump attacked members of his Secret Service detail inside of his limousine in an attempt to join 1/6 Capitol Hill demonstrators, left-wing NBC News is reporting that the agents themselves are prepared to testify that Hutchinson's entire story is a lie.
According to NBC News White House correspondent Peter Alexander, "both Bobby Engel, the lead agent, and the presidential limousine/SUV driver are prepared to testify under oath that neither man was assaulted and that Mr. Trump never lunged for the steering wheel." During her testimony, Hutchinson claimed that she was told of the alleged attack by Bobby Engel himself, throwing her entire sensational story into severe doubt and turning the 1/6 Committee's so-called "smoking gun" on its head.
https://twitter.com/PeterAlexander/status/1541910389289635841?ref_src=twsrc%5Etfw%7Ctwcamp%5Etweetembed%7Ctwterm%5E1541910389289635841%7Ctwgr%5E%7Ctwcon%5Es1_&ref_url=https%3A%2F%2Fwww.washingtontimes.com%2Fnews%2F2022%2Fjun%2F28%2Fsecret-service-denies-cassidy-hutchinson-jan-6-tal%2F
Alongside the massive cracks forming in the foundation of her story, the motives that drove Hutchinson to give her disputed testimony to the 1/6 Committee are coming under review. Though she had initially planned to join President Trump and members of his administration at Mar-A-Lago, post-Washington, Hutchinson was fired before she got the chance, and has yet to hold a full-time job since.
The plans are evidenced in a Bloomberg News report dated January 14, 2021. In the report, Cassidy Hutchinson was listed among the aides planning to accompany President Trump on his inauguration day move to Mar-A-Lago and to stick around and work for him. That never happened, and President Trump said in a post to his Truth Social network that he personally denied Hutchinson's request to come along, firing her from his team.
"When she requested to go with certain others of the team to Florida after my having served a full term in office, I personally turned her request down," President Trump posted to Truth Social. "I personally turned her request down. Why did she want to go with us if she felt we were so terrible? I understand that she was very upset and angry that I didn't want her to go, or be a member of the team. She is bad news!"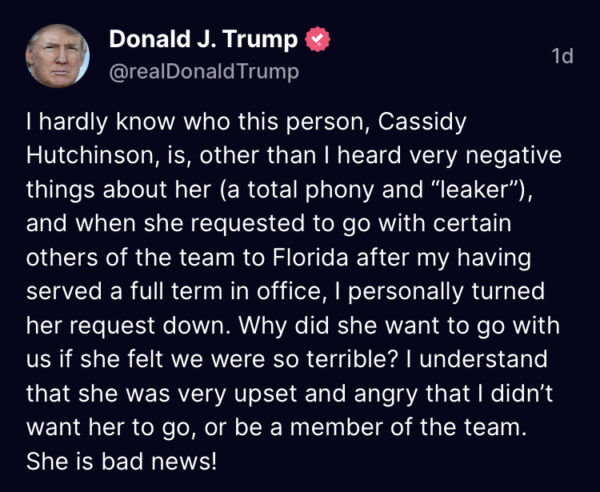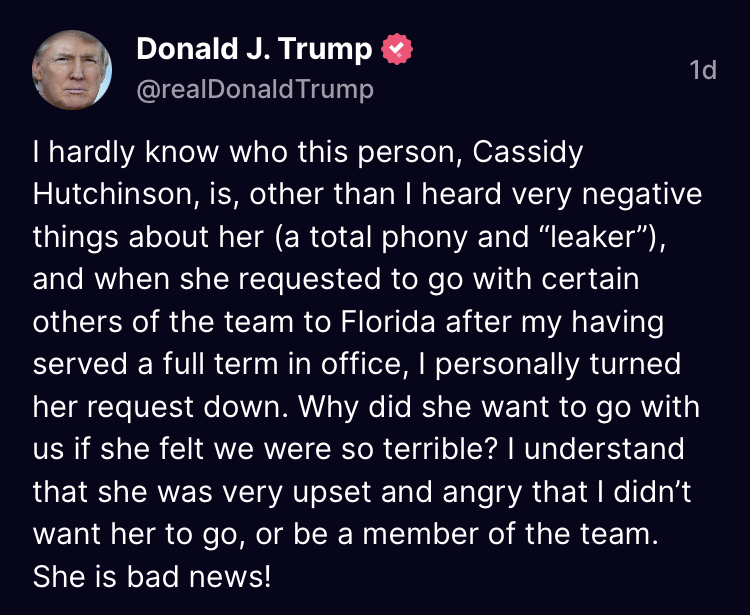 In a subsequent post made as her testimony came undone, President Trump lambasted Cassidy Hutchinson's appearance before the 1/6 Committee. In the post, Trump called Hutchinson a "fake storyteller" who has been "totally discredited" and pushed back on Liz Cheney and other members of the "Unselect Committee" for their calls to subpoena Trump's White House counsel, on the basis of Hutchinson's story, in hopes of gathering "dirt" on his administration.