Last Updated on September 19, 2022
U.S. emergency strategic petroleum reserves fell 8.4 million barrels last week to 434.1 million barrels, their lowest since October 1984, according to U.S. Department of Energy (DOE) data. The strategic reserve is primarily kept in order to ensure the nation is well-stocked in the event of a major war.
In March, President Biden announced that his government would release 1 million barrels per day over six months in order to temporarily drive down the cost of fuel. The planned withdrawals are set to end in October, at which point the administration will reevaluate, Energy Secretary Jennifer Granholm told Reuters.
The strategic petroleum reserve releases have indeed led to a reduction in gas prices from record highs this past June. Average U.S. retail gasoline prices currently sit around $3.75 per gallon, down from over $5 in June. The emergency stockpile has decreased by 450,000,000 barrels at the same time, however. As a result of the withdrawals, the strategic oil reserve now stands at its lowest level since 1984.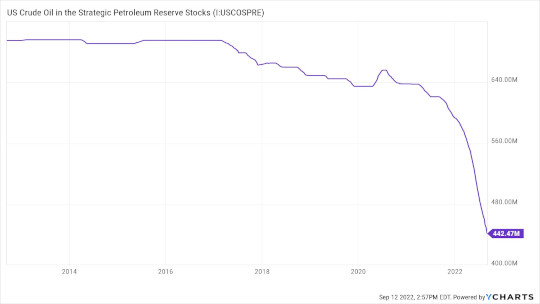 It is still "a little early to say to say that there is going to be more [strategic petroleum reserve] releases," said Abhiram Rajendran, head of global oil at Energy Intelligence. "But if OPEC starts getting aggressive on cutting supply, that's a possibility."
OPEC and its allies led by Russia agreed to slow oil production down beginning next month in order to bolster prices in anticipation of economic decline. In addition, Russia has significantly reduced its fuel exports to Europe amid the ongoing conflict in Ukraine and subsequent sanctions on the Kremlin.
Russia's state-owned energy giant, Gazprom, indefinitely halted gas flows to Europe via a major pipeline earlier this month, sparking fear of rationing across the continent this winter.
During a visit to Houston last Tuesday, Granholm said that the administration and allies are still discussing a cap on prices for Russian oil purchases. The administration also hasn't ruled out a fuel export ban going forward, though this is "certainly not something on top of the list," she said.
Granholm wrote to U.S. refiners urging them to replenish low U.S. fuel inventories ahead of winter and to curb rising exports of gasoline and diesel, Reuters reported. The letter warned the Biden administration may take unspecified emergency measures if fuel stocks fell further.