Last Updated on December 15, 2019
Twitter user Danny Covfefe was permanently banned from the platform for echoing the words of Robert De Niro, who recently called President Trump a "nasty little b*tch."
In a characteristic outburst, De Niro recently claimed that he would never portray President Trump in a movie, calling him a "nasty little b*tch," as though implying the 76-year-old actor could be tapped to portray the 73-year-old Trump at some later date.
Social media users, noting that De Niro has a long history of making untoward comments regarding President Trump, took to Twitter to defend the president and deride De Niro, resulting in the ban of the Danny Covfefe account.
"De Niro is the little b*tch," wrote Danny Covfefe. "An angry little b*tch."
This, according to Twitter, constitutes "hateful conduct," falling under the umbrella that stipulates users "may not promote violence against, threaten, or harass other people on the basis of race, ethnicity, national origin, gender, gender identity, religious affiliation, age, disability, or serious disease."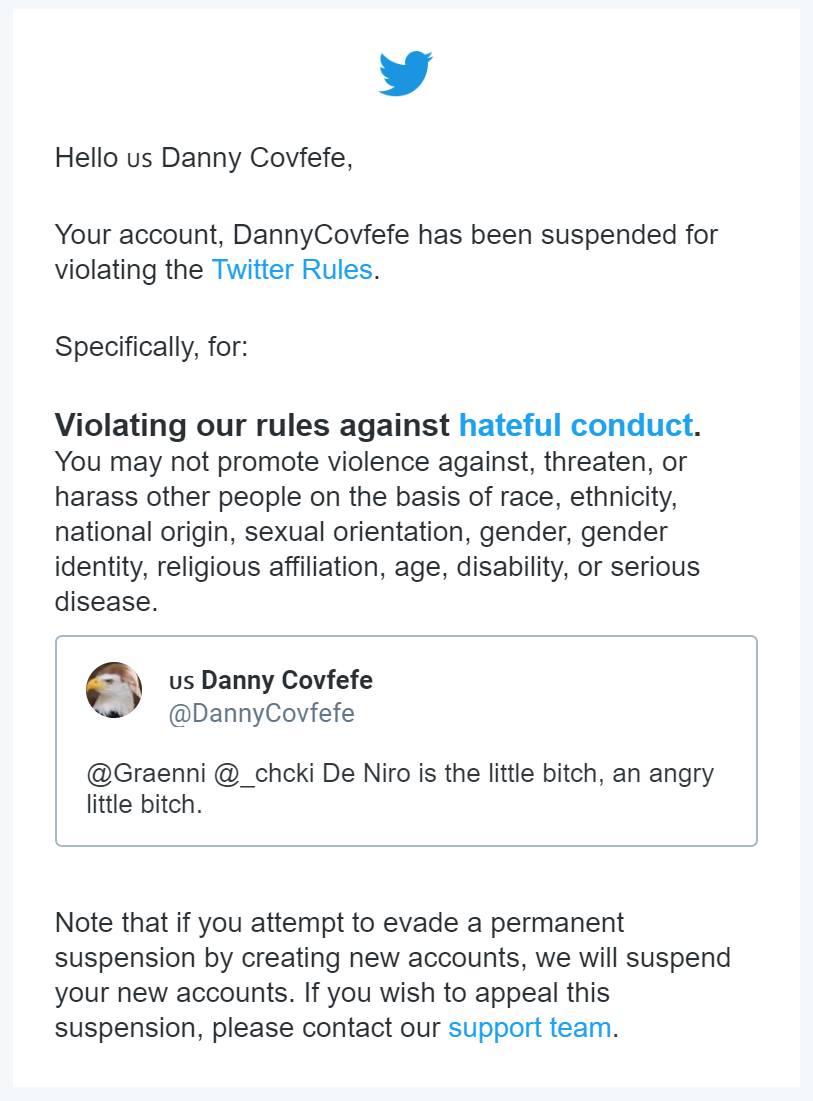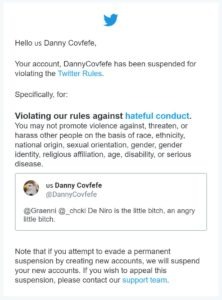 It is not known what special group Twitter believes De Niro fits into, or if being an "angry little b*tch" is a "serious disease" in the eyes of Twitter.
As the Danny Covfefe account used the same language used by De Niro off platform, it appears Twitter's rules – if enforced equally and fairly – would require the platform to now ban the veteran actor as well.
In December of 2017, the social media tycoon began policing "off platform" behavior, meaning that even if a Twitter user behaved themselves when logging into the website, if the user were to say or do something the platform does not approve of, even off the website, they could be banned.
In other words, if Danny Covfefe can be banned for calling De Niro a "little b*tch" on Twitter, then De Niro and any other possible users should be banned for calling President Trump a "little b*tch" off Twitter. Additionally, all those who echoed De Niro's statement on Twitter should be banned.
National File contacted Twitter for comment and did not receive an immediate reply.