Last Updated on June 14, 2022
The popular Libs of Tik Tok account is under threat of a permanent ban, leaked internal conversations from Twitter appear to indicate. Libs of Tik Tok has gained well over one million followers from simply posting videos, statements from activists and other documents that shine a light on publicly available leftist insanity. The account's owner revealed the leaked messages in a Substack post on Monday.
"Twitter employees are currently debating whether to ban us. We have screenshots of their internal discussion," wrote Libs of TikTok in a tweet.
The potential ban comes as leftist activists have launched a coordinating campaign to get the account removed, claiming it is inciting violence. Ari Drennen, the LGBTQ Program Director for Media Matters posted a series of tweets attacking Libs of TikTok account and the woman who runs it, Chaya Raichik.
"Chaya Raichik of Libs of Tik Tok is going to get someone killed," Drennen wrote in a quote tweet. The tweet was layered over a child drag show event, news of which was shared by the account, that was supposedly crashed by members of the Proud Boys. Drennen went on to say that Raichik was "hard at [work] making sure that far right militias have their next target."
Despite the fact that Libs of Tik Tok merely posts content that leftists make publicly available on their own, her detractors are now claiming the account invites violence against groups and individuals.
https://twitter.com/AriDrennen/status/1536033664491958272
After the seemingly coordinated effort from Media Matters and a number of leftist activists, Libs of Tik Tok reported that she had received a barrage of death threats in recent days.
Her account was locked on Wednesday after users mass reported a tweet thread detailing a drag queen story time event in San Francisco.
Now, Libs of Tik Tok has posted screenshots that reportedly came from a Twitter slack conversation. In the messages, Twitter employees appear to discuss whether to ban the account.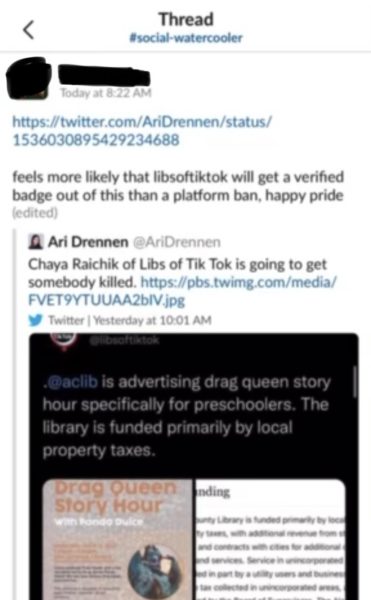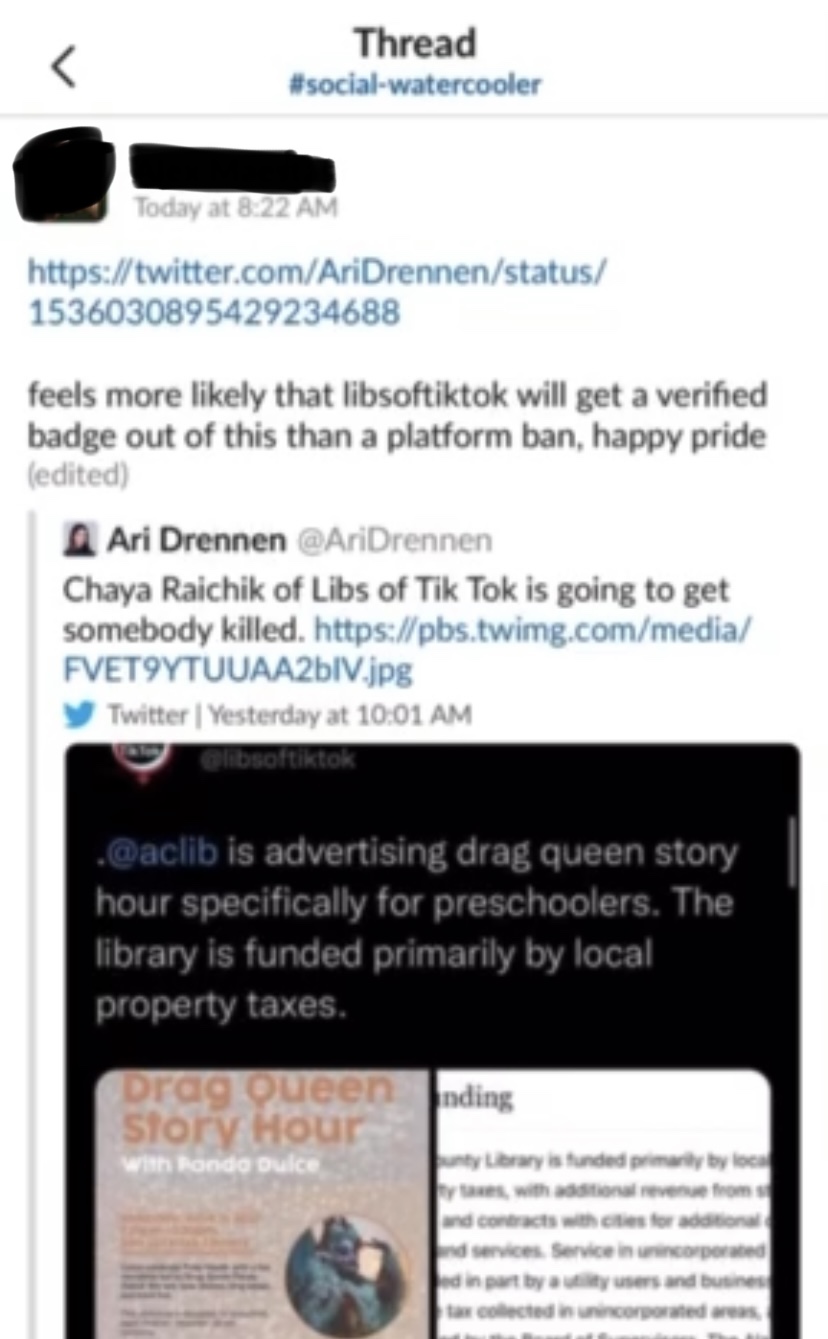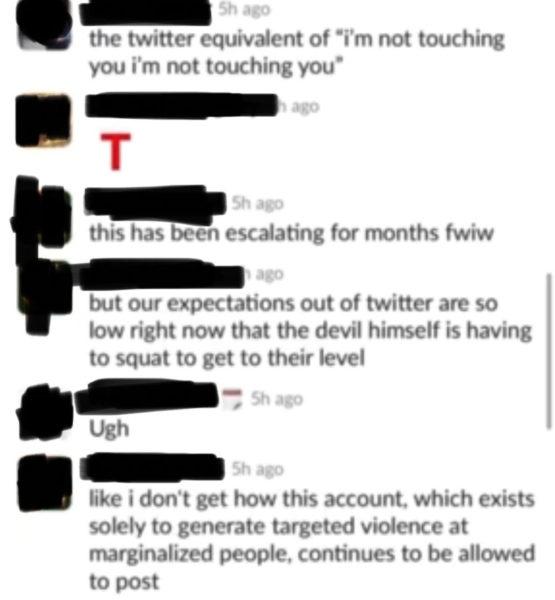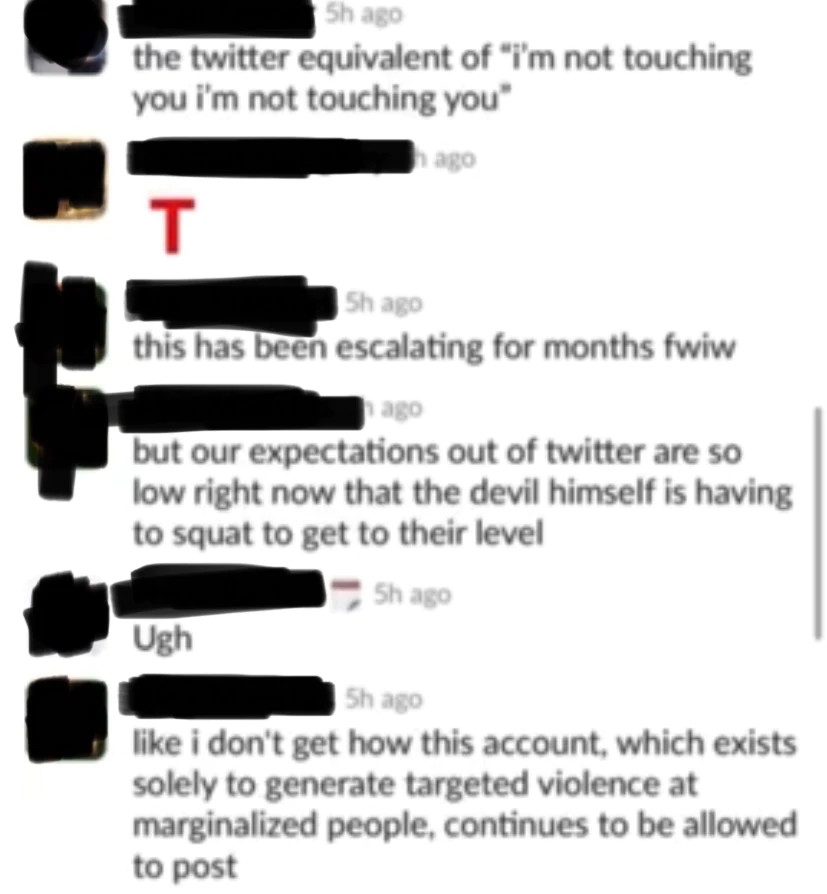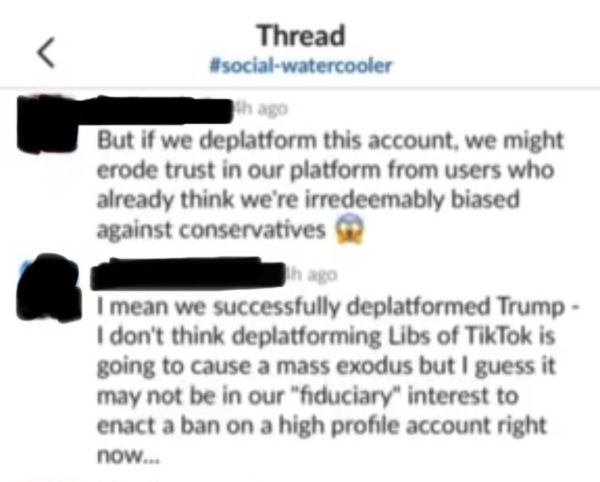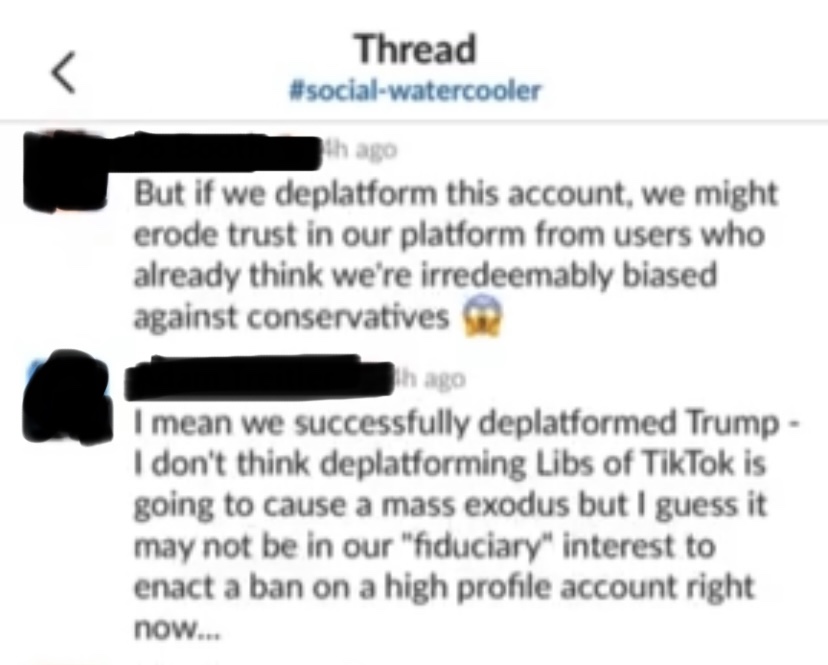 One Twitter employee noted that the company's "successful deplatforming of Trump" failed to cause a mass exodus, but conceded that banning a high-profile account would not be wise given the potential Musk takeover.
One employee made hyperbolic claims that Raichik is "directing genocidal violence towards trans people during pride month."
Another claimed that Libs of Tik Tok exists "solely to generate targeted violence at marginalized people."
The account has garnered over 1.2 million followers. Its follower account grew by nearly 400,000 after a hit piece from Taylor Lorenz of The Washington Post exposed her identity.