Last Updated on April 29, 2020
For the first time since the "O'Reilly Factor" left Fox News roughly three years ago, "Tucker Carlson Tonight" surpassed the aggregate ratings of "Hannity" over the course of an entire month.
The eponymous primetime shows have long dueled for the top spot at Fox, with "Hannity" consistently beating Tucker Carlson's show through 2017, 2018, and 2019.
However, in April 2020 "Tucker Carlson Tonight" finally pulled ahead of Hannity to become the top performer in Fox's prime time lineup.
READ MORE: Hannity Defends Bolton: 'Things Were Different After 9/11', Gets Laughed At By Tucker
Ratings ranker Adweek reported on Carlson's viewership dominance in the month of April.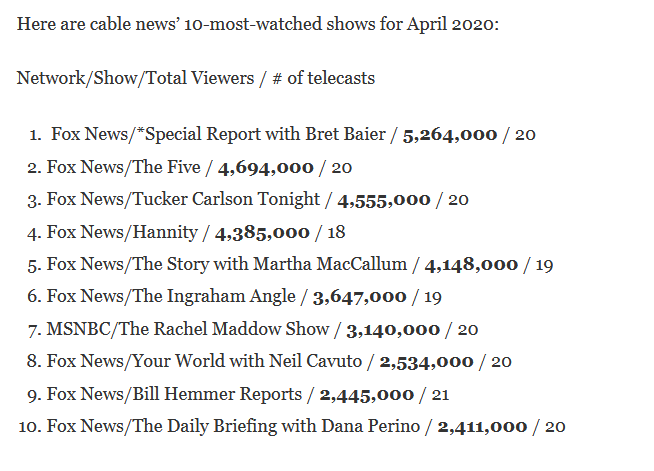 "Tucker Carlson Tonight" has consistently beaten "Hannity" in the coveted 25-54 age bracket, long regarded as the most important demographic for television advertisers.
An April 2020 study from the Becker Friedman Institute for Economics at the University of Chicago found that "greater viewership of 'Hannity' relative to 'Tucker Carlson Tonight' is strongly associated with a greater number of COVID-19 cases and deaths in the early stages of the pandemic."
The study stated, "We find that Hannity's viewers on average changed their behavior in response to the coronavirus five days later than other Fox News viewers, while Carlson's viewers changed behavior three days earlier than other Fox News viewers."
READ MORE: AMERICA FIRST: U.S. Suspends Visa Lottery, Ends Mask Exports After Tucker Carlson's Reporting
On Friday, Carlson also destroyed every show from competitors like CNN and MSNBC in the ratings across all time slots, prime time and otherwise.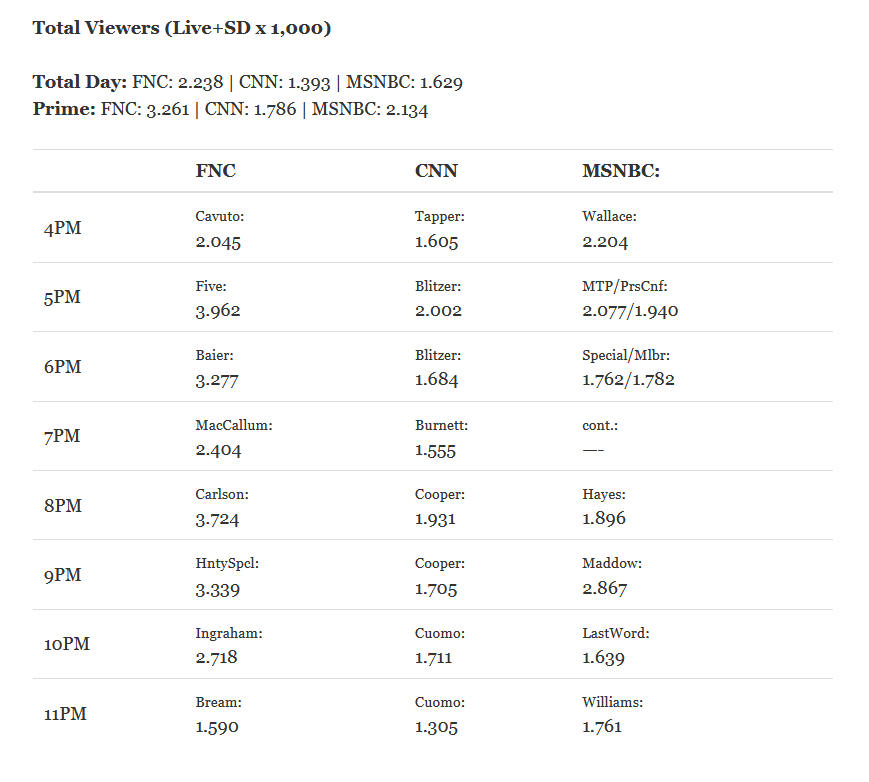 "Tucker Carlson Tonight" and "Hannity" previously dominated coverage of the political tensions with Iran that nearly came to a head in January:
The "Tucker Carlson Tonight" television program on Fox News dominated cable news coverage of the Iran situation alongside "Hannity" Tuesday night, pulling in 5.6 million viewers.

Some have attributed the extremely high viewership to the national security crisis rather than Carlson's popularity, but the fact that "Tucker Carlson Tonight" pulled in double the amount of viewership as cable competitor (CNN), that theory seems unlikely.

According to TV By The Numbers, Carlson pulled in 5,698,000 viewers and scored a high 0.8 rating in the 18-49 age demographic.
"Hannity" still occupies the highly coveted 9 p.m. time slot on Fox News.