Last Updated on April 27, 2021
President Donald Trump excoriated Rep. Liz Cheney (R-WY) for her abysmal approval ratings and attempt to tease a presidential bid in 2024, stating "she is looking for a way out of her Congressional race" because "[b]ased on all polling, there is no way she can win."
"Liz Cheney is polling sooo low in Wyoming, and has sooo little support, even from the Wyoming Republican Party, that she is looking for a way out of her Congressional race. Based on all polling, there is no way she can win," Trump said in Tuesday's statement from the Save America PAC.
READ MORE: Liz Cheney Blocked Trump From Bringing Troops Home Over 'Russian Bounties' Story That Was Debunked This Week
The former President added, "She'll either be yet another lobbyist or maybe embarrass her family by running for President, in order to save face. This warmongering fool wants to stay in the Middle East and Afghanistan for another 19 years, but doesn't consider the big picture—Russia and China!"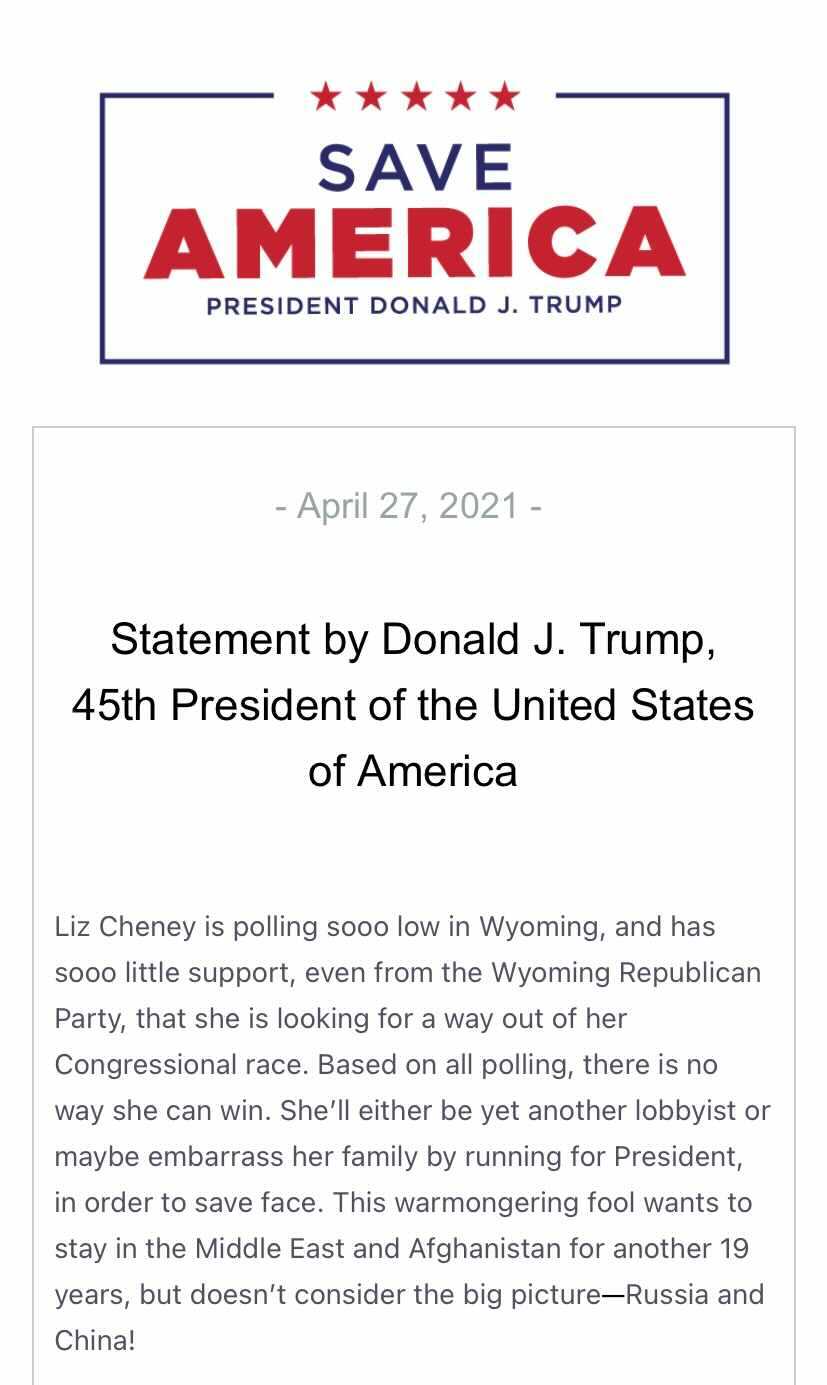 Earlier this week, Cheney revealed that she won't "rule out" a 2024 presidential run, appearing to signal that she believes she could win the Republican nomination despite anemic approval numbers in her home state and nationwide:
Rep. Liz Cheney (R-WY) revealed to the New York Post this week that she hasn't ruled out running for President in 2024, noting that she's been "here a long time." Polling data shows Cheney is tremendously unpopular among Republican voters, with approval ratings that struggle to reach double digits.

"I'm not ruling anything in or out – I've been here a long time," Cheney told the Post.

Cheney joined the U.S. House of Representatives in 2017.
Cheney played a key role in blocking President Trump from bringing home troops in Afghanistan in 2020, citing a "Russian bounties" conspiracy theory circulated by intelligence agencies that has since been debunked.